Bronwen Evans-Beira and beyond
by Bronwen Evans
(Mutare, Zimbabwe)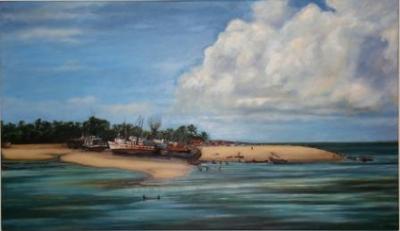 Praia Nova Sky
I am currently living and working in my studio in Mutare, Zimbabwe and have just exhibited in Beira, Mozambique. These oil paintings are a few of the images that I chose to represent current life in Mozambique's second city.

Details:
Praia Nova Sky, 120 x 70cm, $US 1500
Macuti Wreck, 76 x 76cm, $US 1200
Casa Bachoo, 61 x 46cm, $US 600
Suburbia, 61 x 46m, $US 600

Please enquire for further images.
Join in and write your own page! It's easy to do. How? Simply click here to return to Artist.