Contemporary African photography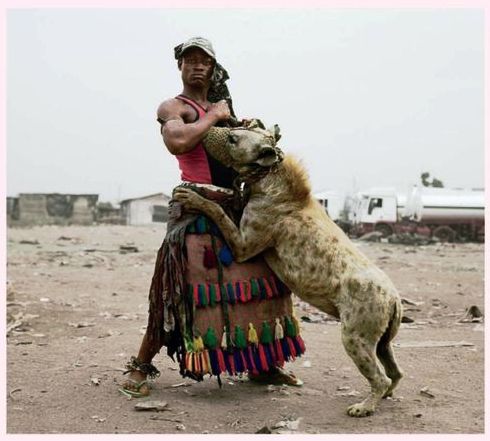 Hyena handlers of Nigeria, Pieter Hugo
Contemporary African photography is an area where African artists have long expressed their individuality as far back as the 1840's and today it is still a very established and dynamic form of artistic manifestation. 

Modern Studio Portraiture in Africa
Seydou Keita, b Mali 1921-2001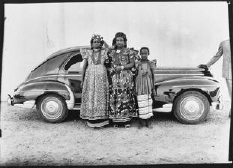 Seydou Keita, Pigozzi Collection
Seydou was born in Bamako in 1921. He learnt his trade firstly from a French photographic supply store owner and then from his mentor, Mountaga Traore. 

He set up his first studio in 1948, retiring in 1977 but only after spending 15 years in service to the Socialist government who installed him as official photographer. 

Keita's work provides us with a chronological peep hole into the make-up of Bamako society in all its transitions. He used props in the studio, like radios and sewing machines, which give us insight into the cultural changes Mali was experiencing. 
His eloquent work is characterized by an exquisite sense of gesture and skillfull posing which reflect the intimacy he managed to capture with his subjects.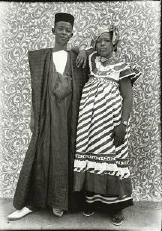 He often used fabric backgrounds so that his compositions had layers of pattern upon pattern conveying a sense of richness.
There is sheer joy to be found in studying a Keita studio portrait; the innovative and competent technical aspects of light, framing and composition counterpoint the fascination of the subject at hand; the costumes, the props, the accessories, managing to convey at once his client's social identity and status while enthusiastically embracing modernity.
An archive of over 10 000 prints entered world vision in the 1990's achieving Keita world recognition. 

Malik Sadibe, b Mali, 1935-2016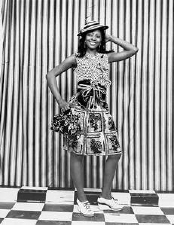 Malick Sadibe
Malick Sadibe took mesmerizing photos of his community members during the decade before independence and after. Compared to Keita, his subjects are more engaging and have a more active role in constructing the image of themselves that they would like portrayed. A likeness could be obtained and captured for eternity.

The photo opposite is from a fashion show in New York where Sadibe is involved in a more light hearted manner to assist the launch of a new range. 
Samuel Fosso, b 1962, Cameroon
Self portrait, Samuel Fosso
Samuel Fosso – The Chief (the one who sold Africa to the colonists), 1997.
There are many indigenous African photographers who have also made significant contributions to image-making in Africa, blending Western technology with African perspectives. 

J.D. Ojeikere, b Nigeria 1930-2014

J D Ojeikere, Pigozzi Collection
J.D. Ojeikere started capturing images of Nigerian culture in the 50's. For 35 years he has captured a record of the fabulously ornamental, almost sculptural hairstyles of African women, revealing them as an art form. Never digressing from his subject, he has provided us with a fascinating catalogue, a unique ethnographic body of work that must be considered a national treasure. 

Other esteemed photographers from the African continent
Andrew Tshabangu, Venda traditional dance, Sibasa, Limpopo
Basto, Luis b 1969, 

Mozambique




Cole, Ernest b 1940-1990, South Africa

Depara, Jean b 1928-1997, Angola/DRC

Fosso, Samuel b 1962, Cameroon

Goldblatt, David b 1930, South Africa

Rotimi, Fani-Kayode 1955-1989, Nigeria




Tillim, Guy b 1962, South Africa

Tshabangu, Andrew b 1966, South Africa

Uche Okpa-Iroha b 1972, Nigeria

Baloji, Sammy b 1978, DRC

Hugo, Pieter b 1976, South Africa

Iroha, Uche Okpa b 1972, Nigeria

Muholi, Zanele b 1972, S Africa

Mukwazhi, Tsvangirayi, Zimbabwe

Nkanga, Otobong b 1974, Nigeria

Okereke, Emeka b 1980, Nigeria

Subotsky, Michael b 1981, South Africa

Veleko, Nontsikelelo b 1977, South Africa
Jean Depara, Pigozzi collection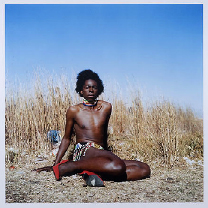 Zanele Muholi, South Africa
Uche Okpa-Iroha hails from Nigeria where he currently works in Lagos. He has been awarded the Seydou Keita prize twice and is a very involved and motivated artist who is a member of more than one collective, aiming to elevate photography as an art form across borders. He actively pursues making photography accessible and affordable for all in his home country.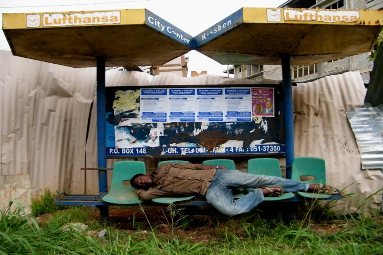 Finding Rest, Uche Okpa-Iroha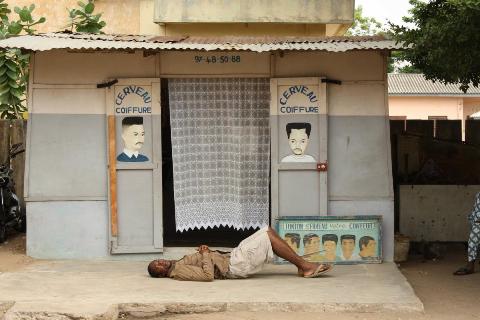 Finding Rest 2
Zwelethu Mthethwa... can be accredited with being the photographer having the most current impact on the Western art world. He has had over 35 international solo exhibitions and as many group shows. Born in 1960 into apartheid years, he had to get special permission to attend his school of art in Cape Town. He received a scholarship that enabled him to live in the United States strengthening his career.

His candid pictorial representation of South Africa's life after apartheid presents dignified subjects who appear defiant even under the stress of social and economic hardship. He challenges pictorially in powerful and sustaining images, issues of agricultural labor, rural industries and the effects thereof on the environment. 
Sugar cane series, 2006, Zwelethu Mthethewa