Hello again!



This SPECIAL EDITION newsletter is dedicated to Zeitz MOCAA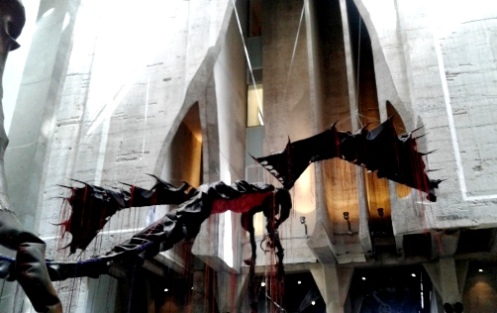 Nicholas Hlobo, 'All the Lightning birds are after me' or Impundulu Zonke Ziyandilenda
N E W S A N D E V E N T S
The Zeitz MOCAA (Museum of Contemporary African Art) located in The Waterfront, Cape Town, South Africa opened its doors to the public towards the end of September and proved itself to be all and more than it had promised. Unprecedented in its scale and ambition, this not-for-profit, public institution will undoubtedly turn out to be a worthy destination venue for both the people of the African continent and for the rest of the world.
On National Heritage Day an excited public wound itself in snaking twists outside this new institution waiting for entry on its 'open to the public' days, part of its opening launch gambit… an encouraging sign for the Zeitz/Waterfront Development.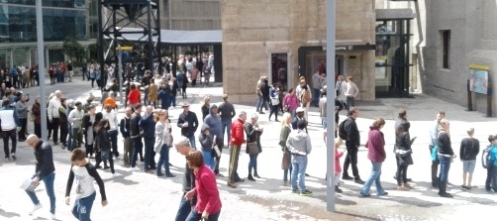 As exhilarating as it was to be part of this expectant crowd, a return day was fixed to come back and fully examine the works and collections without the queues.
An annual membership was purchased, a 'no-brainer' decision given that 2 paid daily entries are equivalent to an annual membership. Good thinking, Zeitz MOCAA for ensuring the public continues to engage with the museum through newsletters and a year's access to events.
There is no doubt the star of the show is the building itself, both inside and out. Below is the architect Thomas Heatherwick's 3D plan of his visionary building.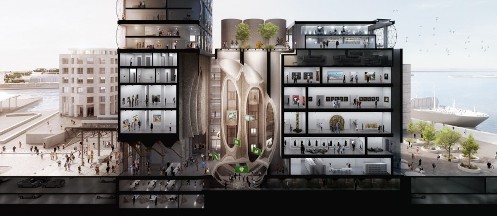 Cross section, Zeitz
Heatherwick's design directive was clear cut for him – the building needed to have a heart and to have clear, simple ways to move around in it.
Inside, cylindrical, glass elevators shoot up and down like pistons within the gallery chambers allowing you vision of the installations on your travels. There is also a beautifully designed organic, snail like, spiral staircase used to traverse the institution.
The sombre, almost brutal façade of the silos' exterior is a deliberate foil for the dramatic, soaring space inside. Cut off and chiseled out cylinders form the core of the atrium, each one resembling the shape of a mealie (corn) kernel.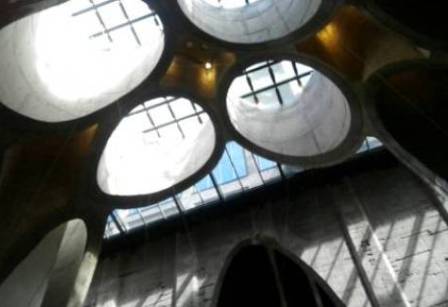 The glass ceiling allows light in as well as dancing shadows as people walk over the ceiling which at the same time forms the floor of the sculpture garden on the 6th floor.
One cannot help but compare this space to that of a cathedral. Especially with the haunting music that Nicholas Hlobo chose to accompany his elevated and winged dragon sculpture floating over the basement with its long curling tail strung up and suspended in space. Made from recycled inner tyre tubes and referencing Xhosa mythology it is embellished with satin and ribbon to create something extraordinary to look at.
Some facts about the museum:
• The original building was built in 1921 and was used as a grain silo for 80 years
• Construction of the Zeitz MOCAA started in 2012
• It is the world's largest institution devoted entirely to contemporary African art
• The structure is 15 floors high, the top 6 floors having been converted to a hotel
• The cathedral-like atrium had 42 one-hundred foot tall concrete tubes that had to be sliced through by a team of engineers, local architects and sculptors
• There are 106 galleries in the museum covering 65000 sq ft of exhibition space
• The museum can contain 1800 visitors at any one time
• The roof of the atrium is etched glass which forms the floor of the sculpture garden
• The entire bottom floor is devoted to educational space and the building includes performance spaces, costume institute, coffee shop and restaurant
• Access for all is part of the museum's mission: Under 18 yr olds have free entry and Wednesday mornings are free to African citizens while Fridays are half-price.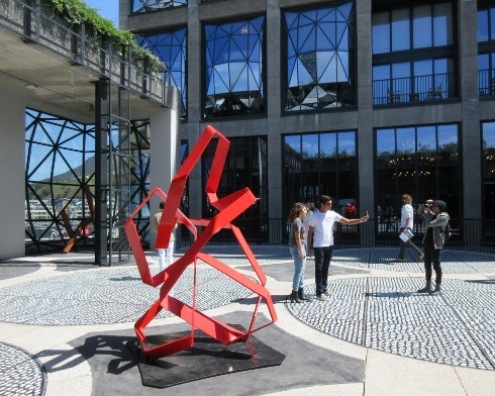 'Now and Then'- A collaboration between El Loko, Togo and Kyle Morland, South Africa.
Red metal spatial sculptures, Kyle Morland
9 Paneled, laminated discs, El Loko. A universal language, a Cosmic alphabet that transcends racial and cultural barriers.
---
The museum is vast and absorbing, mixing permanent exhibits from the Zeitz Collection together with the special temporary exhibits chosen as founding displays. Jochen Zeitz has offered his own private contemporary African art collection on a long-term loan while the museum continues to purchase and build its own collected works.
A diverse team of 35 plus curators will ensure that Zeitz MOCAA will be, first and foremost, a platform for African artists to show their art on home territory.
In the last 9 years, before they even had a building or a site, Jochen Zeitz and Zeitz MOCAA Director Mark Coetzee, together acquired paintings, sculptures, photographic prints, costumes, visual media, conceptual art and multimedia installations.
Unlike many overseas museums, the Zeitz team is determined not to mix historical perspectives together with contemporary narratives in the one institution.
This museum has much to deliver and everyone will be anxiously watching to see if it succeeds.
Its strength and power lies in African citizens themselves confidently stepping up and reaching for the stars. Surely this magnificent building will manage to encourage and support that credo.
---
Artists
The art itself was overwhelmingly diverse and multi-disciplinarian.
There was an awful lot to digest over a one and a half day visit. I would urge other visitors to take an extra day, to go back and re-explore, re-engage with chosen exhibits. Video installations especially need space and quiet to take them in and crowds can ruin the experience.
There is much controversy over the methodology of the selection of the works and it is indeed a responsible task given that this museum will be at the forefront of the Contemporary African Art scene.
Putting that aside I can only say that personally I thoroughly enjoyed most of what I saw and experienced. Some pieces left me stone cold and some I failed to comprehend even why they had even been selected.
But that is the joy of art… something for everybody!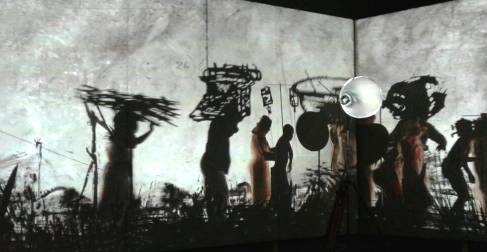 My out and out favourite exhibit was William Kentridge's "More sweetly play the dance" a panoramic, multi-faceted and sensory digital video installation on the 2nd floor. Its sheer technicality, let alone the story telling, left me fascinated, entranced and deeply moved.
The Atrium flying sculpture and more works in the collection were by Nicholas Hlobo from SA.
Shown below is a detail of another work by Hlobo in one of the permanent collections of the museum… zip stitching is a characteristic feature of his mixed-media, linen canvases and free-form sculptures.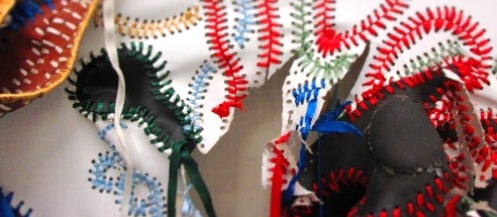 Downstairs in the basement, "Found, Not Taken" was an installation by Edson Chagas from Angola that had us scurrying around collecting posters, part of a 5000 print giveaway by the artist who had them printed especially for the launch of the Zeitz.
The opening temporary exhibition spaces featured 2 artists: Kudzanai Chiurai, Zimbabwe and Nandipha Mntambo, Swaziland.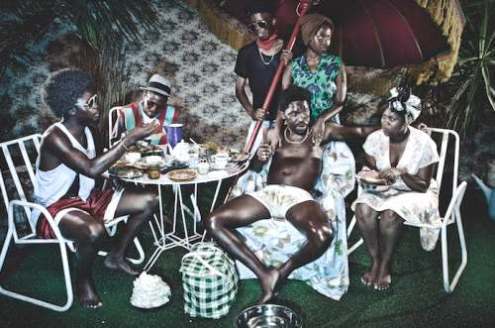 Kudzanai Chiurai, Zimbabwe, Revelations viii
Chiurai's protest art "Regarding the Ease of Others" is a send-up of post colonial independence… he challenges the symbol of the heroic male African figure. Women are portrayed as observers, victims and witnesses to the struggle. Occasionally, they are depicted as instigators of violence.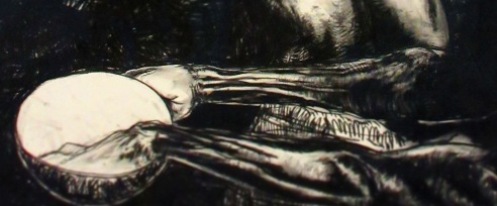 In the collection are some incredibly strong and powerful, large-scale, charcoal drawings – the man is a master draughts person and one realizes there is very little that this artist cannot do if he sets his mind to it.
Nandipha Mntambo has a whole floor devoted to her work 'Material Value'.
Her exhibition spans decades of working with bovine subject matter either in sculpture or photographic form. Her arresting artworks include floating headless molded torsos made from raw cow-hide as well as photographs of bull-fighting.
"Emabutfo", Nandipho Mntambo, Cowhide, resin, polyester mesh, waxed cord
'All things being equal' is an exhibition featuring 41 artists, primarily from Africa with some Afro-Americans contributing as well.
What delight to experience firsthand the intricacies of El Anatsui's glittering cloths made from recycled metal in this exhibition hall.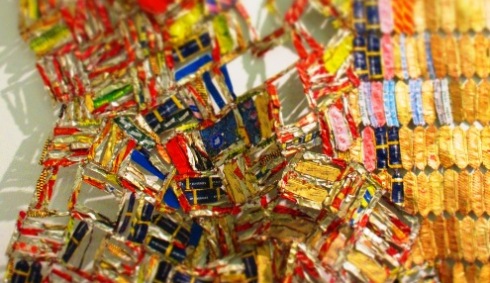 'Dissolving Continents', El Anatsui, 2017, Aluminium and copper
Penny Siopis and Mary Sibande shared a room of red and black, perfect foils for each other as Sibande's black stallion rose on its hind legs circled by bright red lacquer carnal beasts while Siopis's canvases sprayed, dripped and swirled down a double volume wall - forming a petal red, pink and orange background.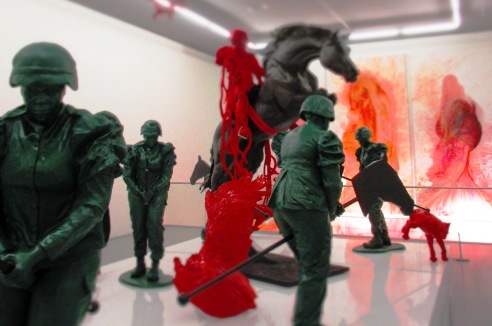 Mary Sibande, SA 'In the midst of chaos there is opportunity'. Fiberglass, painted wood, vinyl, metal, cotton, polyester fibrefill
'Transfigure', Penny Siopis, SA, Glue and ink on canvas
Other outstanding exhibits included:
- Kenyan Cyrus Kabiru was showing his fabulous pigmented inkjet prints of himself in 'found' eyewear; his hyper-creative sculptures he calls 'C-Stunners'.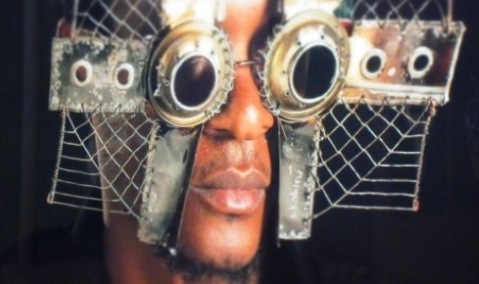 - Yinka Shonibare MBE, had his own small building, the 'dust-house', where a video installation "Addio del Passato", an operatic film depicting colonialism's moral demise played against the silo walls.
- Kendall Geers's installation titled 'Hanging piece' red bricks and nylon rope. The bricks are poised in anticipation, not yet used for weapons or walls, frozen in their fall.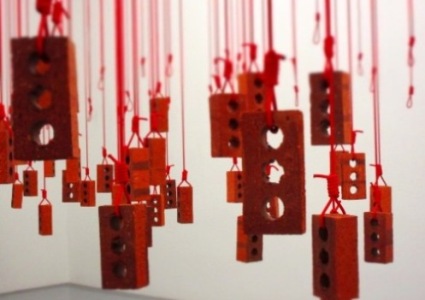 - Ghada Ahmer, of Egypt working in acrylic, embroidery thread and gel medium on canvas deals with woman's sexuality in a delicate way by the use of her media.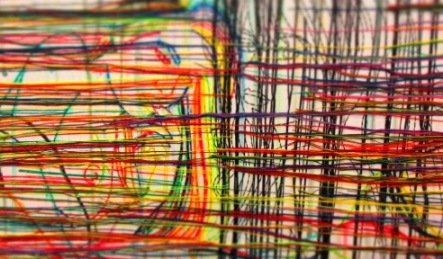 This is but a mere sample of the width and breadth of this amazing opening exhibition. Go and explore it for yourself if you can, you will not be disappointed.
I look forward to many more occasions to discover what the Zeitz MOCAA has to offer its visitors.
I leave you with one more image of beaded bracelets from the Gift Shop which has discerning craft, stationary, posters, textiles, ceramics... you name it...all beautifully designed.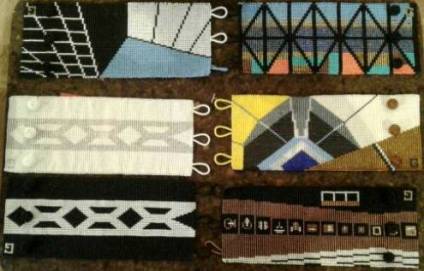 Please note: All photos are my own except where otherwise stated and linked. Thank you to the Zeitz MOCAA for allowing photography within the exhibition halls.
---
I do hope you have enjoyed reading this special feature edition of CAA newsletter as much as I have enjoyed putting it together for you.
---