Greetings!



Welcome to our first newsletter of 2018!

Firstly, CAA would like to thank all its subscribers for the support shown in 2017 and wish you all a rewarding and prosperous new year. I trust you have enjoyed receiving your newsletter and I look forward to continuing to endeavor to provide you with new and stimulating information on this very exciting world of contemporary African Art.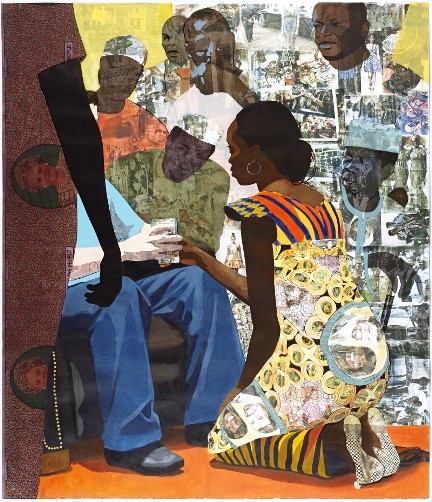 Njideka Akunyili Crosby, b 1983, Enugu, Nigeria
njideka crosby wedding portrait
ARTIST
Njideka Akunyili Crosby is a Nigerian born artist who, very deservedly, recently won a 2017 MacArthur "Genius" Fellowship. This cash prize is awarded to "talented individuals who have shown extraordinary originality and dedication in their creative pursuits and a marked capacity for self-direction".
Crosby has lived in Los Angeles since 1999 giving her a transcultural identity that hugely informs her work; playing out domestic scenarios with details merged from both her homeland of Nigeria and her adopted, current country of abode, the USA. With all her many experiences to call on, she creates multi-faceted compositions combining drawing, painting and collage on paper.
2018 is going to be a very busy year for her with both solo and group exhibitions.
To see more of Njideka's work click here
ARE YOU PLANNING TO TRAVEL IN 2018?
Then make sure you organize a trip that takes in a firsthand experience of contemporary African Art!
There are many African cities hosting major art events this year… Bamako, Cape Town, Lagos, Dakar, Johannesburg… while major, world capital cities like Paris, London and New York also have their grand shows featuring galleries and artists from Africa. Smaller cities like Basel, Switzerland and Miami, USA enjoy facilitating equally dynamic events.
To help you with those plans, here is a summation of the year's primary events taking place either on, or off, the continent.
CONTEMPORARY AFRICAN ART FAIRS
BAMAKO, MALI - 11th African Biennale of Photography, Bamako
Current – 31st January,2018 titled "Afrotopia"
CAPE TOWN, SOUTH AFRICA – 6th edition of the CTAF 2018, (Cape town Art Fair)
16 -18 February 2018 at the CTICC (Cape Town International Convention Centre)
MARRAKECH, MOROCCO – 1st edition of 1:54 Contemporary Art Fair, Marrakesh
24 -25 February 2018 at the La Mamounia Hotel, Marrakesh

DAKAR, SENEGAL – DAK'ART, 13th edition of the Biennale of Contemporary African art, Titled "The Red Hour"
3 May – 2 June 2018, various venues, Dakar
NEW YORK - 4th edition of 1:54 Contemporary Art Fair, NY
4 -6 May, 2018 – Pioneer Works, Brooklyn
JOHANNESBURG, SOUTH AFRICA – FNB Joburg Art Fair, Johannesburg
6 - 9 September 2018 at the Sandton Convention Centre, Johannesburg
LONDON – 6th edition of 1:54 Contemporary Art Fair, London
October, Somerset House, (dates to be confirmed)
PARIS, FRANCE – AKAA, (Also known as Africa), Art and Design Fair
8 -11 November, 2018, Paris
LAGOS, NIGERIA – 3rd edition of Art X, Lagos
November 2018, dates TBA - at the Civic Centre, Victoria Island, Lagos
INTERNATIONAL ART SHOWS
(featuring exhibitors of contemporary African Art)
NEW YORK – Armory Show NY 8 – 11 March 2018 at Piers 92 and 94, New York ARMORY NY
NEW YORK - Volta NY
7 – 11 March, 2018 Pier 90, New York titled "SOLO FOCUS-GLOBAL VISION"
BASEL – Volta 14
11- 16 June, 2018 Basel
BASEL - Basel Art Fair, Basel, Switzerland
14 -17 June, 2018 at Messe Basel Exhibition and Trade Centre
MIAMI- Basel Art Fair, Miami, USA
6 – 9 December, 2018 at the Miami Beach Convention Center
---
MUSEUMS AND MAJOR EXHIBITIONS:
ALBUQUERQUE, USA – Making Africa, A Continent of Contemporary Design
3 Feb – 6 May, 2018 Albuquerque Museum, Albuquerque, USA
NEW YORK – Songs for Sabotage, 2018 Triennial
13 Feb – 27 May, 2018 at The New Museum Triennial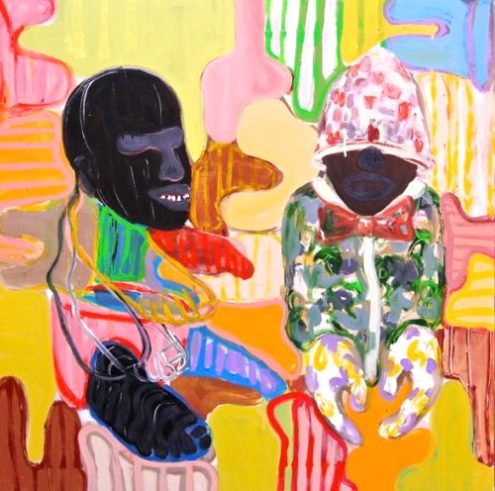 'Dialogues' Gresham Tapiwa Nyaude, b 1988 1st Floor Gallery, Harare, Zimbabwe
---
GALLERY HIGHLIGHTS:
OXFORD, UK – Ibrahim El-Salahi, b 1930, Omdurman, Sudan
18 April – 2 September, 2018 at the Ashmoleon, Oxford
---
N E W S A N D E V E N T S
What an outstanding year 2017 was for contemporary art from Africa...
Outstanding art fair exhibits entranced audiences, individual art awards catapulted careers of contemporary African artists and auctions continued to achieve uncapped sales.
New art fairs were announced in new cities on and off the continent while existing fairs upped their game considerably and reported increased sales and fervor of interest.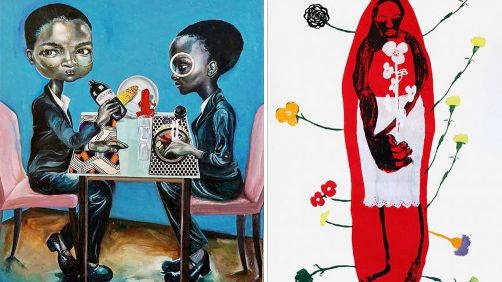 (Left) 'Space Lunch' by Ndidi Emefiele, Nigeria/UK
(Right) Virginia Chihota, Zimbabwe titled 'the root of the flower we do not know (mudzi weruva ratisingazive)'
Moving forward I think there is one thing everyone agrees on... The days of curating massive group exhibitions featuring artists from all over Africa are gone for the time being. Individuals are being highlighted and not just the heavyweights, emerging artists are being given an airing at major shows. While it does mean a degree of risk for Gallery owners the world seems prepared to embrace new talent with unique ideas and forms of expression.
Some individuals who have done particularly well:
Prizes and Awards:
TURNER PRIZE, UK
The Turner prize for 2017 was awarded to Lubaina Himid, an artist who was born in Zanzibar in 1954 but who has spent almost all of her life in the UK in London and Lincolnshire.
Adding her here as an 'African artist' is somewhat presumptuous but her work reflects issues that are affected by her heritage and by her mixed race background and I find everything about her fascinating.
Have a look for yourselves, I know you will find her inspirational as an artist and as an individual.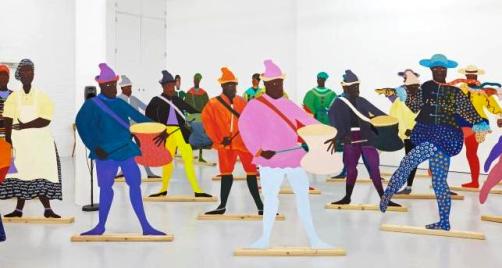 'Naming the Money' HIMID PRESTIGIOUS PRIZE
The jurors of the Turner Prize praised Himid for her "uncompromising tackling of issues including colonial history and how racism persists today". She uses many mediums to theatrically and satirically convey her messages and her work is exuberant both in nature and scale.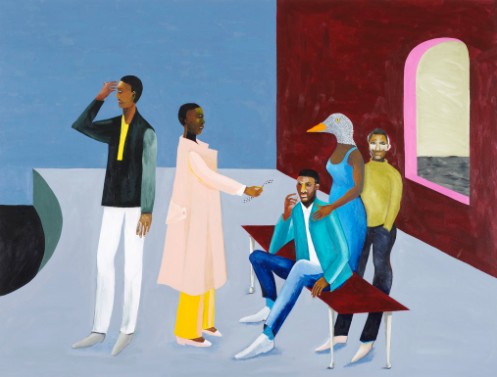 Le Rodeur: The Exchange, 2016
SEYDOU KEÏTA PRIZE - ATHI-PATRA RUGA
What a year 2017 was for this young man and 2018 promises to be even more exciting.
One of the boldest and most invigorating young artists to come out of South Africa for a long time, Athi-Patra Ruga was recently awarded the SEYDOU KEÏTA PRIZE GRAND PRIZE OF LES RENCONTRES DE BAMAKO by the Malian Ministry of Culture.
The opening exhibition of the Zeitz MOCAA in Cape Town in September included both his sculptural and his photographic work.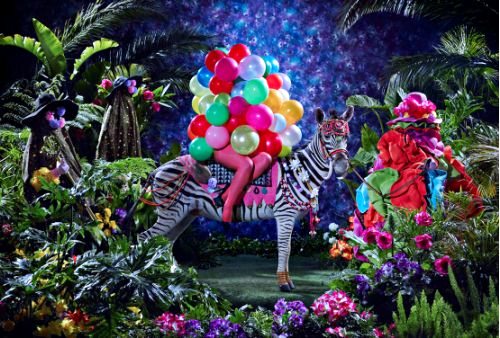 Athi Patra Ruga
His other significant genre is 2D tapestry and these arresting and visually luscious pieces are unique, bearing testament to his fashion design background.
I believe he (along with William Kentridge) has been largely instrumental in influencing the current affinity for contemporary tapestry work in Africa.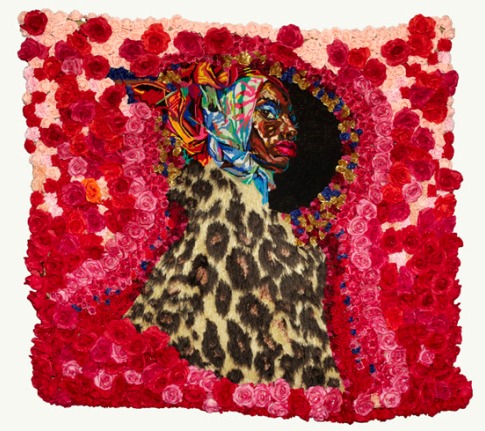 Athi Patra Ruga tapestry
TONY GUM
Artist/photographer Tony Gum, who we featured in our Newsletter edition #006, finished her successful year by being awarded the PULSE prize by PULSE Miami Beach.
---
Articles worth reading
Eve Langret of Tiwani Gallery, London
Eva Langret: 'As more and more exhibitions are produced in Africa, by African curators, the need for the rest of the world to "get it right" will become redundant'
INTERVIEW EVE LANGRET TIWANI GALLERY LONDON
---
I do hope you have found this eighth edition of CAA newsletter informative, enjoyable and uplifting.
Until the next issue....
---