Greetings!



Welcome to Afrofuturism.... it's off the planet!

This is an extremely visually rewarding topic, I'll let the images do the talking...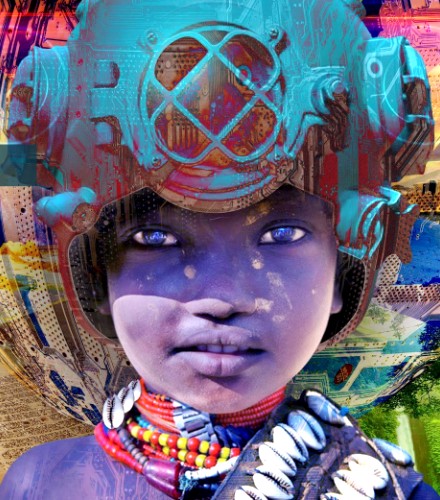 Heard the term Afrofuturism recently?
It would be surprising if you haven't, especially with the recent release of the Marvel Studios movie "Black Panther".
This box office hit has taken the world by storm, capturing hearts, souls and minds.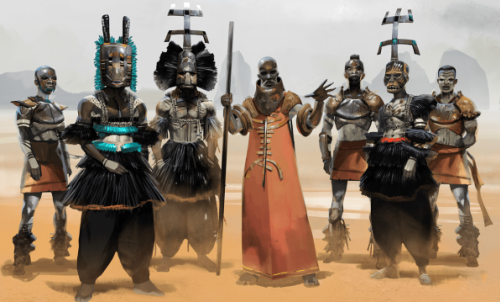 Jabari tribe concept, art and design
The visionary stimulus of this film is as outstanding as the musical score but, most of all, it celebrates black culture in a futuristic way while paying homage to the past: To African royalty and African tribes, to their rich heritage and all it encompasses historically and today.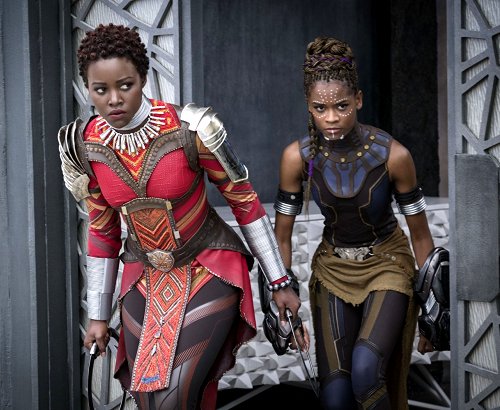 Lupita Nyong'o and Letitia Wright in Black Panther, 2018
Afrofuturism is an empowering movement, not just an aesthetic one but also a frame for activism. It seeks to separate itself from colonizing influences, from the retelling of stories about slavery and the common depiction of pain and suffering.
It embraces two sides of a coin; the future, technology and science fiction together with historical fiction, mythology and mysticism.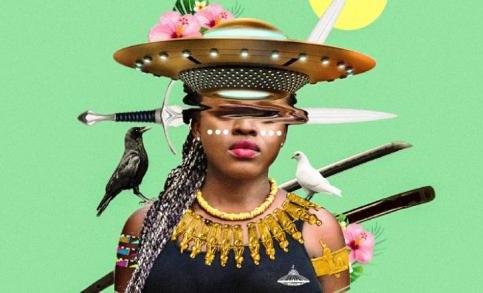 A New Era for Afrofuturism, created by Kaylan Michael
Afrofuturism is a genre, an aesthetic, a creative movement... embracing art, music, literature, science and fantasy, allowing for huge imaginative scope.
It is a methodology – a way of approaching technology and speculative thought in creative dialogue. It is at once no-ones and everyone's.
While it is essentially Afro-American and its roots can be traced through the USA, it is being embraced much further afield and shows itself in many forms in many places… and not just on the African continent.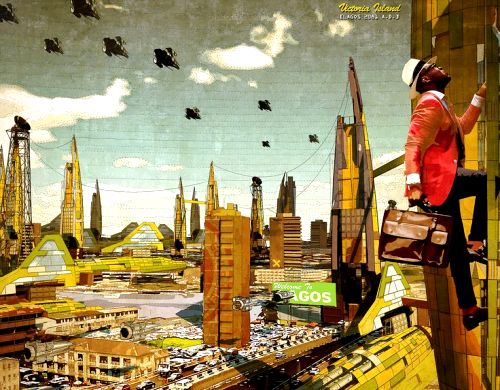 Victoria Island, Lagos of the future
Architect turned artist, Olaken Jeyifous creates images that portray what Lagos might look like in the future.
Vertical towers of shanty buildings inhabit traffic-filled streets and areas of prime real estate, the towers existing amongst the privileged few. They represent the marginalized communities, easy to imagine for just about every major city in Africa.
Currently living in Los Angeles, the award-winning Zimbabwean film maker, Sunu Gonera has said "I believe that Afrofuturism perfectly merges the past and the present of African culture in order to birth a brighter future."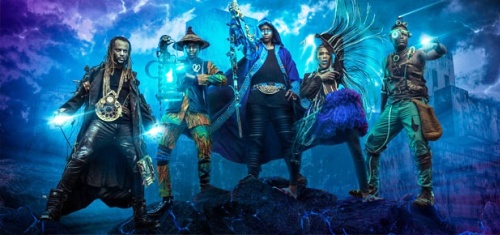 'One Source' campaign for Absolut Vodka
Gonera developed the 'One Source' campaign for Absolut Vodka using a network of like-minded creatives including the South African rapper Khuli Chana. His music video won Gold, 2 Silvers and a bronze at Cannes Lion.
For a man who said the following words.. "No matter who is in front of you, your African voice matters and demands to be heard", his voice is being heard clear and strong the world over.
Afrofuturism is a way of imagining the future through black cultural lens. Artists use this movement to explore the identities of Africa and of black people.
---
ARTISTS
CYRUS KABIRU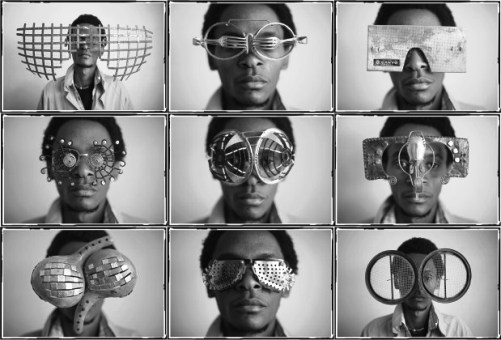 C-Stunners can be described as wearable art that depict artistic bifocals.
Kenyan rebel boy, Kabiru has always done things his own way. Not seduced by living in the US or other Western shores he continues to develop his C stunners, collecting his materials off the rubbish heaps of his hometown, constantly re-inventing his signature art.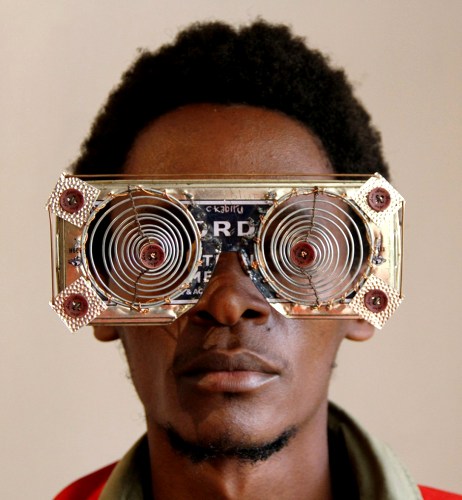 WANGECHI MUTU
Wangechi is a very well established African artist who also hails from Kenya but currently lives in New York. She has had a sustained interest in the aesthetics of Afrofuturism, speculative fiction and mythology for over a decade.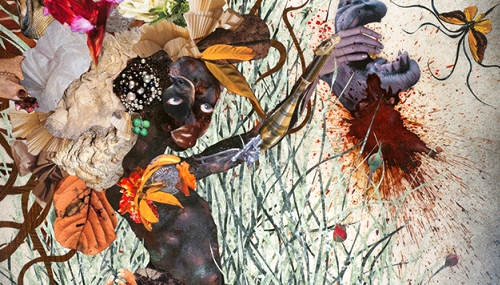 Ndoro Na Miti ("mud and trees") in Gikuyu
In this series she removes any real sense of humanness and concentrates where we come from. The vibrant colours and patterns of her previous work have been substituted by the earthy tones and textures befitting the title. Here she asks us to re-imagine our world as if it wasn't made in the self-possessed image of ourselves and 'mankind'.
Her work involves complex layering of meaning in which themes are addressed simultaneously.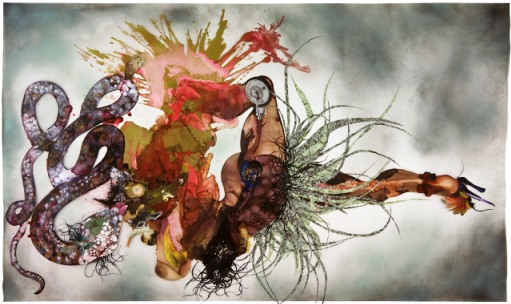 TABITA REZAIRE
a.k.a. hybrid, femme emotional-warrior-healer!
Guyanese/Danish, Rezaire was raised in France and currently lives in South Africa. She has said that she does not wish to be boxed into 'Afrofuturism'.
She does however connect with the ethos behind the movement... and the African and Diaspora artists who are trying to reconnect with their historical pride, peeling off the layers of shame of centuries. Her work is playful, less intense as she explores mysticism and science and technology alongside nurturing every aspect of our health.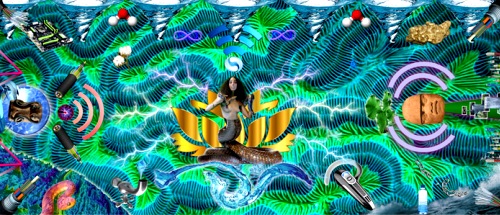 ---
NEWS AND EVENTS
Talking of African royalty, a painting by Nigerian modernist Ben Enwonwu titled 'Tutu' went for a staggering 1, 208,750 GBP's at Bonham's February 'Africa Now' sale in London. Its estimate was in the region of 200 000 to 300 000 GBP's.
It is a legendary painting, having disappeared for over 40 years, last seen in 1975.
There is much emotional value attached to this painting of Adetutu Ademiluyi, daughter of a Yoruba king. Besides being the gentlest version of the 3 portraits painted of this young lady, it is also a symbol of reconciliation between 2 Nigerian tribes. The works became symbols of peace following clashes of ethnic groups in the late 60's.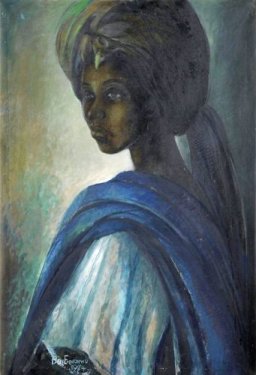 'Tutu 'BENEDICT ENWONWU M.B.E (Nigerian, 1917-1994)
---
1:54 ART FAIR, Marrakech
Held at the Grand Salon of La Mamounia Hotel towards the end of February, this first-time art fair for Morocco saw 4000 plus people through its doors. 17 international galleries were exhibiting more than 60 contemporary artist from across Africa and its diaspora.
At the same time a new Gallery opened its doors in the city: MACAAL - Museum of African Contemporary Art, Al Maaden
'AFRICA IS NO ISLAND' 27 February – 24 August 2018
"This exhibition brings together the work of approximately 40 emerging and established photographers who are working from a distinctly African perspective. The artists examine universally relevant cultural concepts of tradition, spirituality, family and the environment, within the context of modern African experiences and daily life".
---
MIA PHOTO FAIR, Milan
9 – 12 March
MPF has chosen South African artist, Siwa Mgoboza to rebrand themselves. His collection will represent Mia Photo Fair 2018 and be run in collaboration with the African Artists Foundation and Lagos Photo Festival.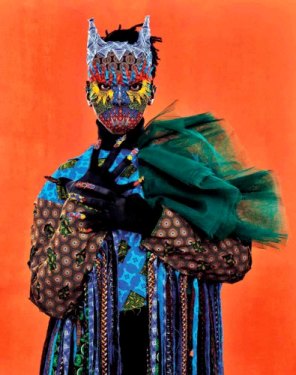 ---
LENS CULTURE AWARDS, 2018
2 finalists of the Juror's prize are featured below, both looking at Africa in an enlightening, contemporary manner and with something unique to say:
NOMSA LEUBA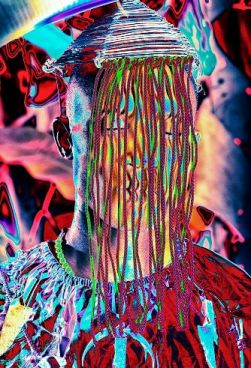 CHRIS KIRBY – 'We Gave You Forgiveness…(You Kept the Krugerrands)'
---
2018 INFINITY AWARDS
Cameroon photographer Samuel Fosso has received the award for Visual Arts from the ICP, widely considered the leading honor for excellence in the field.
His latest series "Back Pope" confronts the politics of religion and asks the question 'When will an African lead the Vatican?' It directly challenges regimes of truth, power and officialdom.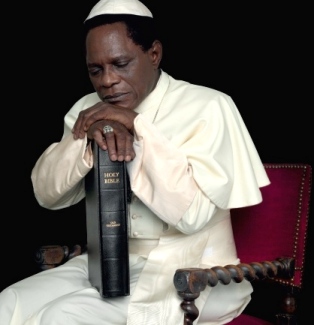 Samuel Fosso, Black Pope series
---
GALLERY HIGHLIGHT:
MARIANE IBRAHIM GALLERY, ARMORY SHOW
March 8 – 11
Showing the fabulous Lina Iris Viktor, a British Liberian artist who since 2013 has been exploring the use of 24-karat gold leaf on black acrylic to support the essentialness of her work.
In this series, she explores the meaning of 'blackness', both literally and figuratively and takes her inspiration from mid-20th century African architecture and African textiles.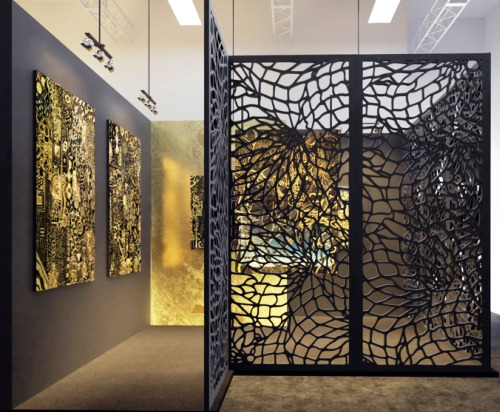 Installation, 24 karat gold paintings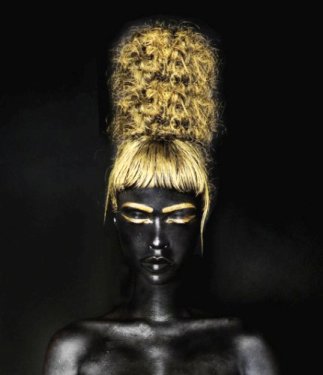 ---
I do hope you have found this tenth edition of CAA newsletter has taken you out of your normal orbit, entering realms you hadn't even dreamed of!
Until the next issue....
---