Greetings!



Dak'Art 2018 'The Red Hour'... The New Humanity
PAUL Alden MVOUTOUKOULOU, Brazzaville, Congo - 'URGENCIES'
Welcome to … A New Humanity
"THE RED HOUR is about metamorphosis and transformation" says the Cameroonian writer, art critic and curator of the 13th Biennale of Dak'Art, Simon Njami. He continues "The hour of fulfillment opens the way to a new era where the individual rethinks his relationship with others and how to re-articulate his presence to the world."
This event has always been dedicated to expanding the notion of just what constitutes African art and this Biennale was no different. The Biennale has metamorphosed into a larger than life experiment, a celebration of freedom and a testament to Africa's growing maturity.
Before we left on this journey to West Africa my travelling companion and I both spent many hours trying to find out just what to expect when we got there; from both Senegal, the country and from the Biennale itself. There was not a huge amount to enlighten us other than the obvious '10 best attractions' and limited descriptions and photos of past Biennale experiences.
... Actually, nothing can prepare you for the actual physicality of the festival itself. If you are a newcomer you will find it bewildering and testing: trying to choose which exhibition or 'Engagements and exchanges' to attend while facing the fact that making your way across a city populated with 1.6 million people, so congested and frantic with traffic that any trip over 5 kms can take more than an hour!
Even old hand Biennale fans or 'Dakarois' themselves have said it has become unwieldy; too big, too spread out and too much to take in.
After registering and with our opening ceremony invitations in hand we ventured over to Cap Manuel to get our accreditation lanyards. A quick peak into the Ancien Palais de Justice revealed a world that looked like it needed another month to get ready let alone just one night! Simon Njami, the festival visionary was apparent, seemingly calm and focused as he dealt with artists, contractors, workmen and technicians - all of whom were assembling installations, hanging paintings, sculptures and photographs.
We watched artist Tejuoso Olanrewaju from Nigeria setting up his installation piece named 'Oldies and Goodies'. With a painted red backdrop, black plastic weave panels to be put in place and long plaits of Dutch wax fabric laid out waiting to be hung, it appeared to be a gigantic task.
All his labor was well worth it for this young man; he turned out to be the recipient of the 2nd most important award at the Biennale and won 'The Revelation Prize' worth 10 million CFA francs.
Arming ourselves with programs of both the 'IN' (5 major curated events) and the 'OFF' (250 local exhibitions) we sat down to map out a plan for the next week trying to monitor how we would fit it all in. It proved to be an impossible task.
Choices would have to be made… were they going to be the right ones? What we weren't to know was that some of the discoveries would just happen by being in the right place at the right time (or the wrong place at the right time!) and having a chance encounter that would be extra rewarding because it had come about by good fortune.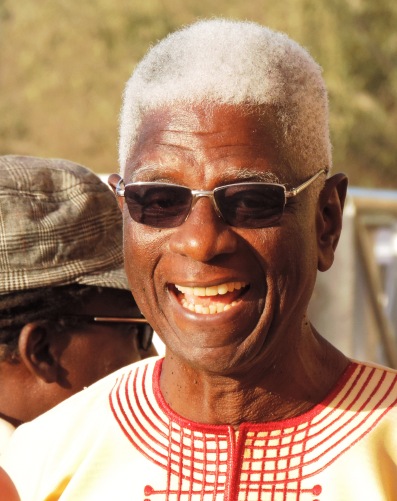 The Opening of the 'Exposition Internationale' at the Palais de Justice was one of those not to be missed. This main event featured artwork from 75 artists from 35 countries around the world celebrating contemporary African art. Miraculously most of the show had been hung in time.
Even a seasoned veteran like EL ANATSUI seemed to beam with relief … seen here out in the late afternoon sun and enjoying the crowds and the adulation of many ardent fans including myself!
In the courtyard this poetic installation piece greeted the public.
'La Casa Roja de Caronte' Marcus Read
By artist Marcos Lora Read and titled 'La Casa Roja de Caronte' it spoke of the fragility of being a migrant, of being homeless or displaced. Its sheer volume and colour forcing us to look at the decisions played around populations who seek a new life elsewhere at great risk to themselves and their families.
Artists too, like many of those represented here, have to make choices about where they need to live… for their freedom of expression and the ability to survive economically. If they remain on the African continent they will need to be voracious in their engagement with initiatives like this one.
Here are just a few of the 75 contributing artists from 'The Red Hour' at the Ancien Palais de Justice whose work touched a cord and definitely raised a heartbeat.
ARTISTS
EL ANATSUI was represented by his ubiquitous, sumptuous wall hangings but I was intrigued by these beautiful prints. From a collection called "Benchmarks" they are intaglio prints with collaged chine-colle silver and gold foil.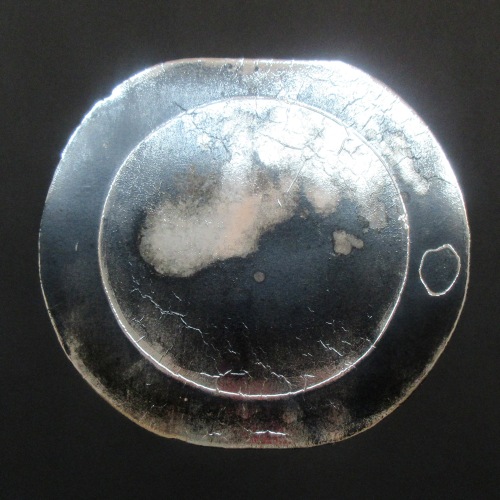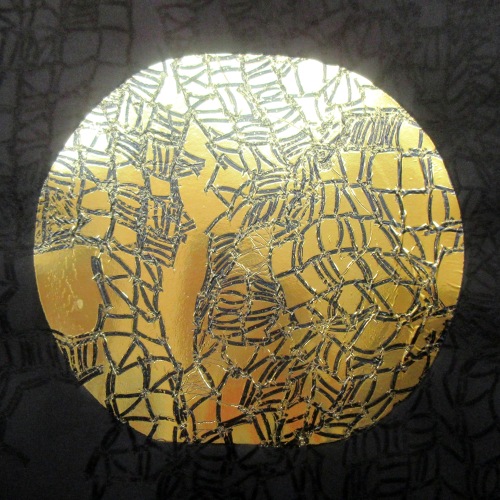 TEJUOSO OLANREWAJU b 1974, Abeokuta, Nigeria.
Detail from 'Oldies and Goodies'. Mixed materials and domestic waste, materials from his immediate surroundings that are reworked and reassembled into aesthetically pleasing, monumental installations that are a testament to his creativity and to his vision for the world.
Being a passionate environmentalist he seeks to breathe life into everything that has been discarded.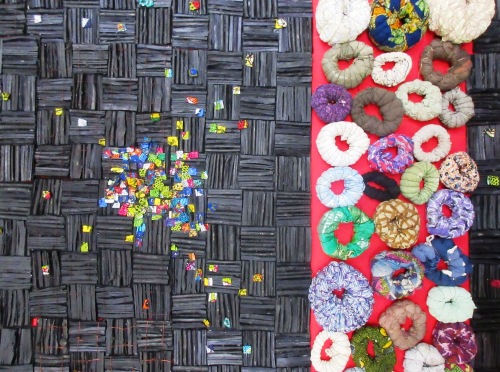 PAUL ALDEN MVOUTOUKOULOU b in 1987 Brazzaville, Congo.
Mvoutoukoulou's installation was very arresting; technically fascinating and conceptually relevant given the theme of the Red Hour he used medication packaging like pill capsules, packs and cartons to work up the pieces that make up 'Urgencies'.
Recreating a hospital emergency room with chairs, a body on a bed and a ticking clock, his bodies with crosses, and blood red walls created a note of anxiety. The countless empty packets of pills are a stark reminder of our eternal quest for youth and health.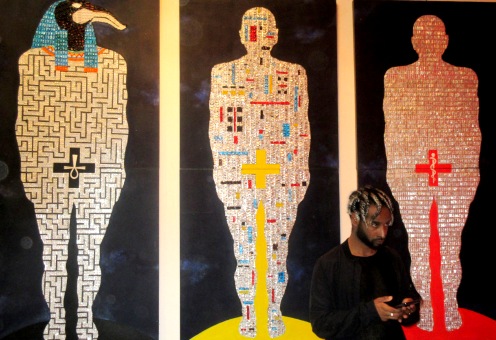 FRANCIS GOODMAN b 1975 Johannesburg, South Africa
A massive wall hanging, this brutal artwork titled 'Rolling Red' is constructed of wood, fiberglass, silicone glue and acrylic false nails. You couldn't help but be drawn in but I found it slightly obscene while being seductive and repulsive at the same time.. our culture of excess and narcissism reflected back at us.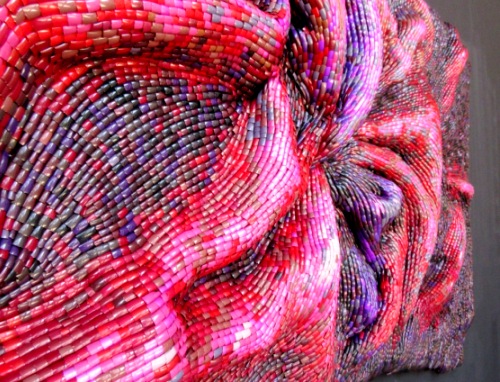 IBRAHIM AHMED b 1984 Kuwait, lives in Cairo
"Only Dreamers Leave" Aesthetically pleasing, this installation of 30 sails provided a gentler focus for the viewer and walking amongst them was soothing and uplifting. However his medium is a deliberate metaphor for his journey in life as a migrant artist. The sails are made of heavy duty fabrics used for labour and construction. The gold embroidered embellishment reference symbols of wealth and status that create divides and boundaries for new immigrants. Global systems of exclusion and segregation exist everywhere and are impossible to escape.
Maybe our own new developing humanity in Africa has allowed us to see installations like this in a better light, unbounded by history and focused on the future?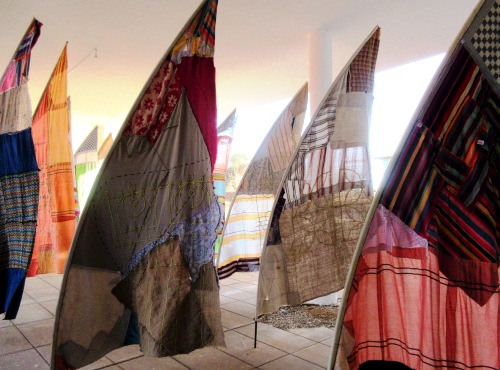 NDIDI DIKE b 1960, London, currently living in Lagos, Nigeria
'Mano Labour' - A beautifully delicate, layered installation, its potency lies in the contrast of what we see before us and its conceptual reference to the dark days of Belgium's control and of resources in the Congo in colonial days. Made of recycled materials - latex, rubber gloves, acrylic, tulle, tin trays, glass (diamonds) it alludes to the plundering of diamonds and the severe farming practices of rubber.
It is Dike's aim to try and create a new narrative by combining craft, traditions and history into a contemporary piece that invites discussion and thought on what happens to Africa's very valuable resources.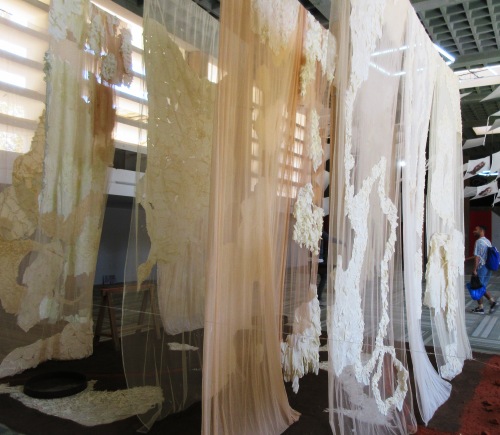 GERALDINE TOBE b 1992, Kinshasa, DRC
If one was looking for pretty images, this was not where to find them. Macabre and unsettling, Tobe's paintings reflect her own personal experiences in her life which have been tragic and frightening. A survivor of a terrible fire she literally paints with fire, flames and black smoke.
Her forms are skeletal and dismembered, skulls for faces, controlled smoky, textured backgrounds. A bright blue background in one of her paintings is shocking just for being there. However she intends her message to be positive, that one can survive and rise phoenix like from the blaze… one can reconstruct oneself, 'an African woman freed from constraints'.
Strange images persist!
FELICITE CODJO Born to a Togolese father and Senegalese mother, currently lives in Dakar
"S'Ouvrir au monde pour S'Emanciper", acrylic on toile. Essentially Codjo's work is figurative but abstracted and her dominant figures are forces to be reckoned with. Ghoulish, contorted and elongated images are felt like poltergeists... as sheer energy. The work is expressive and highly charged, the colours of the canvas deep and intense.
Politically motivated she represents her country's quest for freedom, for emancipation, for self-expression.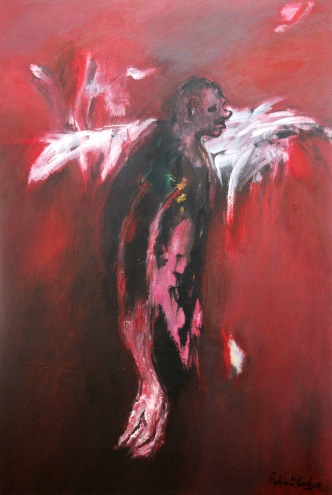 NATHALIE MBA BIKORO b 1985, Gabon
'Triumph of Seagulls'
An installation piece that celebrates the courage of women who took active roles during the fight for emancipation and the independence of their countries and whose roles continue to go unacknowledged.
Her interdisciplinary practices include performance and body art, sound art, video, literature, installations and mixed techniques (printing).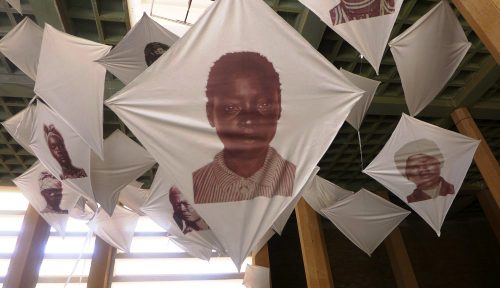 I was unable to successfully video or photograph some of the video installations but there were many significant interactions to be had.
Here are 2 of the artists who exhibited.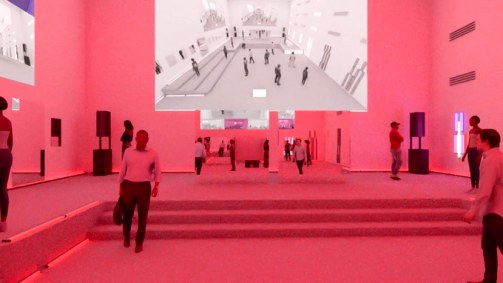 Emo De Medeiros, Benin Titled ' )U( ' Video installation
His conceptual work is characterized by a participatory approach. A digital artist extensively utilising technology, Medeiros belongs to a new generation of Africans who are more interested in the future of our continent than its past, and are using memory, history and tradition as fundamental elements of this outlook on the future.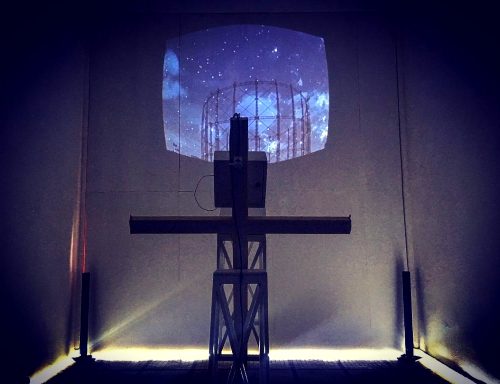 third room studios
JACKIE KARUTI, Kenya
Titled 'The planets-chapter 32' Experimental approach, new media.. video, performances, drawings, installations.
---
Did the Red Hour achieve its aims and objects? Was 'the hour of political and cultural awakening' realized?
As an individual this is honestly hard to answer given the enormity of the show. I was not alone in thinking that in the end one thing did not stand out in one's mind. It seemed to have blended into a fluid stream of images running through my head; hard to define, hard to be distinct about one from another.
What I do know is that I will now examine my own thought processes much more carefully and I will be more open to new ideas, new information, to paying attention to how and why old narratives are being 'rewritten' and new narratives created. My attitude to contemporary African art will never be the same again.
There is something very guarded, collected and precious about Art Fairs. The Biennale is different… raw and uncontained, it embraces everyone who is passionate about current African art… the commoner, the enthusiast and the hedonist. Ambitious and vibrant, the 13th edition of the Dak'Art Biennale was an encounter to remember.
---
NOTE - All images unless otherwise stated (by providing links) are the property of CAA. Thanks go to the organisers of the Biennale for allowing photographs to be taken at the Ancien Palais de Justice.

The Text is a mixture of information collected from the official Catalogue 'L'Heure Rouge... Une Nouvelle Humanity' Dak'Art 2018 and from the writers own material and observations.
---
NEWS AND EVENTS
ART BASEL
Art Basel has come and gone but Africa undeniably left its mark this year. Some huge strides were made in terms of recognition and sales for several major artworks.
The most substantial was the sale of this art piece below to a museum in North America. (Details to be announced).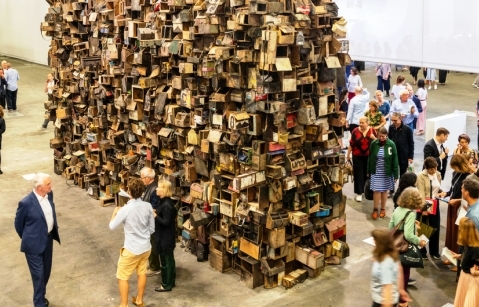 Ibrahim Mahama, 'Non-Orientable Nkansa II'
DOUALA ART FAIR, Cameroon
The 1st fair for Douala went off extremely well. They have positioned themselves as a meeting point between artists, Cameroonians and the rest of the world.
http://www.doualaartfair.com/
Have a look at the link below to see the incredible range of exceptionally talented artists who took part in this fair.
I am sure it can only go from strength to strength.
Awards and Prizes
The CAP Prize aims to elevate African photography and encourage a rethinking of the image of Africa.
The 7th edition of the Contemporary African Photography Prize announced its winners last week at Photo Basel International Art Fair 2018.
The five winners are, Phumzile Khanyile (South Africa), Yassine Alaoui Ismaili (Morocco), Paul Botes (South Africa), Anna Boyiazis (United States), Tommaso Fiscaletti & Nic Grobler (South Africa).
CAPS photography award winners
ART X Lagos 2018 prize consisting of a grant of Naira 1,000,000 and a solo presentation at the ART X Lagos art fair this November, was awarded to Bolatito Aderemi-Ibitola. Her project, "Scraps from Mama's Floor" was selected from three finalists by a panel of 3 judges.
Aderemi-Ibitola is a trans-disciplinary artist working primarily in time based art, interactivity and performance. Born in Lagos, Nigeria, she immigrated to the United States in 2000. She returned to Nigeria in 2014 where she is now living and working.
---
CURRENT EXHIBITIONS
GALLERIE ARTE, DAKAR

Current Exhibition - Opening Friday June 29th 2018 Photographs: "Senegal, fragile beauties"

Artist: Laurent Gerrer Simon

Gerrer Simon asks the question what will Senegal leave to our children? Images presented from the last fifteen years of photography in his adopted country, some of which are tragically no longer feasible. This we saw with our own eyes, Senegal has some monumental environmental challenges ahead of them, mostly concerned with rubbish littering and interference of river systems.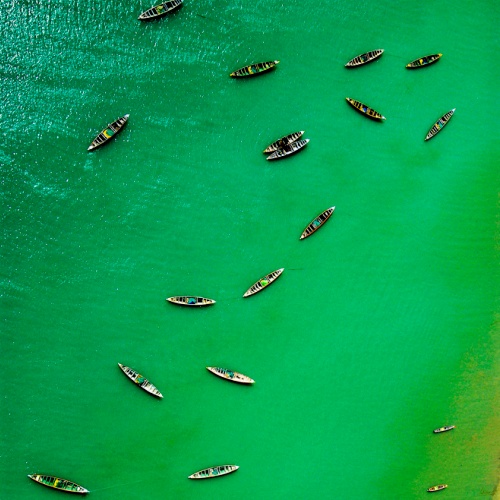 Fragile beauties, Gerrer Simon
SMO CONTEMPORARY ART, LAGOS Artist - Olumide Onadipe, Nigeria Title - "Connecting the Dots"
May – 30 August, 2018 at Temple Muse, Victoria Island
Curated by SMO Contemporary Art, "Connecting the Dots" is a solo exhibition presenting over forty works of paintings, sculptures and mixed media installations by Olumide Onadipe.
With these works, Onadipe tackles issues of global consumerism against the backdrop of daunting environmental pressures facing a lot of Africans every day.
---
Articles worth Reading
For a lively overview of Dak'Art from someone else's perspective see link below from LuxeDigest -
An exciting new event that took place at the 2018 Biennial was the introduction of the program termed "Rencontres et Echanges" i.e. "Meetings and Exchanges." This programme welcomed lecturers and panelists who focused on the topic: "Contemporary African Art and Transformations of Intellectual and Normative Frameworks".
The talking points will serve as content for the magazine "AFRIK'ARTS," expected to be released in the second half of 2018.
"Meetings and Exchanges" at the Biennale 18
---
I do hope you have found this thirteenth edition of CAA newsletter an enjoyable insight into the world of Dak'Art, 2018.
The next issue will concentrate on more personal encounters with some of the artists and designers of the OFF exhibits of Dak'Art. Until then...
---