Greetings!



Newsletter #014 - Dak'Art Biennale, 2018 continued...
'Renaissance' - Diadji Diop, Senegal
'The Red Hour' has been and gone but the effects of Dak'art are still far-reaching and there are still many images to share. Its hard to appreciate the sheer magnitude of this month-long event and I have been relieved to read other visitor's blogs who felt overwhelmed by the sheer logistics of covering what this extravaganza had to offer!
THE PAVILIONS.... 3 countries were given special exposure this year at the Biennale: The host country Senegal, with Rwanda and Tunisia being honored as guest exhibitors. Three large white Pavilions were temporarily erected in the grounds of the National Theater where the Grand Opening took place.
The President and his accompanying entourage of VIPS opened the exhibitions accompanied by much tribal fanfare while his tasseled, red-coated cavalcade of motorcycle guards stood by observing.
To be honest, Senegal's exhibit was not very reflective of its incredibly rich and dynamic art scene, both current and historical. Some of the work was exceptional but for me there was not enough cohesion in the curatorship of the pavilion for it to be truly impressive. It did however introduce one to a diverse array of art forms and mediums from some of the finest artists of Senegal's contemporary art scene.
SENEGAL's theme was titled "LA BRÉCHE" or "THE BREACH".
The commisioner Viye Diba had this to say about the theme:
"The Red Hour sounds like an alert, an interpellation, an invitation to find a solution in urgency to the serious problems that cross the continent.
And 'The Breach' is conceived as a possible solution putting at the center of my preoccupation the economy, which economy is a cultural construct because it gives it its legitimacy. All economies are of cultural essence, as specific responses to the problems facing all. The terms of reference that were given to me put this dimension in the center and it is a pretext dreamed for me. We cannot give ourselves the luxury of spending our poor francs to make only a feast.
Three ideas are hidden in this gap: spirituality, lyricism and eclecticism and the setting in space is conceived as a walk between place of life, of memory, of recollection, all punctuated by the imaginations of artists who have a relationship with these concerns... "
TUNISIA'S exhibition was called "HOLD THE ROAD" and had some exceptional painting talent showcased amongst other exciting sculptural work. Exhibitors had been selected following a call to candidacy launched for democratic representation. The works show, through different mediums, an emotional commitment to democratic process and of the necessity to 'hold the road' of deep transformation in a post revolutionary environment.
RWANDA, somewhat bewilderingly, presented more of an interesting tourism stand than a contemporary African art showstopper.
ARTISTS
SENEGAL
MAMADY SEYDI, sculpture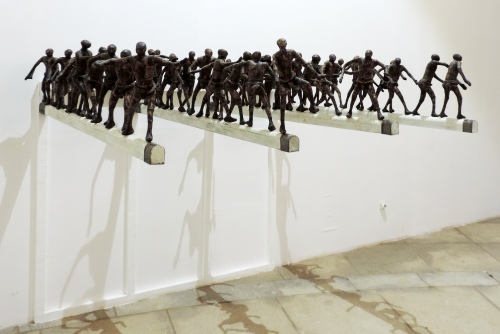 MAMADY SEYDI, sculpture
'Everything that moves was jostled by something stronger'.
---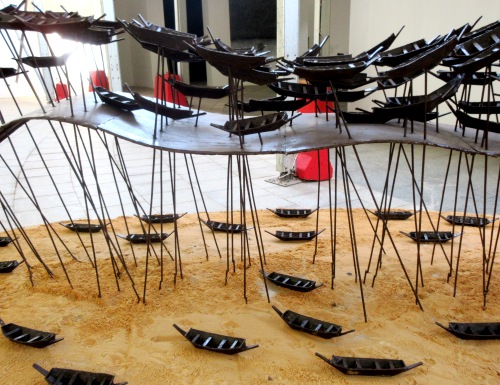 Untitled sculpture installation
---
AMARY SOBEL DIOP, "Mandela'- pressed, stitched metal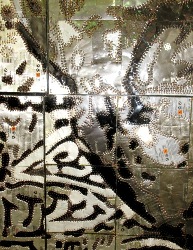 ---
MANSOUR CISS KANAKASSY, mixed media.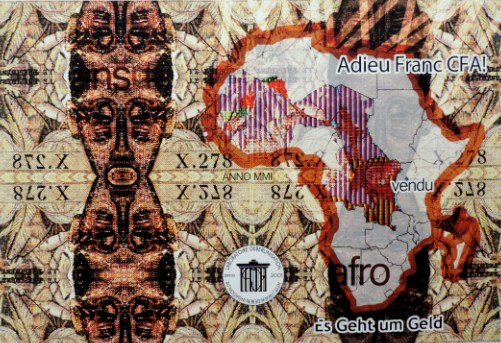 Kanakassy is a Berlin based Senegalese artist whose work addresses the legacy of colonialism in contemporary Africa through economic eyes using the CFA (West African franc) as a symbol of this stark period of African history, replacing the notes with Afros, the new currency for Pan Africa.
---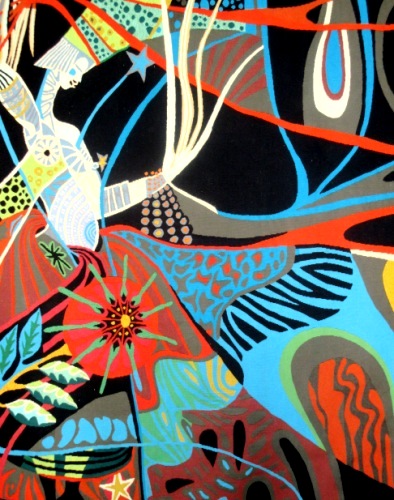 PAPA IBRA TALL, tapestry
A pioneer of contemporary African art, Ibra Tall's tapestries are fine examples of modern classic.. as admirable now as they were 40 years ago, this artist's work remains modern and relevant.
---
TUNISIA
THAMEUR MEJRI, painting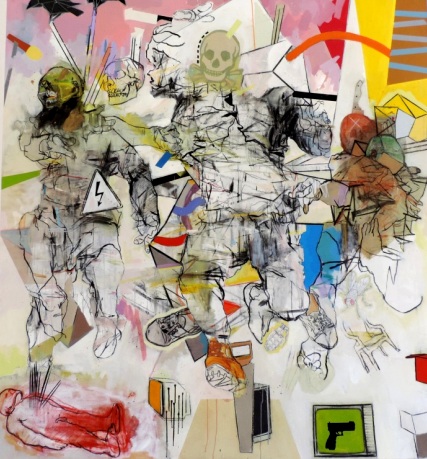 Diptych titled 'Enemy 1' and 'Enemy 2'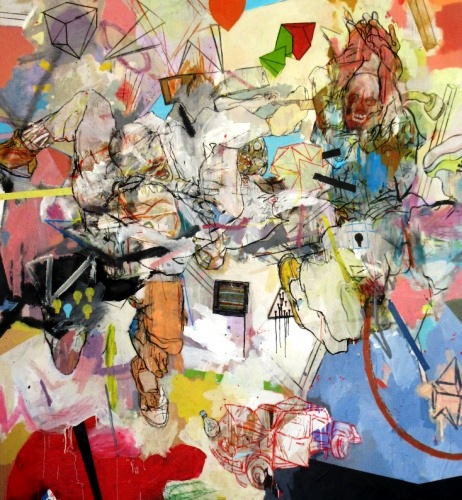 A riotous, powerful blend of colour, line drawings and disturbing images of death and violence, Mejri had this to say about his work... "We try to participate, despite all the counter-revolutions, as artists we try to hold the road, to carry out this democratic mutation and defend our freedom."
---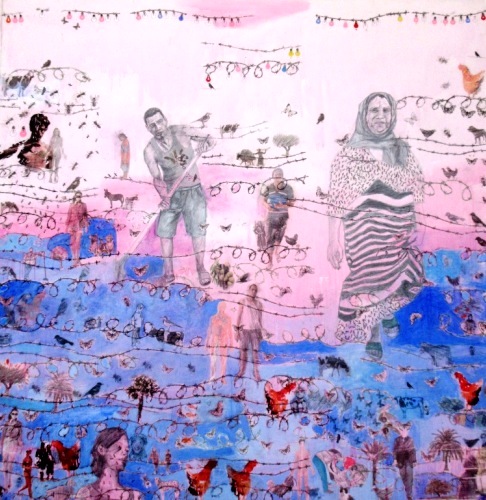 SLIMEN AL KAMEL, painting.
In Kamel's work "Nowhere' his soft colours and rural images of people going about their daily work are startlingly contrasted against barbed wire highlighting the false totality of social peace.
---
ABDESSALEM AYED "The Golden Blood", found objects and assemblage.
An extremely potent installation of 2 radically opposing images(a mattress and a donkey's skull) they are brought together by ash-coloured texturing to present an arresting image.
---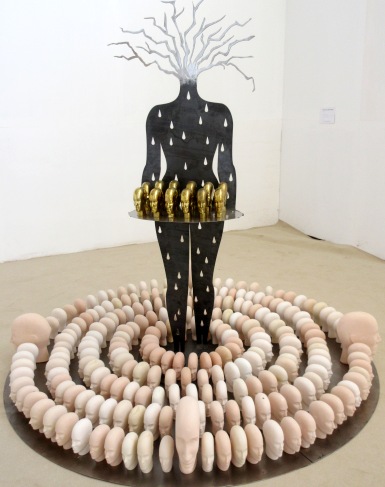 MAHMOUD BOUCHIBA, sculpture of a tree revivifying on the martyr's pedestal… a poetic symbol of renaissance and sustainability.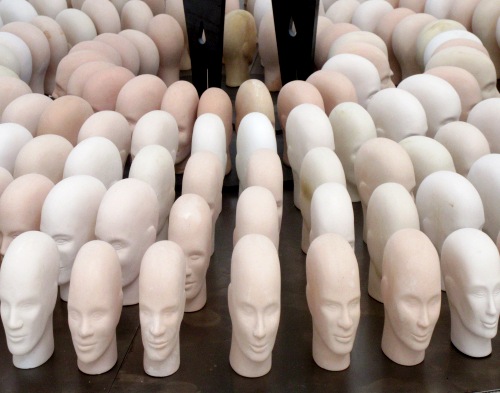 ---
FRINGE - the OFF
Over 300 initiatives or satellite exhibitions were presented throughout Senegal for the duration of the biennale.
The exhilaration of discovering some 'minor' exhibit that blew one away made up for some of the disappointments experienced at 'major' levels. We came across this fabulous installation in a bookshop while searching for a map of the city.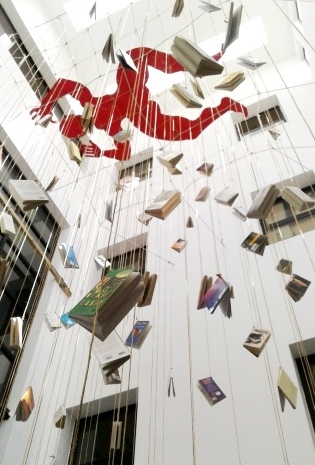 By artist Barthelomew Toguo, this hanging sculpture with accompanying trunks of books and heaps of coal on the ground, recalled the destruction of the library of Alexandria and the papyrus of Timbuktu.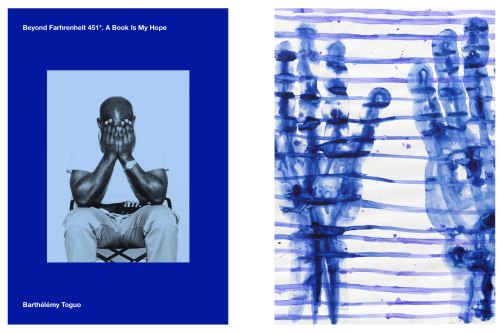 A BOOK IS MY HOPE accompanied the launch of Toguo's book… 'Beyond Fahrenheit'.
---
GOREE
A highlight for those visiting Dak'Art is a trip to the vibrant Île de Gorée just off the coast of the city. The scenic island was once a strategic trading post for the transatlantic slave trade and many artists, gallerists and collectors form part of its small resident population. This makes it a significant environment for contemporary African artists to get their various messages across in an atmosphere where one's sensibilities are continually being confronted.
A variety of artworks were displayed here for the OFF like this photographic representation featured below down one of the alleys. Every corner turned or staircase climbed revealed something new to look at.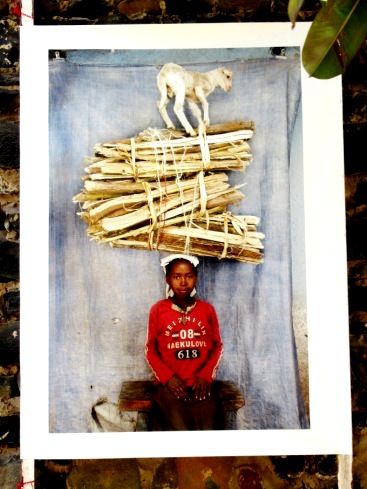 HOW MUCH CAN YOU CARRY?
Florianne de Lassee, photographer
It is, above all, a tribute to these bearers of life; those whose lives are heavy and where smile and laughter become the key to a livable existence.
---
The most poignant artwork was an installation by renowned Senegalese artist, Soly Cisse.
Entitled 'Cotton Field' it was situated in front of the church on the island:
Sculpted metal cotton plants with soft opening pods stand tall and serene in the square… yet their connotations with slavery comes across loud and clear. One cannot help but give thought to the horrors of this human trade that took place off this tiny island.
Artworks like this are what help 'The Red Hour' in its quest for balance, for emancipation, and for shifting individual consciences and collective consciousness.
---
On Goree Island we met Marie-Jose Crispin.
This incredible septuagenarian has spent a lifetime collecting African jewelry, objects and artifacts since first finding a bracelet in the sand when she was 6 years old.
Her collection must be one of the most remarkable on the planet; we were entranced with her, her very beautiful gallery/home and her fine colliers (necklaces) that she has put together using her collected objects.
This gallery below is holding an exhibition of some of her most unique and rare pieces.
GALLERIES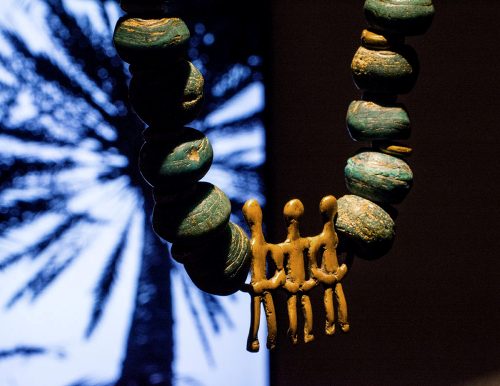 L'AFRIQUE DES COLLIERS, Zurich
MARIE-JOSÉ CRESPIN
7 Jun 2018 - 4 Nov 2018
The Johann Jacobs Museum will be showing a selection of these unusual pieces in cooperation with Raw Material Company (Dakar).
NEWS AND EVENTS
58TH LA BIENNALE DI VENEZIA, 2019
The theme for the 58th International Art Exhibition in Venice has been announced: Its title is "May you live in interesting times" based on a old Chinese curse.
The 2019 Venice Biennale empowers the ability of the individual to decipher 'truths' of their own'.
The 58th La Biennale di Venezia will run in Venice, Italy from 11 May – 24 November 2019.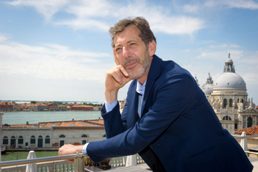 Curator Rogoff continues by saying "The 58th International Art Exhibition will not have a theme per se, but will highlight a general approach to making art and a view of art's social function as embracing both pleasure and critical thinking.
Artists who think in this manner offer alternatives to the meaning of so-called facts by suggesting other ways of connecting and contextualising them."
Serge Clottey's work can be found at Facebook's Headquaters in San Fransisco. A gloriously monumental installation follow the link below to find out more.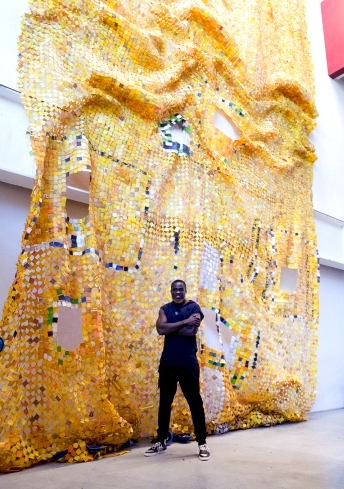 ---
Articles worth Reading
For more Dak'Art OFF visitor's experiences do read these 2 reflective and extensive overviews:
This comment is taken from the article below and sums it all up for me, bringing a very necessary sobriety to evaluating the future of Dak'Art and indeed, contemporary art on the African continent.
"Dak'Art itself is showing strain: its logistics, controlled by civil servants, are haphazard, and the whole event needs what Njami called a 'more contemporary rhythm.'
Its seriousness and firmly African intellectual ownership will only become more necessary as the market expands."
---
I do hope you have found this fourteenth edition of CAA newsletter inspirational and I look forward to engaging you in some topics further afield in the next issue... until then, be creative whatever you do!!
---