Greetings!



Contemporary African art... a wonderful world of diversity, ingenuity and passion!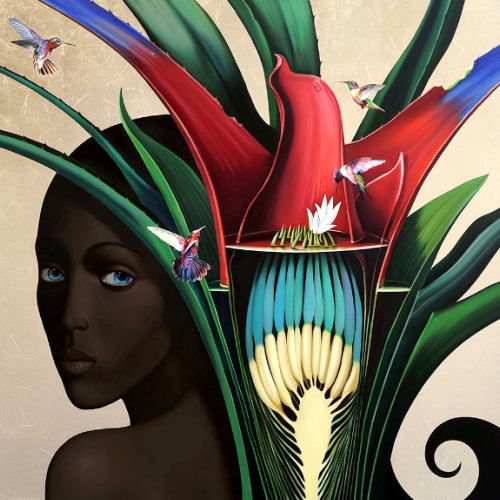 'Aloe', from series 'Jungle Queens' oil on canvas, silver leaf
Contemporary African artists are making their mark in all corners of the earth at present. Gallerists have recently represented their chosen artists at international Fairs such as 1:54 and the Frieze in New York while artists are about to represent their countries at the 58th Biennale in Venice.
The Guggenheim in NY is currently showing the work of Simone Leigh. Other solo exhibitions are taking place in the UK, Sweden, Germany and in places as far afield as Seoul, S Korea where South African Nicholas Hlobo is holding his first exhibition on Asian soil with Lehmann Maupin gallery.
On the continent itself, the gathering momentum of contemporary African art is undeniably explosive... so very exciting but very hard to keep up with! The 'big guns' get a lot of coverage so keeping the non-gallery-supported artists in sight is so very important.
Endeavoring to show the full depth and breadth of scale of Africa's creativity is daunting but continues to present a welcome challenge for CAA.com. Happy reading...
ARTIST
ROBERT SLINGSBY
This South African artist recently had a solo exhibition at the Circa Gallery/Everard Read in Johannesburg called In/Dependance. It offered a continued expression of the artist's life-long fascination with indigenous populations and their natural environment.
His dramatic, intense installation filled the somewhat constricted space with a blend of digital prints on aluminum, 11 printed hemp canvas panels collectively entitled 'The people melt into the darkness and disappear and the sugar cane springs up'.
Magnificent charcoal drawings on rag paper, 1000 vividly yellow glass flowers called "the Flower Trap", bronze sculptures and twisted plywood also filled the room.
The inclusion of concrete and glass lip-plates in the exhibition, are a nod to both popular trends and to the traditional culture of the Mursi tribe.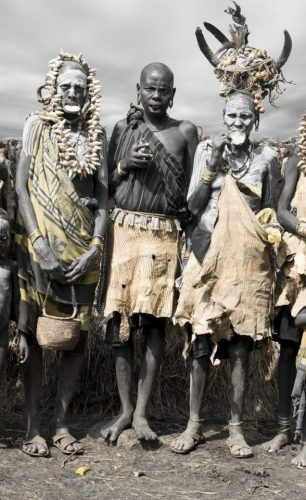 "Through his work he expresses outrage at the uneven trade-off between history, identity, livelihood and the often bitter fruits of so-called civilisation which, for the poor and the marginalised, often bring servitude, displacement and the status of exiles even within their own lands".
TOUGH king: 'I am Zino Ari, Chief of the Kara People', Charcoal and chalk pastel drawing on rag paper. Photo, Courtesy of Everard Read Gallery.
NEWS AND EVENTS
TWO OF SOUTH AFRICA'S LEADING ART INSTITUTIONS TO HOST LARGEST WILLIAM KENTRIDGE EXHIBITION IN AFRICA

This major exhibition of his work will be hosted simultaneously in two parts by the Zeitz Museum of Contemporary Art Africa (Zeitz MOCAA) and the Norval Foundation, opening 24 August and running through to March 2020.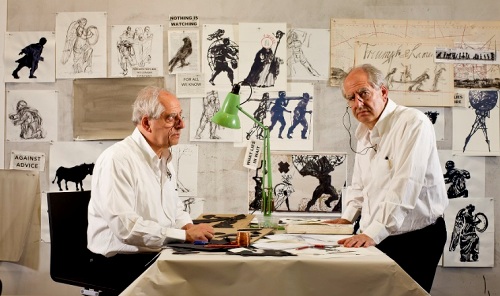 Why Should I Hesitate? Sculpture and Putting Drawings To Work
---
2 ART FAIRS THAT HAVE JUST WRAPPED UP IN NEW YORK THIS PAST WEEKEND WERE 1:54 NY AND FRIEZE:
1:54 NEW YORK
2019 EDITION
1-54 returned for its fifth anniversary edition to New York at Industria, West Village. The 2019 edition of 1-54 welcomed 24 galleries collectively representing some 73 artists from Belgium, Côte d'Ivoire, Egypt, Ethiopia, France, Ghana, Kenya, Martinique, Morocco, Nigeria, Portugal, Senegal, South Africa, Turkey, the United Kingdom and the United States.
For the fifth consecutive year, 1-54 New York was accompanied by 1-54 FORUM, the fair's acclaimed series of talks and events. Curated by Black Chalk & Co, it is an art collective founded by Zimbabwean artists Nontsikelelo Mutiti and Tinashe Mushakavanhu.
To see who was there see links below: artists at 1:54 NY 2019 galleries 1:54 NY 2019
One of my favourite artists is Joana Choumali who works primarily with conceptual portraiture in mixed media including tapestry thread... she was represented by Loft Gallery.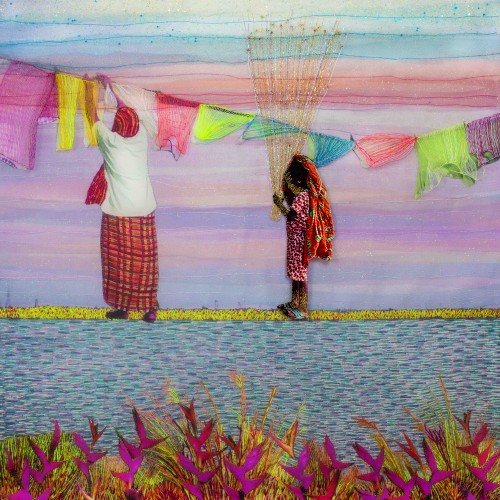 'The One Who Opened the Jar', 2019, from the series, Albahian Collage and embroidery on C-print
COLLECTOR'S CHOICE
Abidjan in the 1970's: Paul Kodjo photographs the Ivorian Miracle
'Kodjo pushed the boundaries of African traditional studio photography. With cinematic flair, Kodjo photographed his subjects outside of the studio in staged modern domestic interiors, as well as in the streets of Abidjan where a dialogue between model and space contributed to an expression of Ivorian pride'.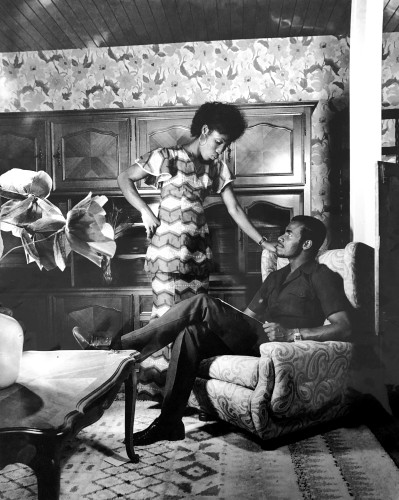 'Excerpt from the photo novel Perdue et Retrouvee', 1974. Black and white silver print Courtesy Isabel S. Wilcox Collection
More Booths from 1-54 New York 2019
FRIEZE NEW YORK
Arguably the most striking intervention was Ibrahim Mahama's jute flags, waving in lieu of the 192 UN flags that normally encircle the Rockefeller Center's iconic ice skating ring. This specially commissioned installation of fifty flags, was crafted by the artist in his native Ghana from used cocoa bean bags.
It delivered a strong political punch, touching on themes of slavery, economic disparity and oppression.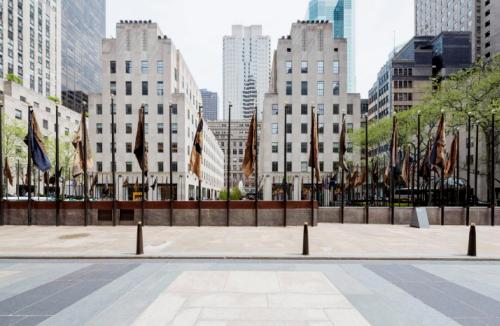 'Untitled', 2019, by Ibrahim Mahama, presented by White Cube.
OMAR BA AT HALES GALLERY
Hales featured the Senegalese artist Omar Ba on their stand. They described their 10 year long relationship with Ba which has seen him develop from a strong political stance to a more personal, familial one with works featuring his mother and the beauty of Africa.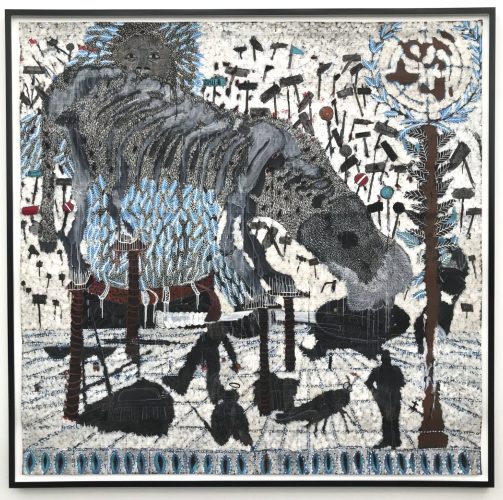 DIEDRICK BRACKENS at VARIOUS SMALL FIRES
Diedreck Brackens is a young American artist whose subject matter for his painstakingly crafted tapestries is an amalgamation of African, American, and European textile narrative histories that explore notions of race, gender, marginalized communities, and sexuality.
The stand out piece purchased by the Brooklyn Museum on the preview morning depicted a lime green figure reclining across a white horse against a hot pink background. The edges are purposely left uneven and imperfect.
Diedrick Brackens, 'when no softness came' (2019)
---
58th Biennale , Venice 2019
The 2019 Venice Biennale opens its doors on May 11 and closes on the 24th of November.
AN INTERNATIONAL SLATE of 79 artists has been selected to participate in the main exhibition at the 58th Venice Biennale. This year's edition of the international exhibition is titled "May You Live in Interesting Times" and is curated by Ralph Rugoff, director of the Hayward Gallery in London.
Rugoff has invited artists from around the world to contribute to the exhibition in the Central Pavilion. The list includes 13 artists of African descent, including NJIDEKA AKUNYILI CROSBY, MICHAEL ARMITAGE, ARTHUR JAFA, KAHLIL JOSEPH, TAVARES STRACHAN, JULIE MEHRETU, ZANELE MUHOLI, HENRY TAYLOR and KEMANG WA LEHULERE. For a preview of the 58th Biennale courtesy Wallpaper read here
VICTORIA MIRO GALLERY
The Nigerian, Los Angeles–based Njideka Akunyili Crosby takes over Victoria Miro's charming Venice gallery space with her mixed-media paintings that collage together her own cultural heritage with that of her American peers.
The show includes the latest work from her ongoing series "The Beautyful Ones," in which she continues to lend her figurative subjects emotional depth through deft use of found images, a rich color palette, and poignant facial expressions and gestures.
Awards and Prizewinners:
SIMONE LEIGH

Simone Leigh won the Hugo Boss award of 2018.

The Hugo Boss Prize, established in 1996, is awarded every other year to an individual contemporary artist or group working in any medium. Along with $100,000, recipients are awarded a solo show at the Guggenheim.

Her rise is as much a story of an artist who has elevated the medium of sculpture as it is of someone who has acknowledged and uplifted the black female experience in contemporary art.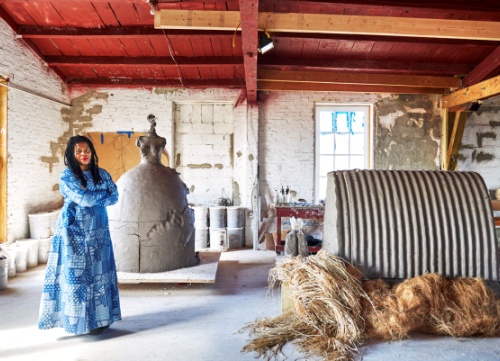 Leigh on site at Stratton Sculpture Studios, The Philadelphia Foundry where she produced her new works.
---
CURRENT EXHIBITIONS
SIMONE LEIGH, LOOPHOLE OF RETREATAt the Guggenheim Museum, NY

APRIL 19–OCTOBER 27, 2019

"In a suite of new sculptures, Leigh merges the human body with domestic vessels or architectural elements that evoke unacknowledged acts of female labor and care.

These works summon the ancient archetype of the nude statue and inflect it with folk traditions from across the African diaspora as well as with historical references ranging from Benin bronzes to the portraiture of seventeenth-century Spanish painter Diego Velázquez.

As such, they emerge from what the artist refers to as a process of "formal creolization," channeling the cultural fluidity that is a legacy of colonialism".
"The project's title is drawn from the writings of Harriet Jacobs, a formerly enslaved abolitionist who in 1861 published an account of her struggle to achieve freedom, including the seven years she spent hiding from her master in a tiny crawl space beneath the rafters of her grandmother's home.
This act of defiant fortitude, which forged a "loophole of retreat" from an unjust reality, serves as a touchstone for Leigh's long-standing commitment to honoring the agency of black women and their power to inhabit worlds of their own creation".
'The Sentinel'
---
HASSAN HAJJAJ: THE PATH
NEW ART EXCHANGE, Nottingham, United Kingdom06 Apr 2019 - 23 Jun 2019
British/Moroccan and born in Larache in 1961. Hajjaj's work is heavily influenced by both the hip-hop, club and reggae scene in London where he has lived since his early years and his North African heritage.
'The Path' features new works from the Rock Star and the Dakka Marrakchia Series as well as a new collection of unseen travel photographs that focus on landscape, place and sensibility.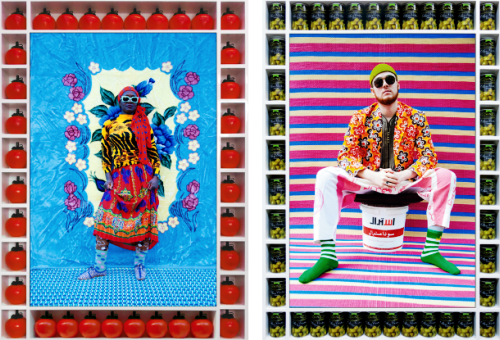 Portraits of Lynette Yiadom-Boakye and Kamaal Williams
CONRAD BOTES, 'THE GOLIATH PROTOCOL'MAIN GALLERY, CIRCA GALLERY JOHANNESBURG
6 APRIL 2019 - 23 JUNE 2019
The Goliath Protocol at Circa Gallery in Johannesburg, is Conrad Botes's first major solo exhibition in five years. The work includes four large-scale canvasses, including a 4 x 7,5 metre painting in oils that is Botes's most ambitious work to date.
With this particular piece, the artist collaborated with the Spier Arts Trust, Woven Ceramics and Black River Studio to reconfigure the work as a 4 x 7,5 metre painting executed on ceramic tiles and to be exhibited outdoors in a public space.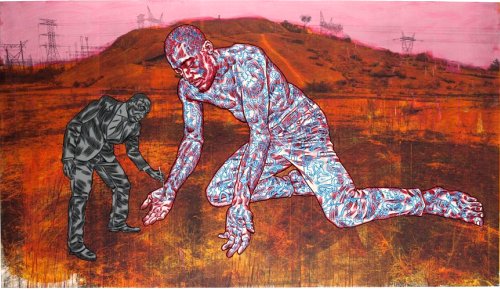 ---
GONCALO MABUNDA 'ORATOR OF TIME'JACK BELL GALLERY
17 - 31 MAY 2019
Born in Mozambique, this artist is already famous for his richly ornate 'thrones' made out of weapons from war, adding even more weight to this symbolic symbol of power and prosperity.
In this exhibition there are also masks made from the same materials, transforming these tribal subjects into newly created, contemporary forms.
This artist is one of 3 representing his country of nationality at the Biennale in Venice.
---
GALLE WINSTON KOFI DAWSON: In Pursuit of something 'Beautiful', perhaps...
Savannah Centre for Contemporary Art (SCCA), Tamale, Ghana
15 Mar 2019 - 15 Aug 2019
The Savannah Centre for Contemporary Art will inaugurate its space with this exhibition, curated by Bernard Akoi-Jackson.
The exhibition is a retrospective on the work of Ghanaian modernist Kofi Dawson (b. 1940) who coined the term Afro-Journalism to describe his socially-committed art practice.
"Galle Winston Kofi Dawson: In Pursuit of something 'Beautiful', perhaps…" charts the complex trajectory of an artist whose body of works stretches across a multiplicity of forms including serigraphy, etching, woodcut, ink and line drawing, acrylic and oil painting, collage, sculpture and installation.
NOTE: The Savannah Centre for Contemporary Art (SCCA), located in Tamale, Ghana, is an artist run project space, exhibition and research hub, cultural repository and artists' residency.
It is an initiative of world-renowned Ghanaian artist, Ibrahim Mahama, as a contribution towards the development and expansion of the contemporary art scene in Ghana.
CONTEMPORARY ART and SLAVERY
Early this year I visited The International Museum for Slavery in Liverpool, UK.
Having had the profound experience of exploring Goree Island off Dakar during the DakArt Biennale, I have found it necessary to continue a quest for making sure I absorb and honour as much as I can about the topic of slavery, primarily on the African continent.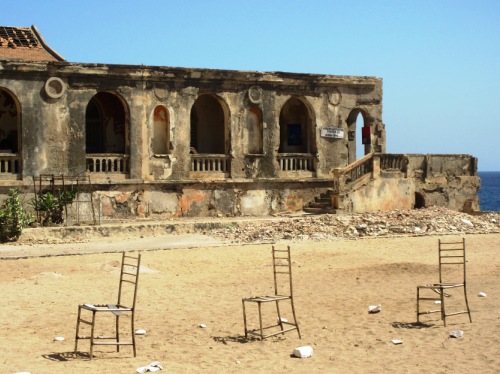 Slave House, Goree Island, during Dak'Art 2018
On my CAA page, African Slavery and Contemporary African Art, you will find a great number of contemporary artists who have something to say about this topic in many different ways, both succinct and powerful, befitting of such an emotive and undeniably brutal issue.
Please take the time to read it, you will find it on the link below: african slavery and contemporary art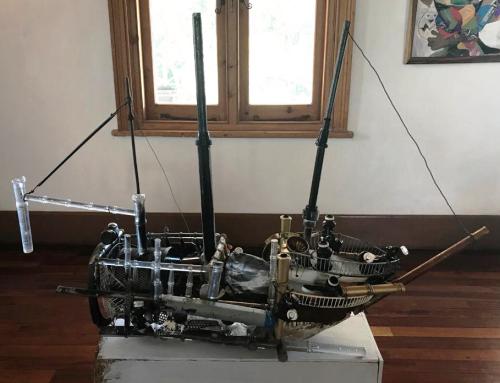 From a local exhibition with an extremely talented young artist, NGONIDZASHE TSIGA, National Gallery of Zimbabwe, Mutare, a series of ship sculptures made from found objects and titled "Repatriation". How brilliant are these??
---
Articles worth Reading
DIGGING UP THE TRUTH
What a Danish slave trade castle in Accra revealed about Ghana's history and my family.
By Rachel Ama Asaa Engmann, Hampshire College November 27, 2018
---
Thank you for reading this 18th edition of CAA newsletter, I hope you have found something to capture your attention from this very diverse array of art. Until next time...
---