Greetings!



Welcome to the 20th edition of CAA newsletter... African art whipping up a storm from Johannesburg to Accra, Berlin to Los Angeles and all sorts of places in between!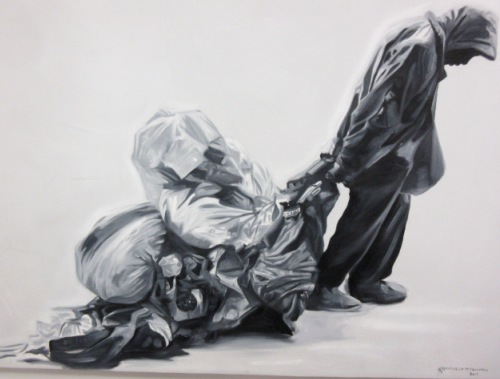 From the series of works 'Shadow People' by KAMOGELO MASEMOLO
NEWS AND EVENTS
TURBINE ART FAIR in Johannesburg celebrated its new surroundings with a vibrant and energetic showing of booths featuring emerging artists alongside total newcomers and graduate students.

On the other end of the spectrum, visitors enjoyed potent visual insights into some of South Africa's major artists, both living and deceased... and the chance to buy an affordable print of established artists such as Norman Catherine and Colbert Mashile.

The fair was seemingly very accessible for the public and hopefully very successful for galleries and their artists with some of the works being sold in the first couple of days and replaced by other pieces held in reserve.

Some of the highlights were:

BLAQUE INQ CONTEMPORARIES who featured Kamogelo Masemola as a solo show. His series of paintings was based on the study of and collaboration with a number of homeless people living on the streets of Johannesburg.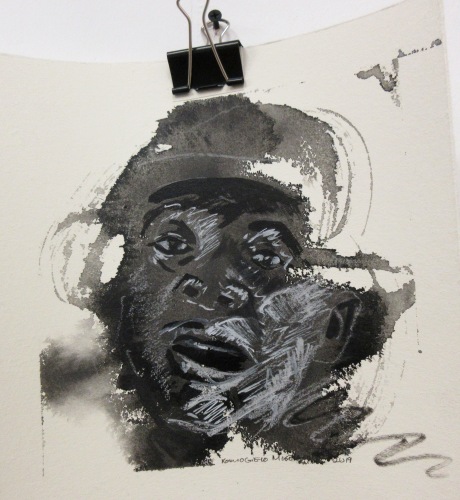 This project focusing on their issues and their compelling stories seemed to touch a nerve with the public; the smaller, drawing sketches like this one above were virtually sold out on the opening night.

Also a firm crowd favourite was the Anthony Shapiro stand which featured his own ceramic vessels as well as works by a number of other ceramic artists.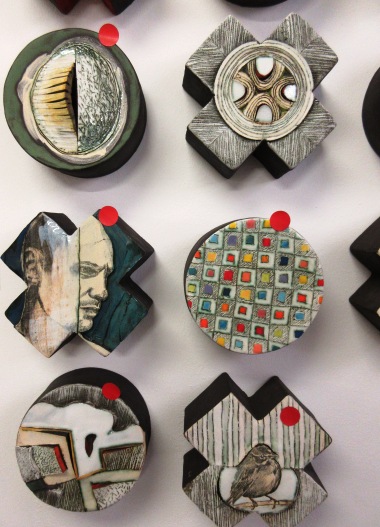 Hennie Meyer's 'Rounds and Crosses' was a complete sellout, each piece being sold individually. Make art quirky and affordable and it appears to be have infinite appeal!

On a personal level I had a very firm favourite:

The diverse and very contemporary work displayed on the walls of the booth of Candice Berman Fine Art was especially stimulating. Exploring themes of 'transformation', 'contradiction' and 'cultural layers', her 3 artists presented a visual feast.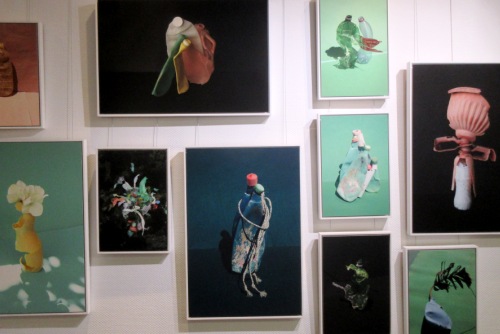 Most exciting and novel was that of photographer Thirza Schaap who has been living and working in Cape Town since 2013. She has been exploring new art forms through her project termed 'Plastic Ocean', trying to raise awareness around pollution. Her pieces are incredibly beautiful, it takes a while to realize what you are looking it; evocative photographic stills of pieces of trash reinvented as treasures… they cannot fail to evoke an emotional response on both levels.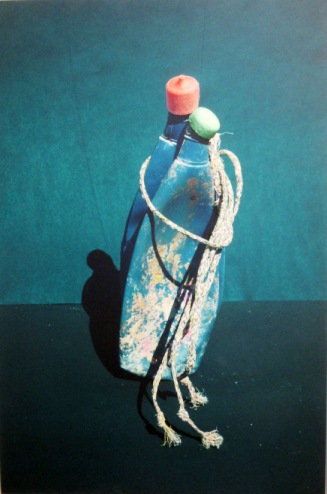 Also showing on the Berman stand was the work of Juan Stockenstroom whose pieces came under a title 'Cultural Layers'. Paintings such as the one below 'Missionaries and Mercenaries' reflect his own experiences of growing up in post-apartheid South Africa as a person of mixed-race.

He describes his work as a 'mash-up of narratives' such as gang culture, symbols, cryptology, mythology and multi lingual handwriting.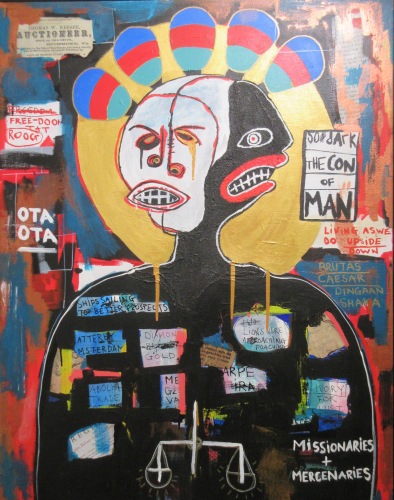 The abstracted works of Tshonga Portraits in 'Shangaan Dresses 2019' by Soweto artist Daniel Stompie Selibe provided another contrast to an already enlivened booth.

MILLENIUM GALLERY's featured artist HANNALIE TAUTE's work certainly drew some attention with its unusual mix of medium... Cotton thread, vintage photographs, wood and black, recycled rubber inner tubes combine to create a dichotomy of delicacy and brutish arrangements that force the viewer to engage in the storytelling.

See and example titled 'Takhaar' below: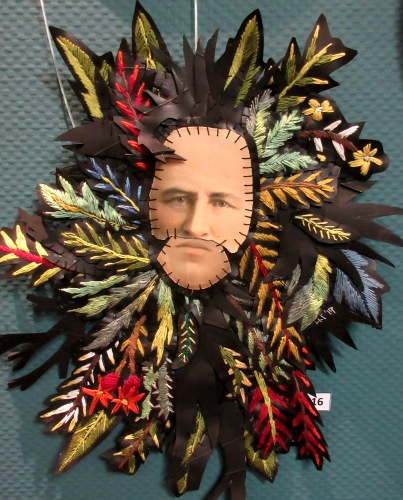 STILL MORE AT THE FAIR...

I'm not sure whether its just that I'm into line drawing and illustrative detail at present but drawn works seemed to jump out at me from everywhere during the Fair. It would definitely seem that drawing counts... ode for an art teacher's ears!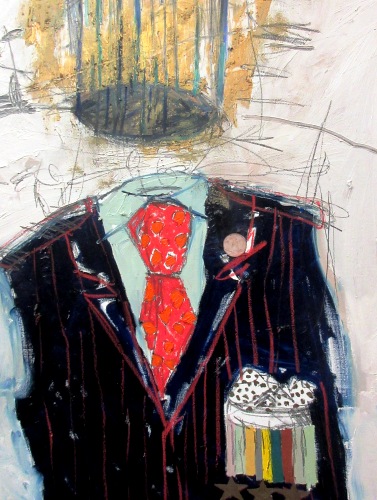 Perhaps with the concentration on print workshops and affordability it meant that drawings and etchings were an inexpensive option and therefore a lot of them were displayed.

Whatever the case, there was lots of it... emotive, elegant, demonstrative, textured, vigorous, blended, you name it, every style of drawing and line existed in all sorts of mediums. Even such as the dynamic and energetic fabric installation seen below.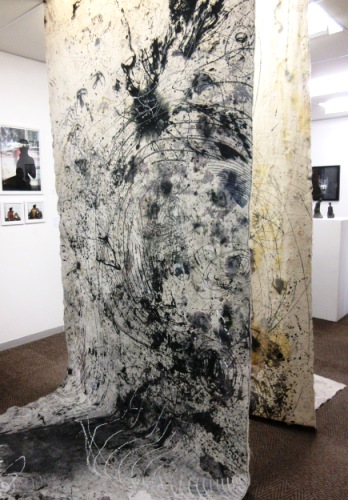 These pieces from Kentridge and Bell were not for sale but were part of an evident drive for Investment Art that was prevalent at the Show.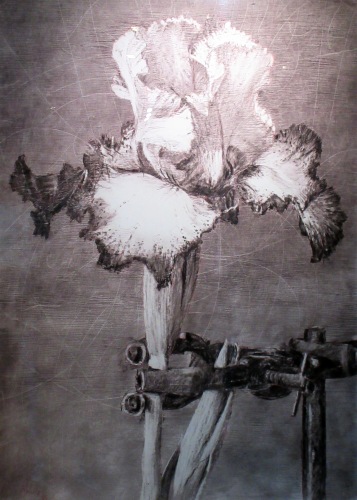 WILLIAM KENTRIDGE, 'Iris' Etching
While all of these types of works fell far wide of R50 000, they were a reminder of taking the opportunity to invest in emerging talent at an early stage when still affordable.
Besides just being very enjoyable to view in the piece.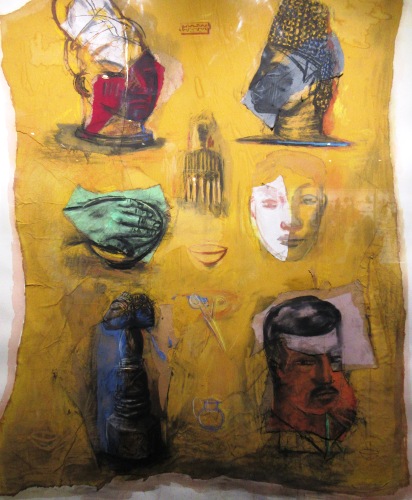 Especially in the case of the Strauss curated show who had chosen this opportunity to tell a story called 'A Meeting of Minds'.

Louis Maqhubela and Douglas Portway are 2 South African artists who stem from very diverse backgrounds but came together in St Ives, Cornwall, UK to discover, amongst many other things, a shared passion for the work of Paul Klee. It turned out that they were indeed artistic kindred spirits and this is the story of this part of their lives.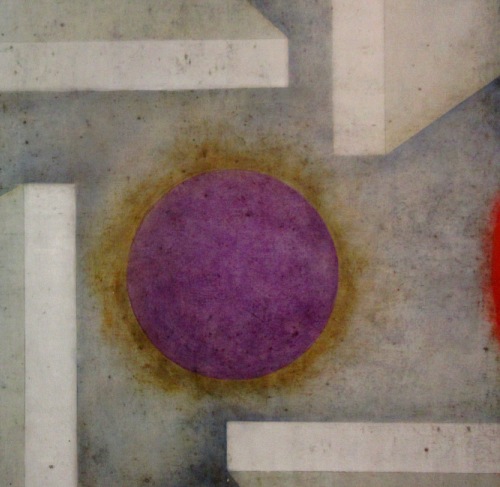 DOUGLAS PORTWAY, "Still Centre'
Strauss printed a a fabulous catalogue for the Turbine Art Fair with high quality images of paintings that would normally be seen only as part of private or major public collections.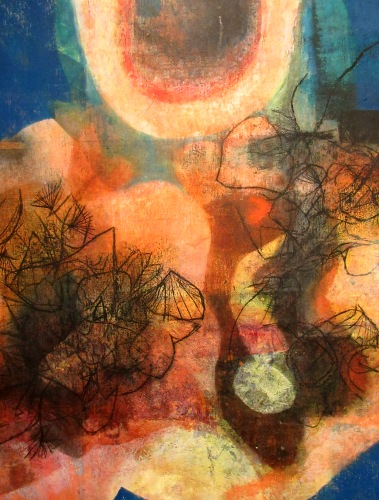 LOUIS MAQHUBELA 'Untitled', oil and paint stick on canvas
Lucky Sibaya's standing sculpture "Xylophone' with mounted carved and painted wood panels executed in a fully abstract style is an example of how major artworks can escalate in worth dramatically: Purchased in 1988 for R18 000, these panels estimated value at auction is somewhere between 70 and 100 thousand rand (Strauss & Co).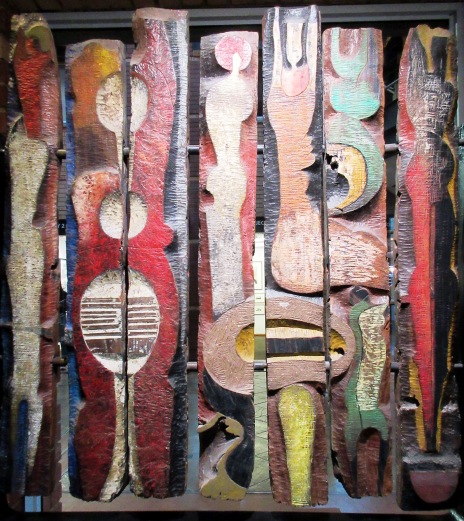 With all this focus on sales and the commercial aspect of art, my artist friend and I attended a lively discussion termed 'We Began Before Words: Art writing and critique in South Africa', one of the Talks Programme sponsored by RMB Private Bank.

Described as thus:A Panel discussion with the following questions to pursue:

• What is the role of art writing and critique, where art and its experiences transcend language and literacy?

• What are the chosen languages of art discourse and who is voicing them?

The session was to focus on the relationship between the written word and visual culture, particularly in African context.

Did it do this? I'm not sure but it was certainly entertaining and managed to change our position when we went back into the halls of the Fair for our second round of touring the Booths.

Adopting a more critical eye to the commercial dynamics happening around us we turned to concentrate on the stories being told by the artists in their work. One of the panel suggested that art writers and critics have a responsibility to exhume and cultivate all the ideas exhibited in the artwork... to talk about the conversations the artists are having both with themselves and with their viewers.

One of the panel as a self-proclaimed, liberal humanist denounced a role where he sees one as a courtier to capitalism; having to write to try and encourage sales instead of being provocative, engaging and expressing in viewpoints and ideas.

In summation, it seemed everybody agreed that Art is a place where you can be interested, where you can have conversations about and around ideas and themes while trying to keep the language about communicating "what" to "whom" paramount in your mind. Be aware of one's own 'positionality' as a writer as well as be wary when writing of having an 'over-celebratory' voice.

Along with discussions and walk-abouts with artists the Fair featured a special screening of the film BILLY MONK: SHOT IN THE DARK.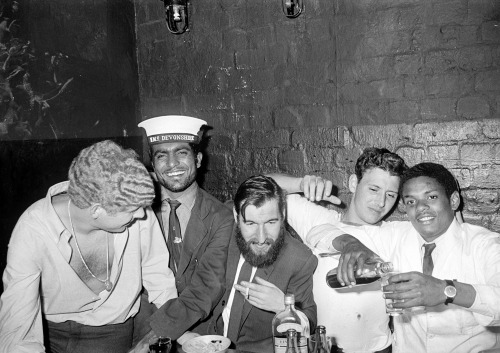 'A larger-than-life character – Billy Monk was a diamond-diver, Woolworth's model, safe-cracker, lobster fisherman, womanizer, nightclub bouncer and photographer extraordinaire. He and his mixed-race wife and children lived across the colour-bar in Apartheid South Africa, and Billy's love of black jazz drove him into frequent clashes with the law. His tragic, violent end on the way to the first major exhibition of his work is a poignant counterpoint to his passionate life.
Missed and mourned, his photographs of The Catacombs live on, showing life on the margins in the rough, dock-side club – the gays, the inter-racial couples, the prostitutes, the trans-sexuals, pimps and sailors. This was a life lived in the shadows, and Billy Monk captured it.'
Absolutely loved these incredible photographs offering us a porthole into another world.
---
CURRENT EXHIBITIONS
The New Museum235 BOWERY Manhattan
DIEDRICK BRACKENS: "Darling Divided"Running through until 15th September
A tapestry artist, Brackens first solo museum show of his weavings brings together West African, European, and Southern American textile traditions, conjuring both abstract and figurative motifs that contemplate black and queer identity in America.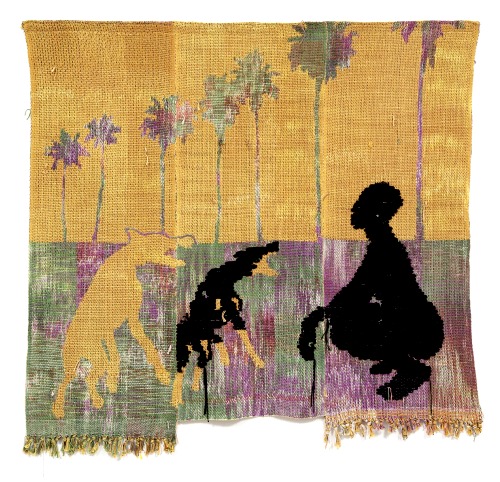 GNYP GALLERY, Berlin
Wycliffe Mundopa & Gresham Nyaude:Titled "Day & Night"
Exhibition on until 10th of August 2019
Whilst this particular exhibition is nearly finished the work of these 2 artists is worth mentioning since Zimbabwean painting in general is continuing to have an exciting impact on the art world.
Wycliffe Mundopa and Gresham Tapiwa Nyaude both live and work out of Harare, Zimbabwe. In their colorful expressive paintings they reflect on the impact of their environment, confronting the viewer with topics such as poverty, violence, prostitution and social classification of people.
Mundopa's and Nyaude's work is widely exhibited not only in their hometown but also in South Africa, Australia, the UK, USA, Hong Kong, France, Germany and The Netherlands.
http://www.gnypgallery.com/dayandnight/installationviews.php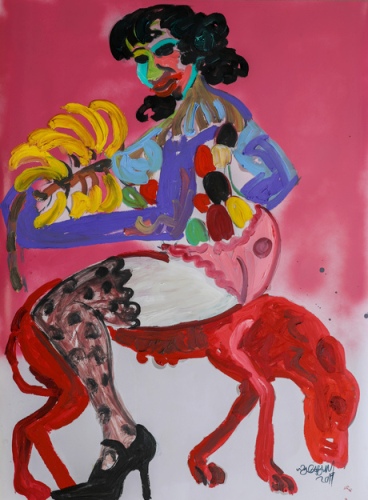 Other names who are making their mark include:

• Mishek Masamvu, currently exhibiting in Cape Town at the Goodman Gallery

http://www.goodman-gallery.com/artists/misheck-masamvu

• Mavis Tauzeni and Amanda Mushate, represented by First Floor Gallery, Harare

https://www.firstfloorgalleryharare.com/

• Sky Salange, seen recently at Turbine Art Fair with Guns and Rain Gallery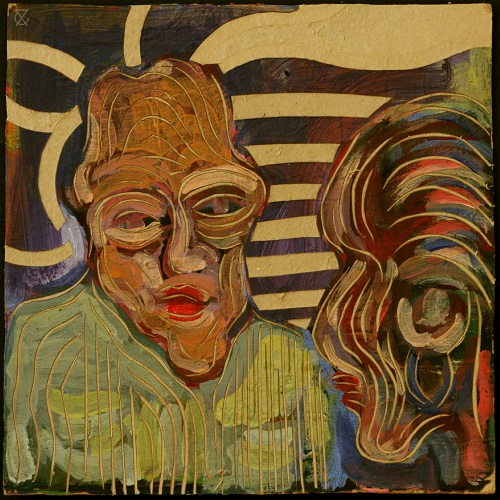 Awards and Nominations
Photographer SAMMY BALOJI nominated for 2020 Belgian Art Prize
'His work is a perpetual research into the cultural, architectural and industrial heritage of the Katanga region, as well as a questioning of the effects of Belgian colonization. His videos and photographic series highlight how identities are shaped, transformed, perverted and reinvented'.
Born in 1978 in Lubumbashi, Sammy Baloji is a visual artist and photographer. Since 2005, he has been exploring the memory and history of the Democratic Republic of Congo.
Sammy Baloji nomination for Belgian art prize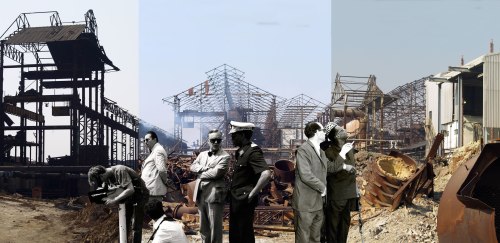 Learning a meaningful "postcolonial dialog" is hard and challenging work. Sammy Baloji appears to be an artist who is achieving this in his work.
---
ARTIST
KENTURAH DAVIS
Having recently discovered this artist's work I have chosen her as #020's feature artist.
Currently exhibiting at Matthew Brown Gallery, LA, California, (titled 'Blur in the Interest of Precision')
"Davis's work oscillates between various facets of portraiture and design. Using text as a point of departure, the artist explores the fundamental role that language has in shaping how we understand ourselves and the world around us. This manifests in a variety of forms including drawings, photographs and performances".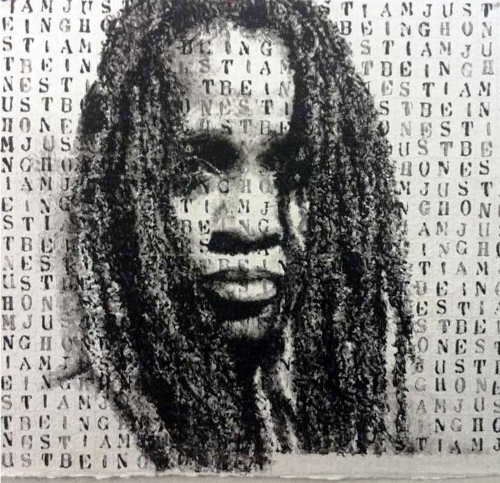 KENTURAH DAVIS, 'I am Just Being Honest'
She is interested in speaking a new visual language utilizing old methods in new ways like in this piece below which uses oil paint applied with rubber stamps with a graphite grid on embossed paper.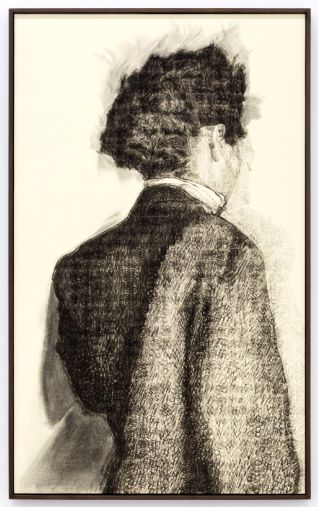 'A Shape of Mystery'
Davis has recently returned from a residency in Accra where she worked in collaboration with Oesi Duro Design to produce new textiles that resemble Kente cloth in proportion and structure.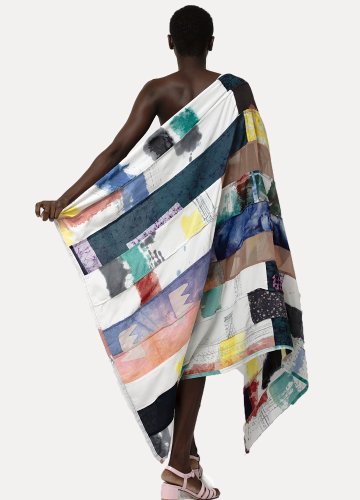 Cloth #1 is a one of a kind handmade art piece created in collaboration between seamstress Fatimata Issah and artist KENTURAH DAVIS.
---
Articles worth Reading
The restitution of African artworks from Western institutions
The restitution of African artworks from Western institutions is an issue at the forefront of these investigations.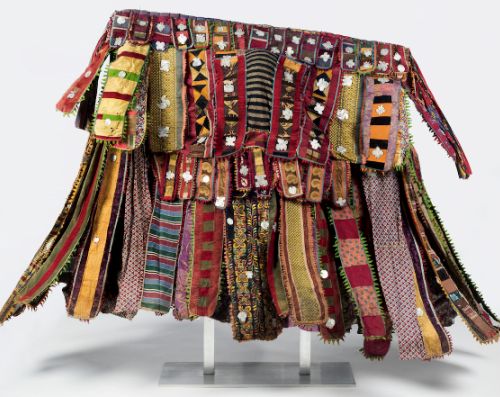 While previously exhibited at the Brooklyn Museum, this egúngún has not been the focus of extensive research until now. In summer 2018, its origins were traced back to its makers, the Lekewọgbẹ family. Though no longer ritually empowered according to its community of origin, it remains a compelling symbol of belief.
---
Thank you for reading this 20th edition of CAA newsletter, I do hope you have enjoyed reading it and seeing new work and new directions for our contemporary artists.

Until next time...
---