Greetings!



Newsletter #024... Perfectly representing our indeterminate future...
"Distant Summer" KADIR NELSON
This poignant image of a child in summertime pensively eating an icecream, is a symbol of hope and normality in the midst of this continuing shambles, this topsy-turvy world we currently live in.
The artist is Kadir Nelson, born 1974 in Maryland, USA.
More well-known for his illustration of George Lloyd on the frontcover of June 22nd issue of the New Yorker, it is an extraordinary artpiece; capturing the mood, the history, (recent and ancient) - the absolute essence of everything leading up to and surrounding the last 2 and a half months since the killing of George Floyd by a Minneapolis officer.
An interactive link gives one details of all the faces and symbols represented in this powerful painting.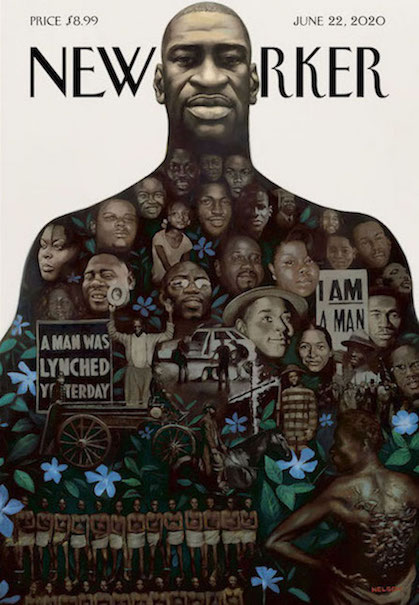 The impetus to create change at a time when there was great visibility and energy, set off ongoing protests the world over, fired by a desire to dismantle and address rascism at every level of society.

In his own words, Kadir Nelson says… "What's most important is keeping the conversation going, around the world—whether through film, TV, literature, the visual arts, broadcasting, music, or social media. All of it needs to address the problem head on....."

Street art, graffiti and wall murals have become a visual manifestation of this energy, not just in many cities in America and Canada but also in Africa, the UK, the Middle East and Australia.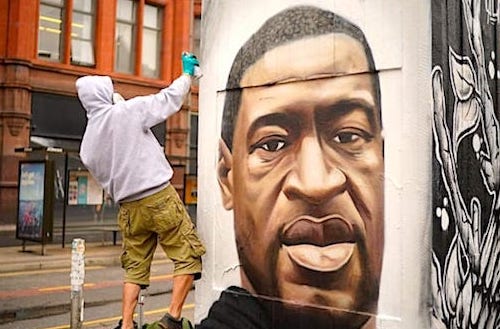 This mural is painted by the street artist Akse and can be found in the city of Manchester in the UK.

Powerful, emotive and not-going-away, graffiti is a reminder to stay outraged and commited…. inseperable from freedom of expression and integrity.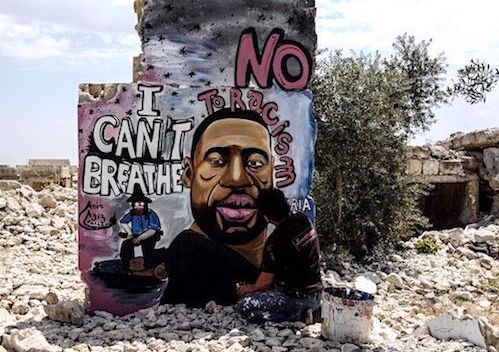 This mural is painted in solidarity by the Syrian artist Aziz Asmar on a wall of a bombed Idlib building.
---
There is now a very strong desire for artists to rewrite the narratives, to portray black people in new ways, to shift perceptions.

Exhibitions, auctions and public art will have a new focus until imbalances are addressed and some form of parity is achieved at every level. This may result in formulated events but it is a reality that Gallerists will choose artists who present these new narratives (in any form or manner) and clients/viewers can choose to be responsive and engage… or not.

Irrevocably this is going to be the way forward for some years to come....
---
FEATURE ARTISTS

Certain African artists have been fighting these battles for years.

The USA and South Africa are 2 countries whose artists immediately spring to mind but significantly it has been underpinning art from the whole of the African continent throughout modern times. Political oppression has pushed artists to be more expressive. When the oppressor tried to take away their dignity, they have used their art to show that they are in fact dignified people and that they also hold strong and worthwhile opinions.

See the link below to read more about South African artists who took up freedom and equality causes during apartheid years.

SA Resistance artists One such artist was: DUMILE FENI, (1942-1991).

Born in 1942 in Worcester in the Cape, Dumile Feni began his practice in sixties South Africa, with both solo and group art exhibitions, and internationally at the Sao Paulo Biennial in Brazil. In 1969, his departure into exile signalled the uniform departure of many Africans during the sixties decade and earlier.
"Captivity" undated. DUMILE FENI, SOUTH AFRICA ( 1942-1991).
A master draughtsman, sculptor and painter, his life in exile both in London and around America was characterized by difficulty and poverty.
He died in New York in 1991, never having returned to SA but the potency of his art and his legacy, highlighting the humanity of man, endures.
'African Guernica', 1967 Pencil and charcoal on paper
In Feni's "African Guernica" we see the tensions of an artist commenting on the insanity of reason which results in the oppression of one human being by another.
FAITH RINGGOLD, b 1930, Harlem, NY
An artist and activist Ringgold has challenged perceptions of African American identity and gender inequality for over five decades.
In 1967, working out of a Midtown Manhattan studio she observed countless riots erupting in black communities throughout the United States. The racial violence was borne out of frustration with a lived experience—racism, segregation, poverty, unemployment, and police mistreatment—during a period deemed the "Long Hot Summer."
In response, Ringgold painted a stunning depiction of the chaos, a composition of black and white bodies—men, women, and children splayed across a sidewalk amid splashes of blood.
Titled "American People Series #20: Die" the painting is 12 feet wide and six feet high and is executed on 2 panels.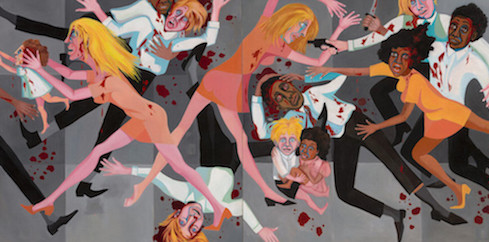 It is currently on view at the MoMA, presented alongside paintings of Picasso.

Said Ringgold "I wanted to show a kind of abstraction of what the fights were really all about and they had a lot to do with race and class and no one was left out."
---
NEWS AND EVENTS
Awards, Prizes and Initiatives
The AWARE association: Archives of Women Artists, Research and Exhibitions whose goal is to improve the exposure of 20th century women artists, sought the expertise of scholars, artists and curators from Africa and around the world to raise the issue of the visibility of women artists in Africa.

The resultant symposium 'Reclaim: Narratives Of African Women Artists' will take place on 15th and 16th April 2021 in the framework of Africa2020, and in partnership with École du Louvre.

Deadline: 15 October 2020

AWARE symposium THK Gallery in Cape Town, artist Jake Michael Singer, and RMB are proud to announce the launch of the Emergence Art Prize, to be announced on the occasion of the RMB TAF 2020.

The Emergence Art Prize is targeted at boosting the careers of emerging artists who are yet to gain official gallery representation. In addition to the prize, there are 12 limited edition sculptures by Jake Michael Singer known as Dawn Chorus Ordinals after the iconic Dawn Chorus sculpture situated in the Think Precinct. A portion of the proceeds of these sculptures will be put towards the prize.
Emergence Art Price RMB
Art Fairs
The art world is trying to get back on its feet with planning away forward and the following shows are going ahead either online or physically (subject to change if necessitated).

RMB TAF2020 VIRTUAL FAIR (Johannesburg) 'NEW VISIONS'

27 AUGUST 2020 (VIP Preview) - 02 SEPTEMBER 2020

PUBLIC OPENING - 28 AUGUST 2020

This promises to be a very exciting event for all concerned. Exhibitors will have a dedicated virtual viewing room where they will display their artwork with interactive messaging and behind the scenes content. RMB Talent Unlocked is an artists mentorship programme accompanied by an exhibition at the RMB Turbine Art Fair.

This years programme consisted of professional practice workshops and a mentorship programme run by independent art advisor & curator Londi Modiko. This years participants are : Lebohang Mabusela, Zanele Mashini, Katlego Modiri, Manyatsa Monyamane, Octavia Roodt, Vanessa Tembane, Noah Onah and Rick Baloyi.

RMB Turbine Artfair Projects ART PARIS 22nd edition GRAND PALAIS, PARIS

10 September - 13 September, 2020

Showcasing an International "Promises" section with artists from Africa being represented by Afikaris Gallery, (Cameroonian painters Jean David Knot and Moustapha Baidi Oumarou and Nigerian photographer, Asiko), 31 Project and Galerie Veronique Rieffel (Abidjan) amongst others.

http://www.artparis.com/en/edition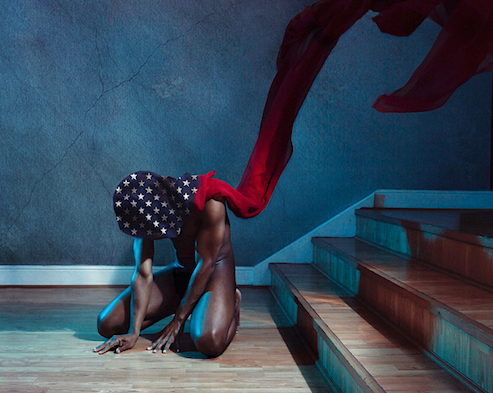 Artist and photographer Asiko, 'I can't breathe', Afikaris Gallery
LOOKING AHEAD
The 1-54 Contemporary African Art Fair will go ahead in October in London, despite the cancellation of Frieze.
A scaled-down version of the event will return to Somerset House with a reduced number of galleries participating in the live edition. The fair has partnered with Christie's to produce a concurrent online iteration open to more exhibitors.
Around 20 international galleries—fewer than half the number that showed last year—will take part in the in-person fair at Somerset House between October 8 through 10. El Glaoui, the Director of 1:54 says the online version also provides a back-up in case the event has to be cancelled.
The list of participating galleries will be released in September.
Articles worth Reading
'Articles worth Reading' normally appears at the end of these newsletters but in this present day, you are urged to read these two very 'worthy' compilations when you can find a quiet moment.

Beirut's tight-knit cultural sector is still in the throes of the crisis that shook the city.... and the world....

Beirut explosion - cultural impact CNN And.... From Valerie Kabov of First Floor Gallery... educator, writer, researcher and Gallery owner.

'Don't Set Sail on Someone Else's Star'... some views on Covid, the social justice protests and the artworld from Harare, Zimbabwe, AFRICA.

'Don't Set Sail on Someone Else's Star'- Valerie Kabov
---
ARTIST
TOYIN OJIH ODUTOLA b 1985, Nigeria, raised in Alabama, USA

Ojih Odutola is definitely having her moment. With a very full exhibition program, past and present.. and more to come, she is currently featured in countless publications. She also has a commissioned portrait of the writer Zadie Smith about to be revealed by the Portrait Gallery UK. Lockdown is barely the word to describe this rising star!

Just launched a couple of days ago in London is her exhibition of drawings called: 'A Countervailing Theory' The Curve, Barbican Centre

11th August 2020 - 24th January 2021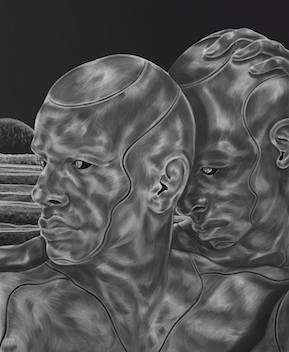 'Semblance of Certainty' Ojih Odutola, Barbican
This site-specific exhibition represents a mythical civilization's origin story unfolding along a nearly 300-foot-long space of the winding Curve gallery.
Across 40 gray-scaledrawings in pastel, charcoal and chalk, accompanied by text by Zadie Smith and a soundscape by Peter Adjaye, Odutola crafts a narrative inspired in part by her research into the Jos Plateau in central Nigeria. Together, they lead us deep into the wilderness of our present ideas about power—who should have it, how it should be wielded—and then out again, a journey as much philosophical as visual.
Her more intimate virtual show for Jack Shainman, meanwhile, focuses on solitary, free-flowing stories told through images and text.
Toyin Ojih Odutola, 'Nanban' from 'Tell me a Story, I Don't Care if its True', Jack Shainman, NY
While the New York-based artist was finalising 'A Countervailing Theory' she began work on another series of drawings, eventually created during lockdown, which are now presented by Jack Shainman Gallery in the online exhibition 'Tell Me A Story, I Don't Care If It's True'.
Ojih Odutola often spends months crafting narratives that unfold through series of artworks like the chapters of a book. The artist is known for her arresting multimedia drawings exploring identity and story-telling.
She works in pen, pencil, pastel, and charcoal to create detailed, layered work.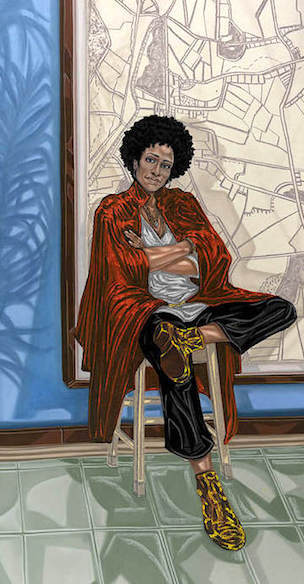 Ojih Odutola, 'PORTRAIT OF ZADIE SMITH', NPG
---
EXHIBITIONS
Museum Exhibitions
AFTER JOINING A CHORUS of museums around the world that closed temporarily in mid-March to contain the spread of COVID-19, the Tate in London has announced its reopening plans.

There has been a shift in exhibition schedules and six-month delays for two highly anticipated solo exhibitions featuring black artists—surveys of British artist Lynette Yiadom-Boakye and South African photographer Zanele Muholi.

Tate re-opening exhibitions - UK artist Lynette Yiadom-Boakye and SA photographer Zanele Muholi
'Citrine by the Ounce', Lynette Yiadom-Boakye, Tate Britain
Lynette Yiadom-Boakye b.1977 is a British artist and writer acclaimed for her enigmatic portraits of figures drawn from found images and her own imagination.
This exhibition "Lynette Yiadom-Boakye: Fly in League with the Night,"will bring together around 80 paintings and works on paper in the most extensive survey of the artist's career to date.
The show will open Nov 18th, 2020 and close on May 9, 2021.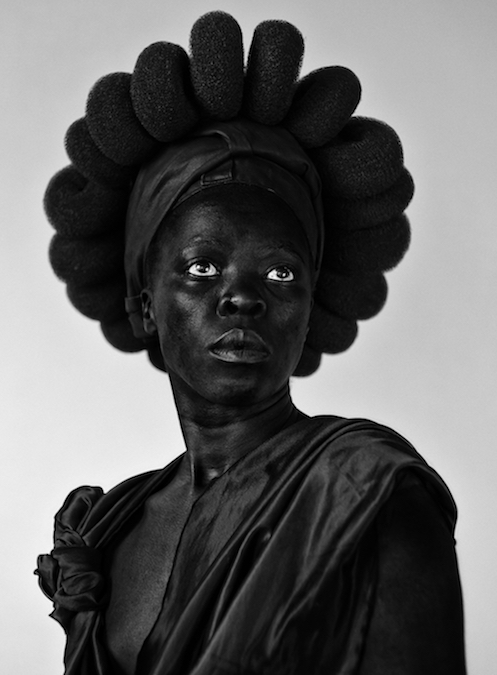 At Tate Modern, a solo exhibition will explore photographer Zanele Muholi's work as a self-described visual activist. The artist came to prominence with photographs that told the stories of black lesbian, gay, bisexual, trans, queer and intersex lives in South Africa.

This exhibition will present the full breadth of Muholi's career to date and will open on Nov 5th, 2020.
---
MUSEUM OF CONTEMPORARY ART, DETROIT, MI

CONRAD EGYIR: TITLED 'Terra Nullius'

JULY 2, 2020 – JANUARY 10, 2021
CONRAD EGYIR, 'Somewhere between you and tomorrow', 2019
Oil, acrylic, glitter, crystal buttons, and mounted wood on canvas
This is the first solo museum show for Detroit-based visual artist, Conrad Egyir. For his debut, Egyir created a new body of work while in residency at the International Studio & Curatorial Program (ISCP) in New York City, during the summer of 2019.
The works in this show focus on figurative characters that reside or bestride three geographical spaces–Detroit, New York, and Aburi, Ghana – and how the cultures of each of these locations define citizenship, migration, hybrid spaces, and political and religious revolutions.
Gallery Exhibitions
GENESIS TRAMAINE 'Parables of Nana', Almine Rech London Finishing 24th January 2021

B in 1983, this Brooklyn based artist explores biblical allegory through the vibrant lens of West African culture. With a strong connection to the 1980's graffiti scene, these energetic portraits emerge from brightly hued monochromatic backgrounds.
'Witnessing Grace', 2020.
"I think my work sings a very human song"
---
ED CROSS The Gramophone Works, 326 Kensal Road, LONDON

WOLE LAGUNJU: TITLED 'We All Live Here'

3 - 23 SEPTEMBER 2020

Masked or otherwise, Lagunju's ink drawings are as jewel-like in scale and colour as in their singularly organic origins. Arising from somewhere just out of reach, they're uncanny in the truest sense of the word – familiar and unfamiliar at once.

If you haven't met them yet, you soon will: after all, we all live here.
'ODE TO OFORI ATTA', 2020, Ink drawing on paper
STEVENSON GALLERY, JOHANNESBURG, SA
NEO MATLOGA
TITLED - 'BACK OF THE MOON' 3 July - 22 August 2020
Based between South Africa and the Netherlands, Matloga describes his process as straddling choreography, conducting and creation. He manipulates images taken from books and magazines digitally, then overlays painterly compositions in charcoal, ink and liquid charcoal to produce orchestral combinations he terms 'collage paintings'.
New works were featured online and are now installed in situ at Stevenson Gallery.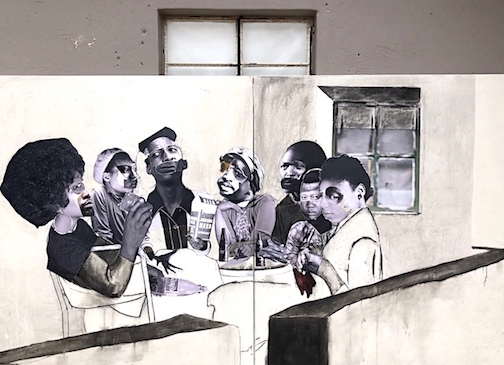 Matloga's paintings speak to apartheid-era South Africa and the contemporary moment. His monochromatic approach results in images unbound to a particular time or place.

Both real and scripted, the scenarios have a universal familiarity, reflecting South African culture and the wider Black Diaspora.
Past Exhibition
STATE OF THE ART Online Gallery Award

BALEKANE LEGOABE, 2019 winner of the State of the ART Gallery Award held her SOLO exhibition WHAT IT FEELS LIKE TO BE IN WATER from 18 June 2020 till 4 July 2020 as part of her prize.

"Sometimes it drowns me. Sometimes it's cleansing."

In this exhibition , Legoabe explored the relationship between hope and despondence. Using digital collage, sound art and animation, the artist creates an audio-visual experience to communicate both difficult and happy emotions, the waves and the stillness of the waters of life.

'I work in both digital and traditional media. I create digital collages focusing on animals and/or human figures as my primary subject matter. I also create expressive and colourful mixed media traditional artworks using materials such as paint, ink, masking tape and sand paper. I like to generate my own textures and draw, paint, photograph then scan my textures.'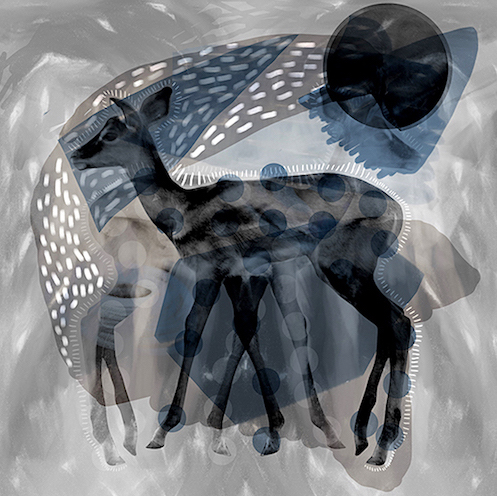 'AURORA', from WHAT IT FEELS LIKE TO BE IN WATER'
Legoabe says of her art; 'I work in both digital and traditional media. I create digital collages focusing on animals and/or human figures as my primary subject matter. I also create expressive and colourful mixed media traditional artworks using materials such as paint, ink, masking tape and sand paper.
I like to generate my own textures and draw, paint, photograph then scan my textures.'
---
Online EXHIBITION with Auction House CHRISTIES
Christie's is proud to announce its first exhibition solely dedicated to the promotion and empowerment of Black art entitled SAY IT LOUD (I'm Black and I'm Proud) in partnership with acclaimed curator Destinee Ross-Sutton.

The exhibition presents the works of 22 international young, emerging and mid-career Black artists who each explore the notion of self through different lenses.

Online Viewing 31 July—18 August Christies

You can just catch this... !!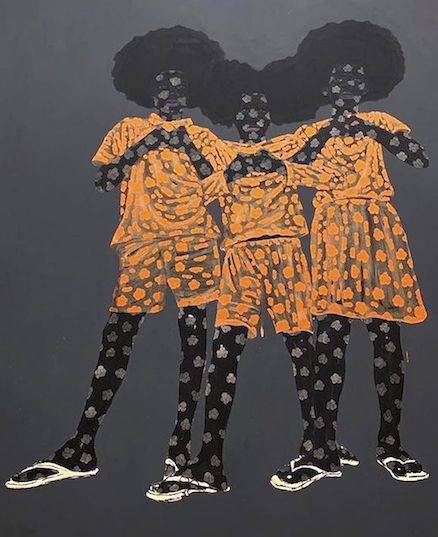 WONDERBUHLE b 1989, Kwazulu Natal, SA 'Ubuntu Buyakha'
---
Upcoming Auction
BONHAMS Modern & Contemporary African Art

New York | 2 September 2020

The upcoming auction features an incredibly strong selection of contemporary art from some of the most exciting and emerging names in the industry. This includes Toyin Ojih Odutola, Wangechi Mutu, Zanele Muholi, Athi-Patra Ruga and Ibrahim Mahama.

The auction also includes established artists in the market such as William Kentridge, El Anatsui, Ben Enwonwu and Irma Stern.

BONHAMS Modern & Contemporary African Art NY
---
Sale Results
Continuing to amaze… JEAN-MICHEL BASQUIAT (1960-1988)

AUCTION PAST Just three years ago, one of his paintings sold at Sotheby's for $110.5 million, setting a new auction record for a work by an American artist.

Now during Covid-19 lockdown, the sale of his 1982 painting 'Boy and Dog in a Johnnypump' achieved another landmark figure of a staggering $100 million.
'DUSTHEADS' 1982' (on the reverse)
acrylic, oilstick, spray enamel and metallic paint on canvas
Jean Michel Basquiat repeatedly painted imagery that pointed to the difficult relationship between Black American artists and White haute bourgeoise and the class disparity between rich and poor that still separates American society.
His influence spans across art, music and multiple generations of young creatives. Exploding into the art world in the early 80s, his impact can still be felt to this day.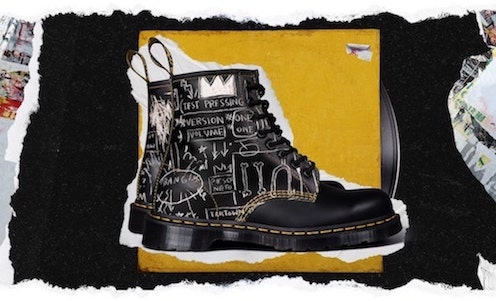 In their first-ever collaboration, DrMartens pays tribute to Jean-Michel Basquiat's work and the legacy he left behind. Using their iconic silhouettes to provide new canvases for his work, they explored three of his most enigmatic pieces, 'Beat Bop', 'Dustheads' and 'Pez Dispenser'.
---
With Covid continuing in our lives, we need to continue to look inwards, to re-examine, to reveal true insights that exist inside ourselves.

Thank you for your attention and for spending the time to read this 24th edition of CAA newsletter. I do hope you have enjoyed delving into its content as much as I did spending the long hours researching for it!

Until next time... stay safe and stay well.
---