Greetings!



Welcome to the 21st edition of CAA newsletter... Coming of age!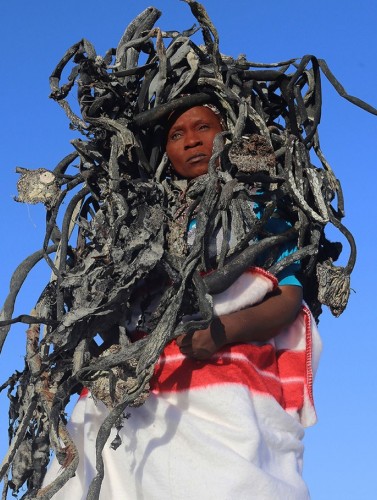 'Blanket Worms' Lindeka Qampi Photograph, Giclée print
From the exhibition 'Limise' at Sikhile&Me, Frankfurt, an international space dedicated to conscientious art from Africa and her diasporas.
Showing a selection of works from South African visual activist Zanele Muholi and the photographer Lindeki Qampi, the latter's work seems particularly fitting given the recent wave of xenophobia and violence that saw Nigeria pull out of the 2019 FNB Joburg Art Fair.
Contemporary African art these days is often bound up in socio-political statements: easily understood given the chaos on the continent and the planet in general: A barrage of recent art events in major centres across the world have shown an outpouring of remarkable and significant work from the many provocative contemporary African artists who... cross boundaries, challenge, shake up, interrogate, question and shock with unrelenting, arresting works of passion.
NEWS AND EVENTS
There can be no other artist to celebrate this month other than internationally acclaimed South African artist, William Kentridge.
Right now his work is being recognized and displayed in 2 major South African Institutions as well as them running concurrently with exhibitions in the Northern Hemisphere… there is no end to his talent, to the scope and power of his work whether it be drawings, films, theatre or opera productions. He is unquestionably a Master.
ARTIST
William Kentridge in front of the scenes for Sophiatown 1989, Kunstmuseum, Basel
Kentridge's drawing, specifically the dynamism of an erased and redrawn mark, is an integral part of his expanded animation and film making practice. This practice is born out of a cross-fertilisation between mediums and genres, and responds to the legacies of colonialism and apartheid. His aesthetics are drawn from the medium of film's own history, from stop-motion animation to early special effects.
If you are in Cape Town, SA you will find 2 exhibitions running into the New Year at the following venues:
WILLIAM KENTRIDGE at the NORVAL, Cape Town
TITLED: 'Why Should I Hesitate'Sculpture Atrium, Galleries 2-8
24 August 2019 – 23 March 2020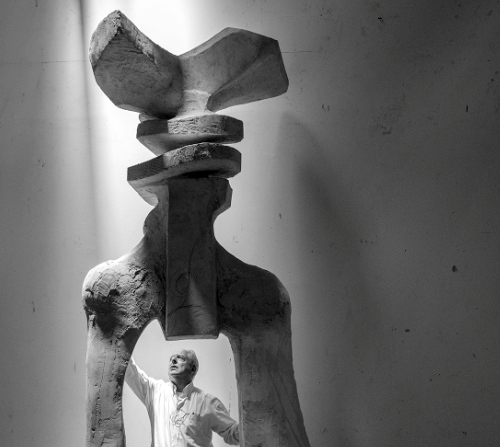 Norval is focusing on Kentridge's sculptural output – hesitantly started in 1984 and definitively resumed in 2000.
WILLIAM KENTRIDGE at the ZEITZ MUSEUM
Waterfront, Cape Town
Title: 'WHY SHOULD I HESITATE: PUTTING DRAWINGS TO WORK'
25 AUGUST 2019 - 23 MARCH 2020
This exhibition covers over 40 years of artistic production in drawing, stop-frame animation, video, prints, sculpture, tapestry, and large-scale installation.
The title references Kentridge's primary practice of drawing and how this core activity informs and enables his studio practice. It spans 5 independent spaces in the museum.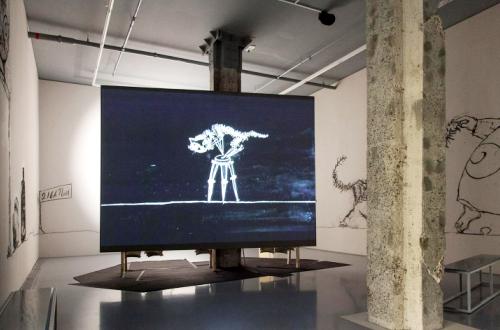 Awards and Prizes
William Kentridge has also just recently won one of the 5 Praemium Imperiale Awards which recognize artistic achievement and come with honoraria of 15 million yen ($138,555 as of September 2019) each. (Kentridge won for painting).
The awards are among the largest cash prizes in the art world today. Kentridge's work often addresses apartheid and ongoing political discord in his native South Africa.
SANLAM PORTRAIT PRIZE 2019 _
WINNER - : Craig Cameron-Mackintosh
If you are in the Cape in October you can still catch the Sanlam Portrait Award top 40 Finalist Exhibition.EXHIBITION at Rust-en-Vrede
23 August until 23 October 2019.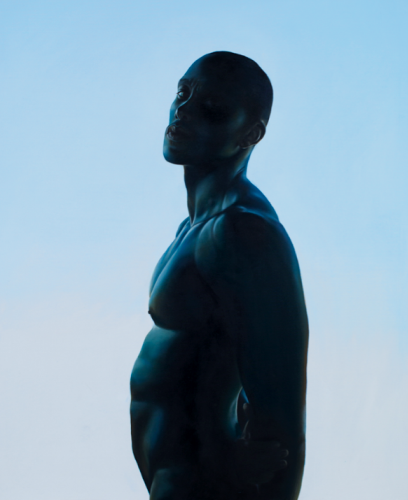 'Lesala in Silhouette'
This beautifully painted oil on Italian cotton explores notions of beauty and masculinity. With a photographic discipline behind him, it's not surprising the painting captures with sensitivity and an acute awareness of lighting the beauty of human form.
Forthcoming FAIRS:
1:54 - London
7th edition, Somerset House, London

3-6 October 2019.

1-54 Contemporary African Art Fair has 44 galleries from 19 countries exhibiting at its seventh London edition. 16 exhibitors physically hail from Africa. The Fair features work by some 140 artists and has a Special Projects program and a Talks program focusing on the legacy of Nigerian curator Bisi Silva.

The fair is also partnering with Somerset House to present an exhibition of new and celebrated works from Mary Sibande, one of South Africa's most prominent contemporary artists. This exhibition will run through to 7 January 2020.

As part of 1:54 Forum photographer AIDA MULUNEH presents a new series of work engaging in issues of water scarcity and ecological emergency:

TITLE: 'Water Life' Great Arch Hall, Somerset House

24 Sep – 20 Oct 2019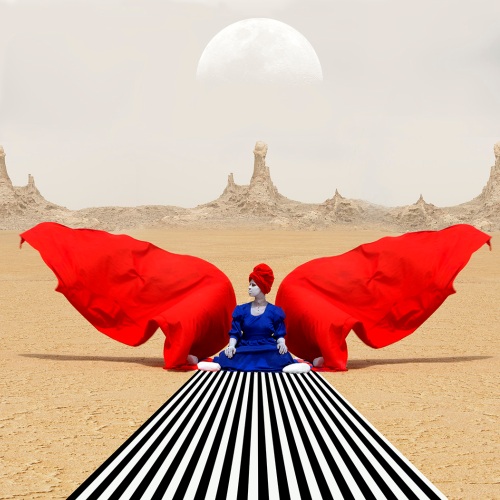 'Star Shine, Moon Glow'Sponsored by WaterAid in partnership with Somerset House.
Reflecting on her travels across the country, Muluneh looks at the number of women who travel on foot carrying heavy containers of water. Each image in this body of work responds to the challenge of water access, exploring it as a social issue directly impacting rural regions and the development of whole communities.
AKAA -Paris
AKAA - Also Known As Africa, 4TH Edition, Paris

Dates: 9-11 November

AKAA is the only art fair in France dedicated to contemporary art and design from Africa. The 2019 edition will host 44 exhibitors, with new galleries from Germany, the Netherlands and Mali. Over a hundred artists will be represented, mainly from the African continent but also from the Americas and Europe, showing how the creative energies of Africa influence contemporary art worldwide.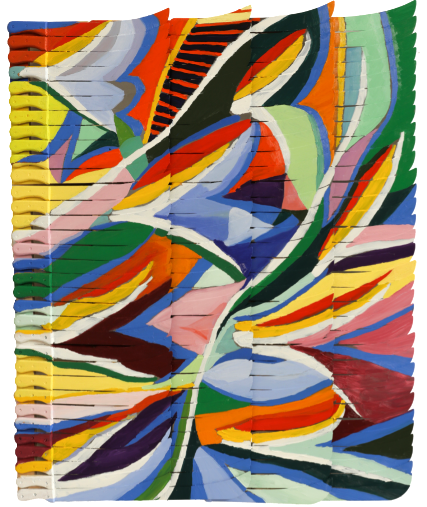 Taking over the floors and walls of AKAA UNDERGROUND is artist Fransisco Vidal (of Portuguese and Angolan descent) with'CONTEMPORARY LANDSCAPES x BEYOND THE LINE'.
Vidal blends his various aesthetic and cultural influences like cubism, Dutch-wax fabrics, 1980's hip hop culture as well as contemporary street art and graffiti.
"The choice of machetes as the medium refers to both tools used in agriculture and weapons symbolizing African liberation movements. Through painting, the machete yields to poetry, becoming a canvas depicting portraits and flowers."
Namalimba Coelho, Project Curator
ArtXLagos - Lagos
ArtXLagos, Lagos, Nigeria4th Edition
Friday 1st November to Sunday 3rd November 2019
The fair will continue to deliver an exciting program of specially curated projects, talks and live events, to its broad audience of collectors, connoisseurs, cultural practitioners and art lovers.
Self-taught documentary photographer, Etinosa Yvonne, emerged as the winner of the Access Bank ART X Prize 2019, winning a cash grant of N 1,500,000, a three-month residency at Gasworks, London in 2020, and a solo presentation at ART X Lagos in 2020.
Yvonne (b.1989) hails from Benin city, Nigeria. She considers photography to be a medium of expression and a tool to drive social change.
Prize winner Etinosa Yvonne 'Its all in my Head'
---
Looking Ahead
Bamako Encounters – African Biennale of Photography 12th edition, Bamako, Mali

November 30, 2019 to January 31, 2020.

TITLED "Streams of Consciousness"

Celebrating its 25 years of existence (since 1994), the exhibition will apply the notion of the 'stream of consciousness' as a metaphor for the flux of ideas, peoples, cultures that flow across and along with rivers like the Niger, Congo, Nile or Mississippi.

Roughly 85 artistic positions from the African continent and diaspora have been invited to participate.

Bamako Streams of Consciousness
---
DAK'ART – Biennial of Contemporary African Art This 14th Edition marks the biennial's 30th anniversary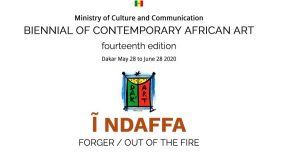 28 May to 28 June 2020 in Dakar, under the high patronage of the President of the Republic of Senegal.
The general theme is Ĩ'NDAFFA / OUT OF THE FIRE Ĩ'Ndaffa, in Serer language, meaning to forge. It is a verb that denotes the dynamics and the action of creating, recreating and kneading.
This general theme refers to the creation of a new and autonomous world, which nourishes the diversity of contemporary African creativities, while projecting new ways of telling and approaching Africa, in a constant dialogue and interaction with the rest of the world.
It is open to all artists from Africa and the Diaspora, working across all aesthetic mediums and contemporary art forms.
---
GALLERY
MARIANNE IBRAHIM After seven years Ibrahim who was raised in Somalia and France moves her gallery to Chicago from Seattle where she will continue to specialise on emerging African artists and figures from the wider diaspora.
Her opening exhibition in Chicago is TAKE ME TO THE WATER featuring the photographic work of AYANA V. JACKSON
According to the gallery "Jackson's self portraits consider black representation in late 19th and early 20th century photography and the role of the medium in constructing identity. The selection of portraits and movement studies in the exhibition will "offer a sense of the breadth of her practice, while at the same time taking her into new territories with regard to the range of her performances."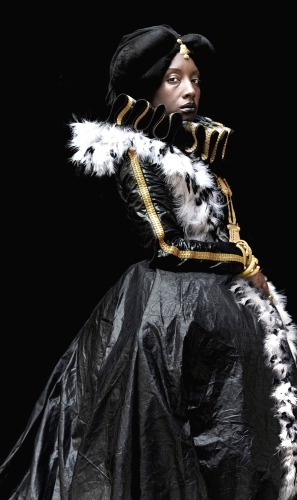 'Sea Lion', Ayana V. Jackson
---
CURRENT EXHIBITIONS
OCTOBER GALLERY, LONDON
12 September – 23 November 2019
For over 40 years, October Gallery has pioneered the development of the Transvangarde - the trans-cultural avant-garde. In this show they include:Romuald Hazoumè / Eddy Kamuanga Ilunga / Cyrus Kabiru / Zak Ové /Alexis Peskine / LR Vandy / Cosmo Whyte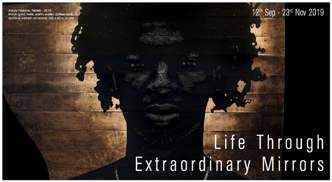 EBONYCURATED Cape Town
ARTIST: Kimathi Mafafo/Solo Exhibition
TITLE: 'Embolden'
September 5 - November 2, 2019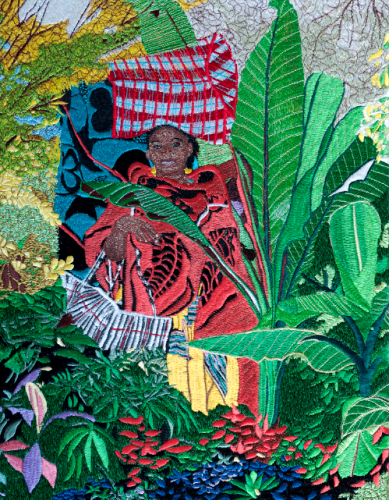 Embroidered Panel, Kimathi Mafafo
In her latest works, large-scale abstract hand-stitched pieces are complex and layered; bold in colour and size, highlighting a more playful side to the artist.
These new abstract panels have a kinetic feeling achieved by using different stitches and the repurposing of fabric off-cuts in order to give existing materials meaning.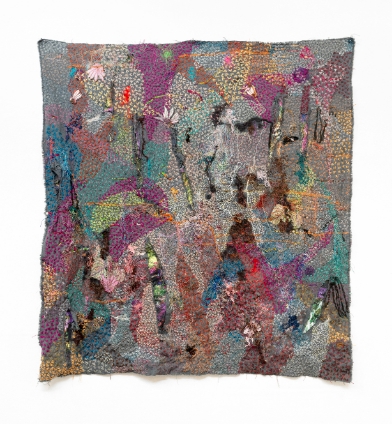 Abstract Embroidered panel, Kimathi Mafafo, Ebonycurated
************************************************************ IF YOU ARE INTERESTED IN SEEING MORE EXCITING WORK FROM CONTEMPORARY AFRICAN TAPESTRY ARTISTS SEE LINK:
CAA Contemporary African Tapestry artists
**************************************************************
CECILE FAKHOURY GALLERY, DAKAR
ARTIST: ABOUDIA
TITLE: Masquerade
20 SEPTEMBER - 22 NOVEMBER 2019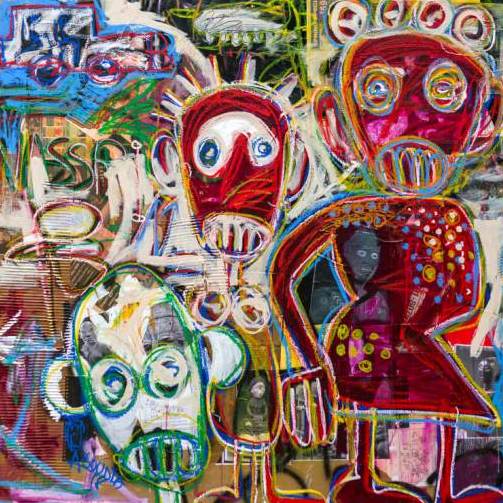 Aboudia, Masquerade, 2019, Mixed media on canvas
In Masquerade, Aboudia chooses to draw on his ancestral history with the addition of images of African statuettes that are cut out, photocopied, embossed and outlined as the contours of children's colourings.
They create new settings being magical and incantatory scenes of a masquerade, a ceremony in which mask wearers appear and social stories are played out loud.
---
AUCTIONS
BONHAMS Modern & Contemporary African ArtLondon, New Bond Street

3 Oct 2019

Offering 81 lots of modern and contemporary Africa art.

This portrait of 'Marianne', a Nigerian actress Marianne Inness painted by Modernist painter, Ben Enwonwu really stands out as a class exhibit. While Inness was a London resident this portrait was probably painted while the artist was spending one off his periods living in Nigeria (ref forest background)

Its estimate sale value is US$ 190,000 - 250,000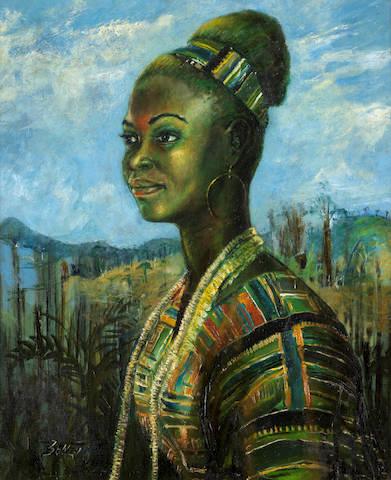 Benedict Chukwukadibia Enwonwu M.B.E (Nigerian, 1917-1994)Portrait of Marianne, oil on board
---
SOTHEBY'S MODERN AND CONTEMPORARY AFRICAN ART
15 OCTOBER 2019 | LONDON
20th Century modernist works by contemporaries Ben Enwonwu And Gerard Sekoto are to appear side-by-side in Sotheby's Sale Of Modern And Contemporary African Art.
Included is Ben Enwonwu's earliest masterpiece, a radiant portrayal of the artist's friend 'Christine' (rediscovered in the sitter's family home) and Gerard Sekoto's 'Cyclists In Sophiatown' charting the economic hardship faced by black South Africans in pre-Apartheid Johannesburg.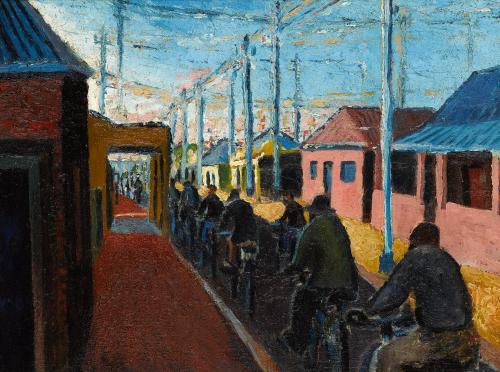 GERARD SEKOTO, 'Cyclists in Sophiatown'
Estimate: 250,000 - 350,000 GBP
---
*Introducing you to NEOAFRICA Market*
Neoafrica presents a new image of Africa, a contemporary Africa looking to the future, a cosmopolitan Africa open to the outside world.
Neoafrica embodies African millennial fashion and African creation designed and manufactured in Africa. It provides African craftsmen and creators a global and truly ethical Marketplace; in line with international standards.
Neoafrica gives its African sellers access to a global market. Do visit the website and Facebook page to get an idea.
Website: https://neoafrica.fr/ Facebook: Neoafrica Market
And click on the page below to see the very professional online store. CAA wishes them all the best in their venture.
---
BOOKS WORTH COLLECTING
Vitamin T: Threads and Textiles in Contemporary Art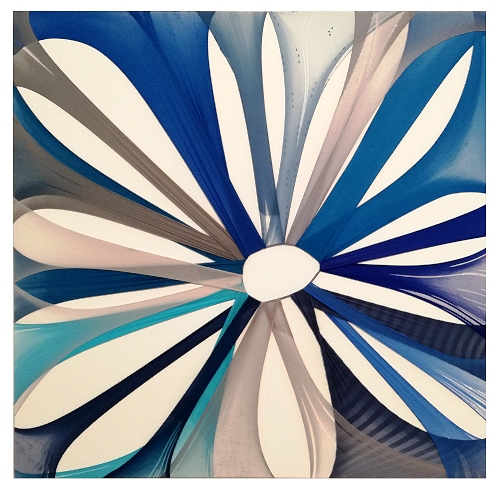 Turiya Magadlela from VITAMIN T
---
Thank you for reading this 21st edition of CAA newsletter, I do hope you have enjoyed it as much as I have researching for it.
Until next time...
---