Greetings!



Newsletter #022 – a panacea and inspiration for us all in an otherwise globally challenging month…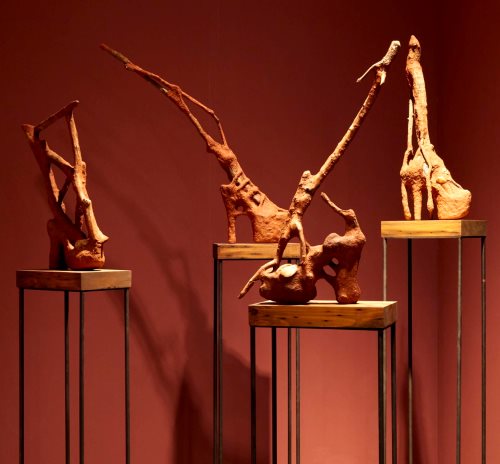 WANGECHI MUTU
Collection of Sculptures, Gladstone Gallery, Art Basel, Miami
Various circumstances have kept me away from my computer for a number of months so I hope you'll forgive the absence of CAA newsletters arriving in your inbox.
So here I am picking it up half way through February in 2020 and as always being amazed, impressed and often deeply moved by the work created by contemporary African artists all over this globe.
ARTIST
TSOKU MAELA

Already the recipient of Standard Bank's Rising Star Award for Media and Marketing in 2016, this was a justly bestowed honour on this talented young photographer and film maker.

Maela continues to make important work and contributes to the arts industry in a personal and universal fashion. Being interested in the motivations of societal issues and the study and observation of human behaviour including his own, his work has been used academically to portray the power of art to assist in mental health recovery.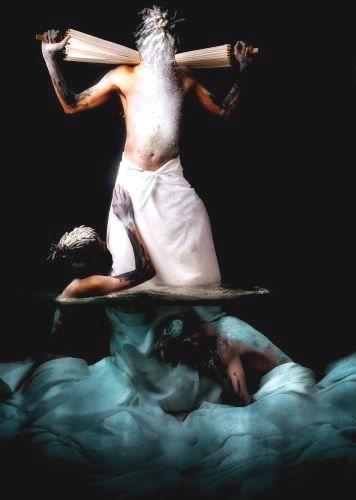 TSOKU MAELA
"The Three, Love, Lust, Maya" from the series 'Samadhi: Dipiri tsa Mawatle'
African Arty say of this artist they promote; "Concerned about the human condition, visceral, spiritual, socio-economic and geopolitical landscapes, conversations that many consider too taboo to grant space and time.
Maela's only desire is to set fire to love and hope in the heart of anyone who crosses his work, to inspire a young energy that wants to create and fight for lasting change while archiving a beautiful past, present and future African in constant evolution."
NEWS AND EVENTS
While Art Basel, Miami (Dec 2019) is long gone it is worth noting some of the impact made and sales generated by the following contemporary African artists at the fair:

• Amoako Boafo, Ghanain born, resides and works in Austria

• Omar Ba, Senagalese, lives and works between Dakar and Geneva

• Cinga Samson, South Africa, lives and works in Cape Town

AMAOKO BAOFO, Marianne Ibrahim Gallery, Chicago

For her debut at this fair, the Chicago gallerist Mariane Ibrahim presented a series of six striking paintings by artist Amoako Boafo.

Using his fingers, Boafo applies diluted oil paint to create swirling masses of color, portraying both friends and imagined characters and often isolating the figure against a dramatic backdrop.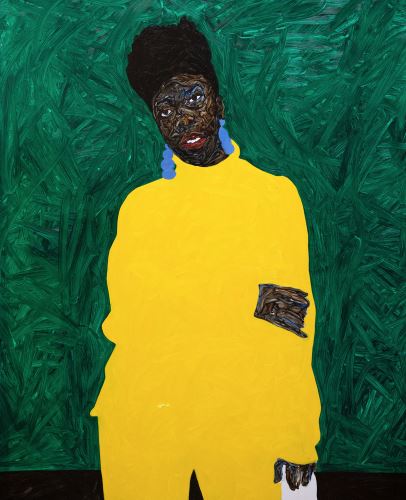 AMAKO BOAFO 'Cobalt blue earring'
The works explore masculinity, the diaspora, and, according to Boafo, "new ways to approach and document blackness."
OMAR BA, Templon Gallery, Paris
Templon Gallery was particularly excited to show Omar Ba, a young African painter from Senegal. Ba creates elaborate paintings exploring the current political situation in Africa and manages to link history and personal experiences together in his mixed media creations.
OMAR BA, 'Try to keep the Rest'
He has created an enigmatic figurative form with a blend of oil paint, gouache, Indian ink and crayon, often on cardboard and sometimes on canvas. The seeming gentleness of his work contrasts with the suppressed violence of the subject matter.
CINGA SAMSON, Blank Projects, Cape Town
Cinga Samson has recently established himself as an important new voice in contemporary painting. The recipient of the 2017 Tollman Award for the Visual Arts, his oil works on canvas manifest echoes of what he describes as the superstitions and spirituality integral to his upbringing.
Desire, aspiration, and celebration of identity drive much of his work.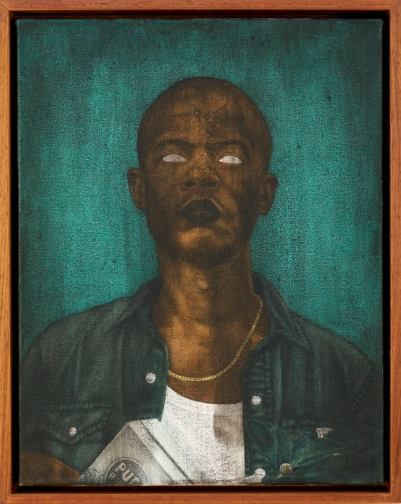 At ArtBasel, Miami works from these artists sold for prices varying from $7500 and $15000 up to $120000 (in the case of Omar Ba) making them an affordable option for buyers and investors.

Given that a painting by Boafo called 'The Lemon Bathing Suit' just sold at Philips Contemporary Art Sale in London on the 13th of February for a staggering 650 000 pounds, there will be some very happy purchasers of his work off Marianne Ibrahim's stand at Art Basel, Miami. (The entire collection of Boafo's was sold for between $15 000 and $45 000 apiece before the fair opened).

Amako Boafo has this to say about the auction:
---
On the continent itself, it appears that the extreme North and South of Africa is where it's all happening!
1:54 - Marrakesh
This weekend is the 2020 EDITION of:1:54 MARRAKECH at La Mamounia,

20 leading galleries from 10 countries (Belgium, Côte d'Ivoire, Egypt, France, Germany, Italy, Morocco, Senegal, South Africa and the United Kingdom) have been carefully selected to exhibit at the third edition of the contemporary African art fair in Marrakech.

The fair will showcase the work of more than 65 artists, both emerging and established, working in a wide variety of mediums and from a range of geographical locations comprising 20 countries.

JEAN DAVID NKOT, Afikaris, Paris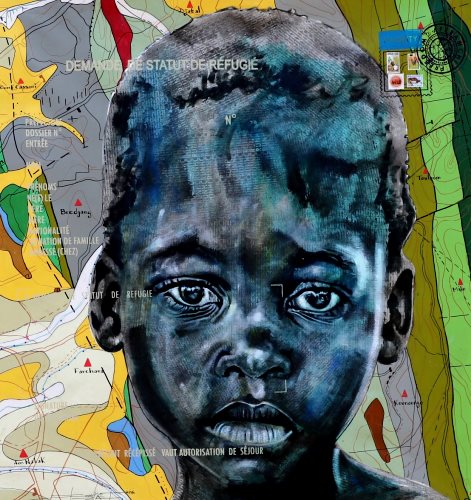 Born in 1989 in Douala (Cameroon) where he lives and works, Nkot is preoccupied by human condition, violence, and the indifference and passivity of international community and governments on the situation of victims around the world.

He is inspired by the topic of immigration, bodies and territories structure in his artistic approach.
ART HAPPENINGS IN THE CAPE
The city boasts a vibrant arts scene, driven by the top galleries on the African continent and beyond. Thanks to its diverse cultural heritage and geographic beauty, Cape Town is a compelling destination for both art world professionals and collectors alike.
CAPE TOWN INVESTEC ART FAIR 14-16 Feb
In its eighth edition, this fair was a resounding success. With 22,000 visitors through its doors and 107 exhibitors. Of which 49 local galleries were local and 58 were international ones showing the work of 423 artists.
On top of that, 4800 VIPs from Europe, USA, the Middle East and Africa and 210 local and international media visited the fair with coverage across 338 local and international media platforms.
Talent, dialogue and curated display were showcased on this world stage.
RUBY ONYINYECHI AMANZE
'You looked for a beginning'
From Salon 91, CT Fair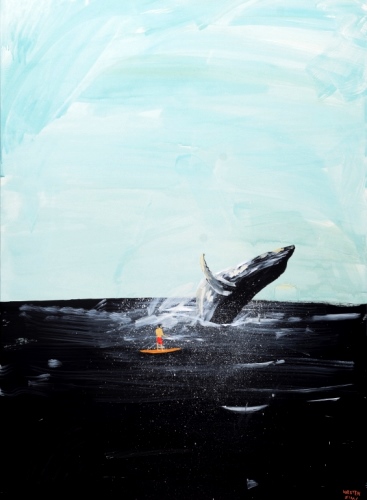 KIRSTEN SIMS
'Willy-Nilly' 2019, Mixed media on board
**Congratulations to ANDY ROBERT of Hannah Hoffman Gallery in Los Angeles who won the Tomorrows/Today prize courtesy of Fondazione Fiera Milano. This accolade recognizes emerging artists from around the world.
Design Indaba /25
Celebrating its 25th anniversary year, Design Indaba Festival is from 26 to 29 February 2020, at Artscape Theatre Complex, Cape Town.
The 2020 line-up of luminaries includes Led By Donkeys, a guerrilla campaign that covered prominent buildings in the UK with posters in a bid to hold the country's politicians to account.
Sunny Dolat from Nairobi's multi-disciplinary group Nest Collective, will talk about working together to craft culture-shaping fashion, theatre, music, film and art. Natsai Audrey Chieza is a Harare-born, London-based biotech designer who creates chemical free textiles. Nhlanhla Mahlangu is a vocalist, composer, dancer and teacher.
IBRAHIM MAHAMA, the Ghanaian installation artist and author, will delve into his monumental works, and Finnish empathy designer and artist Enni-Kukka Tuomala, is among this year's selection of Global Graduates.
---
And still in Cape Town:
The Norval Foundation is holding an exhibition featuring the work of acclaimed Kenyan artist, MICHAEL ARMITAGE.
On view in Gallery 1 until 15 June 2020 and called ACCOMPLICE it includes a cycle of 8 oil paintings and a selection of preparatory ink drawings created by the artist since the 2017 Kenyan elections.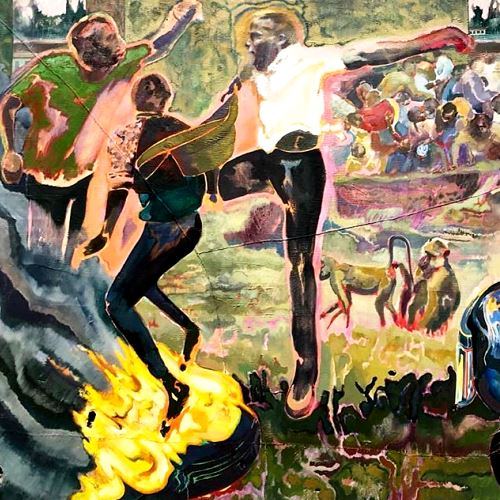 Detail from 'The Accomplice', 2019,Oil on Lubugo bark cloth
---
At the ZEITZ museum in the Waterfront, Cape Town a large-scale installation by the renowned Malian artist:
ABDOULAYE KONATE
Exhibition titled "Ideagrammes, signes, symbols, et logos" can be seen up until Jan 2021.
This richly detailed, never-before-seen, four storey high textile piece, adorns the museum's interior wall in the BMW Atrium.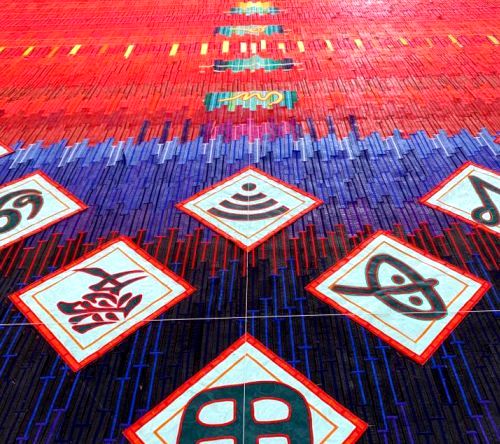 'Idéogrammes, signes, symboles et logos' (hommage à Youssouf Tata Cissé et Germaine Dieterlen)
---
And finally-
A FORTHCOMING EVENT in CAPE PROVINCE, SOUTH AFRICA
From Feb – April 2020
A new initiative... "A showcase for large-scale contemporary art exhibitions, the STELLENBOSCH TRIENNALE is a non-commercial, multidisciplinary art platform hosting a range of artists from Africa and the diaspora."
The focus is on accessibility, development and the democratisation of art and its numerous benefits for all.
---
Deaths and Obituaries
Southern Africa has lost 3 talented artists in the last 3 months and their absence will be greatly felt by the art community at large.

ANTHONY BUMHIRA

The Zimbabwean artist Anthony Bumhira passed away in January 2020. Remarkable in his art practice which deftly and confidently straddled the tourist and art markets.

Beyond his impressive semi-abstract, large-scale innovative art installations, the artist is also remembered by his peers for his humor, kindness, and integrity.

SANTU MOFOKENG

South African photographer Santu Mofokeng passed away at the age of 63 in the city he was raised in.

Born in 1956 in Johannesburg he was interested in the relationships between images, archives and citizenship, working to challenge the ways in which conventional photographic archives have been employed to ideological ends.

A former student of David Goldblatt, he was a member of the Afrapix collective of South African documentary photographers throughout most of the 1980s.

DARYL NERO

A much loved and admired artist who made Zimbabwe his home. Daryl Nero's work covered a broad spectrum of subject matter, all of it executed in his exuberant style with a generous gesture of line and a lively approach to colour.

He embraced his art and his life to the core, a larger than-life figure who will be missed by his extended community.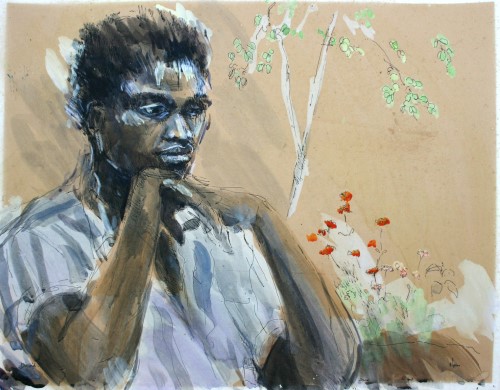 DARYL NERO 'David'
---
FURTHER AFIELD
Armory Show NY
THE ARMORY SHOW5 - 8 MARCH 2020711 12TH AVENUE, PIER 94 NEW YORK CITY

MERIKOKEB BERHANU 'Untitled' 2020, acrylic on canvas

PIER 94 | BOOTH P13

ADDIS FINE ART is pleased to announce its participation in The Armory Show 2020. The gallery will be presenting a solo show of new works by Ethiopian contemporary artist Merikokeb Berhanu.
Merikokeb Berhanu (b 1977) was born in Addis Ababa, where she attended the Addis Ababa University, Alle School Fine Arts and Design (2002).
Her work at once appears to be a celebration of these life-bearing forms, as well as something more decidedly complex - in her words, "the light, line, complexity, and density of the wide, thick fog and smoke; the happiness and hopefulness, misery and bliss of this life we are passing through."
Berhanu currently lives and works in Maryland, USA.
---
Exhibitions, London
DAWIT ABEBE
Kristin Hjellegjerde Gallery, LONDON14 FEBRUARY - 14 MARCH 2020
Abebe invites viewers to consider the 'editing' of history, to examine not just how stories are told, but for what purpose, and to recognise how they might influence one's perspectives.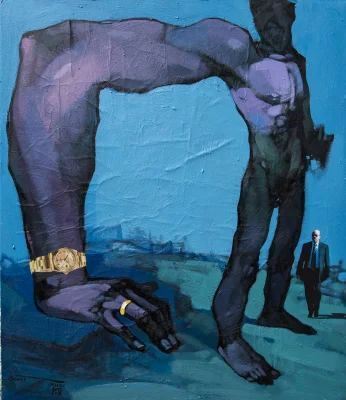 SIGNATURE AFRICAN ART GALLERY opens its new London space on 11 March 2020 with a presentation of new paintings by the celebrated Nigerian artist, OLUWOLE OMOFEMI

Entitled 'The Way We Were'

March 12 2020 – April 16 2020

This beautiful solo exhibition by Omofemi celebrates Afrocentric pride. The exhibition will be arranged across the gallery's basement and ground floors and is formed of 12 large-scale portraits of women and children, as well as a number of smaller works specially commissioned by the gallery.

In the words of the artist, each is a celebration of Afrocentric pride, as well as reflection on the postcolonial era.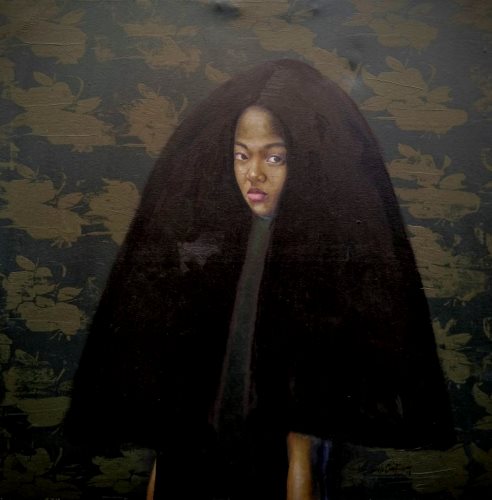 OLUWOLE OMOFENI 'Omonalisa', oil and acrylic on canvas
---
Auction results
Aspire X Piasa Auction: Modern & Contemporary African Art
---
Articles to read
Emerging figurative black painters artsy
"The increased visibility for black figurative painters has led to a shift in the dialogue around painting and identity, and has given more black artists the opportunity to showcase their work in places where they had previously been excluded" Artsy
Art market takes off - African business magazine
"I think we're finally seeing some recognition for artists from the continent that were previously overlooked by the international art world," says Hannah O'Leary, head of modern and contemporary African art at Sotheby's.
"I think we should be ready for paintings from Africa making six, seven figures as standard, whereas 12 months ago or 24 months ago, those prices were really very exceptional. That's a really exciting breakthrough – to bring the market away from being low to middle market, from being very affordable, to right up in line with the regional markets in the rest of the world."
---
Thank you for reading this 22nd edition of CAA newsletter, I do hope you have enjoyed it as much as I have researching for it.
Until next time...
---