Greetings!



Newsletter #017 - Welcome to the first newsletter of 2019…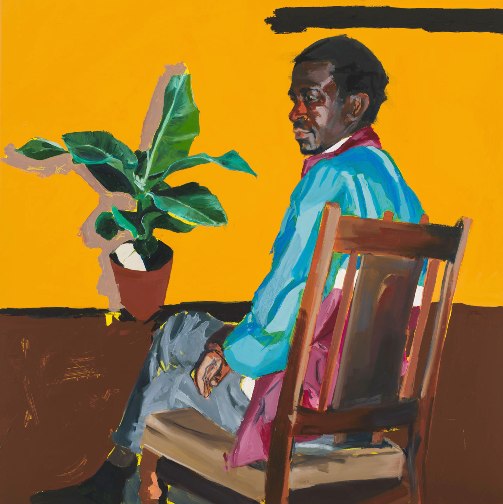 KUDZANAI-VIOLET HWAMI, titled 'Sekuru Koni"
Apologies dear subscribers, this has been a long time coming.. thank you for your patience and without further ado, let's see what the next few weeks of 2019 and further ahead into the year are going to bring our way..
NEWS AND EVENTS
Awards
KIMATHI DONKOR won the De'Longhi ART PROJECTS ARTIST AWARD for 2019 at the LONDON ART FAIR in February.

Kimathi Donkor lives and works in London. With his work he re-imagines mythic and legendary encounters across Africa and its global diasporas. This multi-disciplinary artist usually uses photography and digital processes in his painting practice to formulate his images.

But in this most recent work, he relied on his imagination and memory to create drawings using a much more intimate and immediate approach.. and it certainly managed to touch a chord with viewers and judges alike.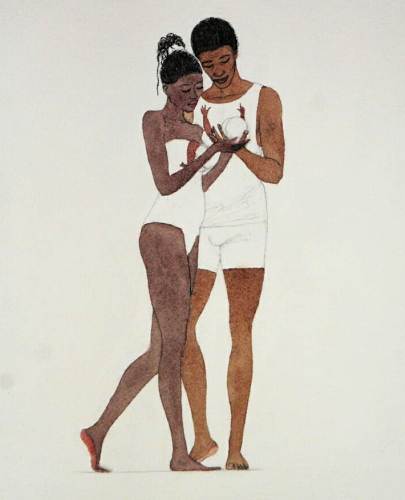 Kimathi Donkor, "Return From Egypt", 2018. Shown by Ed Cross Fine Art at London Art Fair.
Of Ghanian and Anglo-Jewish heritage, Donkor also has family connections to Jamaica and Zambia (where he lived for a while as a child). His work often draws on historical figures associated with black emancipation and liberation. He is principally a painter but his practice also includes drawing, video, assemblage, collage, digital design, performance and installation.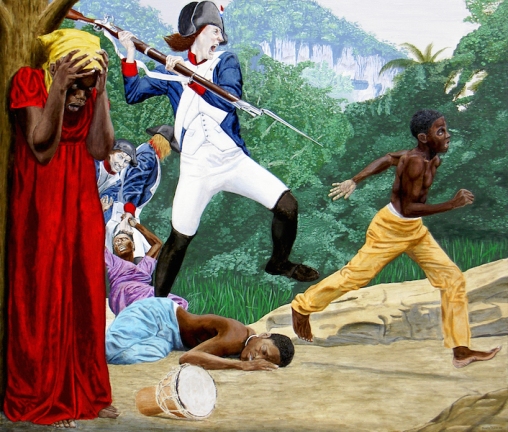 BACCHUS and ARIADNE, Caribbean Passion, Haiti 1804 series
27 APRIL 2019 | AMREF Art Ball NEW YORK
South African visual artist and activist, Zanele Muholi is the worthy recipient of the Rees Visionary Award for producing 'exceptional work that educates, inspires, and emboldens the viewer through challenging times' and will be honoured at the Amref Art Ball in New York in April.
---
Art Biennales
11 MAY 2019 | THE INTERNATIONAL EXHIBITION OF ART AT THE VENICE BIENNALE

The opening of the 58th International Art Exhibition of the Venice Biennale, titled 'May You Live In Interesting Times' is not far away now. National pavilions from eight of Africa's 54 countries are expected in Venice this year.

3 contributing African nations have announced their artists:

ZIMBABWE PAVILION ANNOUNCES PARTICIPATING ARTISTS AND TITLE

Zimbabwe will take part for a 5th time and will be represented by Kudzanai-Violet Hwami, Neville Starling, Georgina Maxim, and Cosmas Shiridzinomwa.

The selected artists will work with Raphael Chikukwa, Chief Curator, National Gallery of Zimbabwe, to explore the biennale's overarching theme through the late Herbert Chitepo's poem title "Soko Risina Musoro". The poem's title translates as "a tale without a head".

GHANA PAVILION DEBUTS AT THE 58TH VENICE BIENNALE WITH A HIGH PROFILE ARTISTS LINE UP AND A PAVILION DESIGNED BY AWARD WINNING ARCHITECT, SIR DAVID ADJAYE

It will include large-scale installations by El Anatsui and Ibrahim Mahama; portraiture by the photographer Felicia Abban and Yiadom-Boakye, and a three-channel film projection by Akomfrah along with a sculptural installation by Selasi Awusi Sosu.

The artists will present works under the title "Ghana Freedom", taken from a 1957 song by acclaimed "king of Highlife", E.T. Mensah.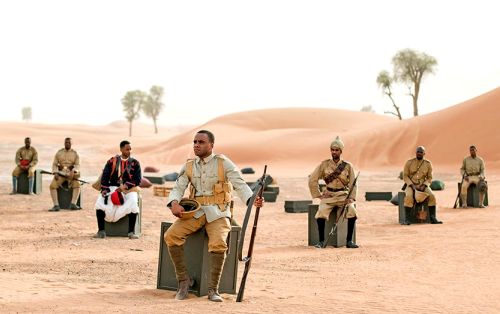 Still from John Akomfrah's multimedia installation MIMESIS: African Soldier
SOUTH AFRICA FINALLY ANNOUNCES VENICE BIENNALE ARTISTS Mawande Ka Zenzile, Dineo Seshee Bopape and Tracey Rose will explore themes of social, political and economic resilience in post-Apartheid South Africa under the title "The Stronger We Become"
Appointments
KOYO KOUOH is APPOINTED EXECUTIVE DIRECTOR AND CHIEF CURATOR of the Zeitz Museum of Contemporary Art Africa (Zeitz MOCAA) commencing on 6 May 2019.

Koyo Kouoh brings two decades of experience as an international curator and cultural producer to her new role including being the founding Artistic Director of the thought-provoking RAW Material Company, a centre for art, knowledge and society in Dakar, Senegal

The Zeitz Museum DIRECTOR AND CHIEF CURATOR
---
ARTIST
AMOAKO BOAFO Born in Accra/Ghana, currently based in Vienna, Austria.

Interested in investigating the relation of the personal and the structural by centering Black subjectivity and care, Boafo works primarily with oils, acrylics, and pastels on canvas and paper.

Roberts Projects was pleased to present its first solo exhibition by this painter who succeeded in communicating both warmth and vulnerability in his intimate portrayals of what he terms the "Black Diaspora."

Roberts Projects, Los Angeles, painter Amoako Boafo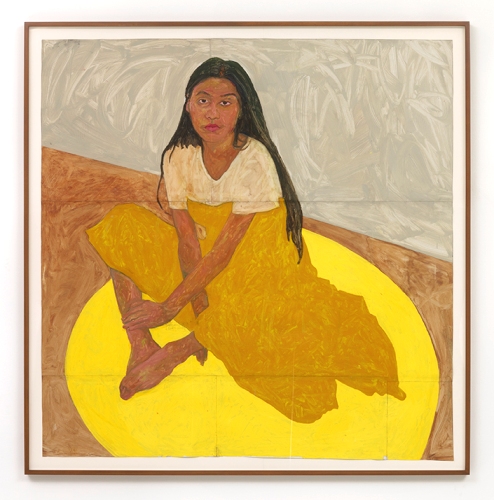 Awarded with the jury prize, Walter Koschatzky Kunstpreis in 2017 and collected by private and public collectors, most recently Kehinde Wiley and The Albertina Museum Vienna, this young artist is well worth keeping an eye on...
And just for the joy of it!
Celebrating their love of culture and fashion: PICHA MARANGI and ELIZABETH KORIKEL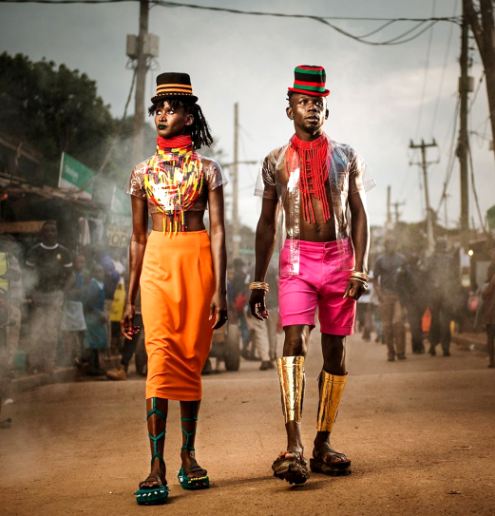 A photographer and stylist meets beader and singer and this is the result. Have a look at their wedding photos here:

PICHA MARANGI and ELIZABETH KORIKEL celebrating Turkana culture
---
ART SHOWS coming up
ART DUBAI 20-23 MARCH 2019 | Madinat Jumeirah DUBAI

http://www.artdubai.ae/

ARMORY SHOW 7 - 10 MARCH 2019 | NEW YORK

https://www.thearmoryshow.com/exhibitors
GALLERIES
TIWANI GALLERY LONDON at the ARMORY SHOW, NY

One of my favorite London-based galleries who specialises in the work of African artists living both on and off the continent is showing at Armory NY 2019.

Exhibiting Artists: Mequitta Ahuja, Ruby Onyinyechi Amanze, Virginia Chihota, Theo Eshetu, Andrew Esiebo, Mary Evans, Rotimi Fani-Kayode, Delio Jasse, Joy Labinjo, Manuel Mathieu, Gareth Nyandoro, Thierry Oussou, Dawit L. Petros, Zina Saro-Wiwa, Pamela Phatsimo Suntrum, Robel Temesgen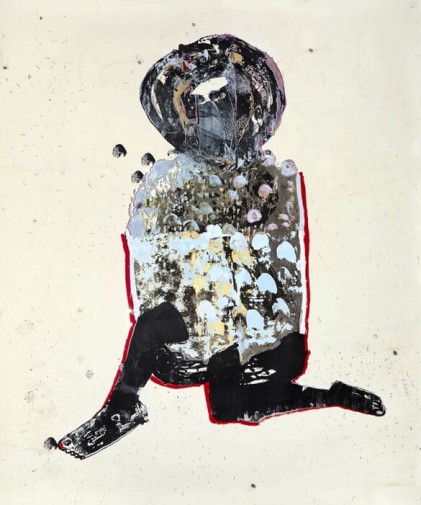 Virginia Chihota ' Waiting in Faith', Tiwani Gallery, Armory
---
EXHIBITIONS
MAGDALENE ODUNDO: 'The Journey of Things'

My all-time favourite potter has a new exhibition, do not miss it if you live in or are visiting the UK.

FEBRUARY – 2 JUNE 2019 | THE HEPWORTH WAKEFIELD West Yorkshire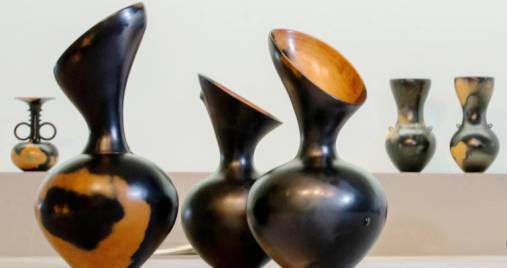 MAGDALENE ODUNDO: 'The Journey of Things'
And if you can't get to this display read more about Magdalene and other contemporary African ceramic artists on this link:
https://www.contemporary-african-art.com/contemporary-african-pottery.html
---
"EL ANATSUI: TRIUMPHANT SCALE"

8 MARCH – 28 JULY 2019 | HAUS DER KUNST Munich

Triumphant Scale" is to be the largest and most complex exhibition ever mounted on this artist. His works will occupy the museum's entire East Wing, focusing on every phase of his artistic journey spanning five decades of work across different media and in varying scale.

Curated by Okwui Enwezor and Chika Okeke-Agulu with the assistance of Damian Lentini.
---
PAST EXHIBITION

CHARLES WHITE: MONUMENTAL PRACTICE at DAVID ZWIRNER, NY

EIGHT-FEET-TALL DRAWINGS by Charles White (1918-1979) were on view in the light-filled, second-floor galleries of David Zwirner in New York.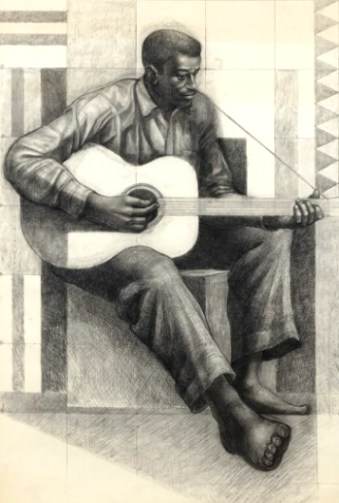 "Guitar Player," 1977-1978 (ink on charcoal in paper)
The selling exhibition was a rarity. The four drawings were studies for the figures in a Mary McLeod Bethune mural White completed in 1978 for a Los Angeles public library. They were displayed publicly for the first time in more than 40 years and were the largest drawings White ever made.
The sales goal is to place the mural studies with a museum or a collector willing to donate them to an institution.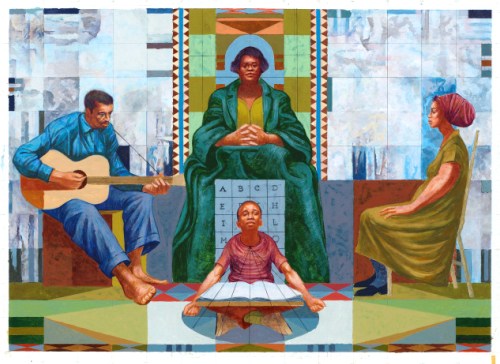 "Mary McLeod Bethune Mural (Presentation Study)," 1977-1978, acrylic on illustration board
---
AUCTIONS
ASPIRE HISTORIC, MODERN AND CONTEMPORARY ART Calendar 2019
WINTER Auction in Johannesburg | 2 JUNE 2019
SPRING Auction in Cape Town | 1 SEPTEMBER 2019
SUMMER Auction in Johannesburg | 3 NOVEMBER 2019
*AUTUMN Auction* The major work on offer in the contemporary segment of the Autumn sale was a painting by renowned South African-born, Dutch-based painter Marlene Dumas.
This early work, Love Lost (1973/4) oil, collage and graphite on cotton duck went way beyond its estimate of R3 000 000 – R5 000 000 to achieve a sale cost of R6,4 million.
The Modern and Contemporary Art Auction 2019
05 MARCH 2019 | NAIROBI Radisson Blu Hotel
BONHAMS MODERN & CONTEMPORARY AFRICAN ART
20 MARCH 2019 | LONDON New Bond Street
SOTHEBYS Modern & Contemporary African Art
02 APRIL 2019 | 2:00 PM BST | LONDON
Articles worth Reading
Dakar's Museum of Black Civilizations is a vital step for a people reclaiming their history
---
THE MOST INFLUENTIAL LIVING AFRICAN-AMERICAN ARTISTS
---
Thank you for subscribing to CAA Newsletter, until next time...
---