Hello again!



This newsletter is dedicated to the present, the past and the future.
Since Joburg Art Fair 2017 seems to have given special attention to female artists I thought I would continue with the trend.
Deliberately construed or not by the curators, it appears women artists are riding the crest of a wave right now.
Artist of the present - Marcia Kure
Marcia Kure is exhibiting at 3 group exhibitions running concomitantly now and until the end of the year.
'Atsala Tswala' at Patricia Low Contemporary, Gstaad, Switzerland - from the 21st July to 10th October Series - "Of Saints and Vagabonds"
Officine dell'Immagine, 1:54 Contemporary, London 5th to 8th October, 2017 Series - "Ethnographic Museum: The Nok and Ife Series"
Purdy Hicks Gallery, 1:54 Contemporary, London 5th to 8th October, 2017 Series - "Of Saints and Vagabonds", 2017
Born in 1970 in Nigeria, Marcia attended university in Lagos where she became a prominent member of the Nsukka School of Art, known for its socio-political vision.
She currently resides in the USA but her work pays strong allegiance to her background culture, blending her topics of feminine issues like abuse of women and the experience of motherhood with influences of African textiles, costumes and cave painting.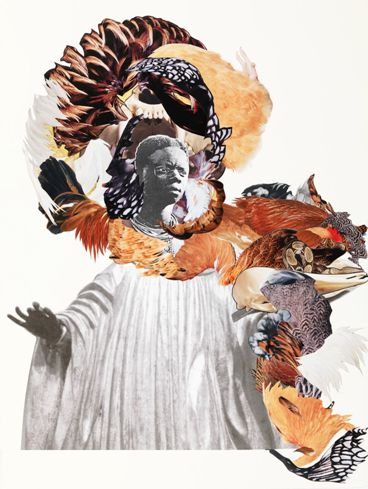 Her work uses authentic colours like coffee, kolanut and other pigments to create layers of earthy tones that are reminiscent of both cloth-dyeing and rock art.
She then gives her pieces a contemporary take with photomontage, reassembly of images and free drawing to create deeply striking, hybrid, final images or objects.
For more info on Marcia Kure, click below:
And for history on her professional development, click on:
---
NEWS AND EVENTS
Jhbg Art Fair, 2017 review
In my last newsletter, Issue #003, I wrote about Peju Alatise from Nigeria who had been awarded the prestigious FNB prize which included a guest presentation at Joburg Artfair, 2017. She did not disappoint!
Called 'o is the new+''! her exhibition was a symbolic presentation with connections to brutality and mob lynching resulting in innocent deaths. Quite difficult to look at, the installation featured hanging tires and tiny tortured figures whose small scale forced you to approach the tires closely, thereby forcing you to engage with the topic.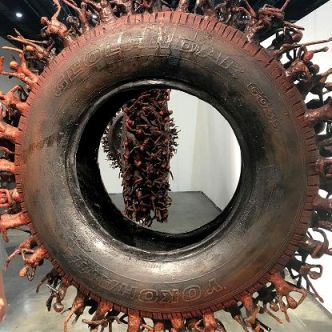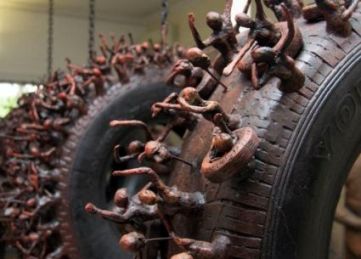 Peju Alatise, 'o is the new +!'
This installation would have touched many viewers' hearts. Burning tyres used as part of violent demonstrations would not be an unfamiliar image in their minds.
For further insight into this installation and the artist read here…
Conversations with Peju Alatise, Joburg Artfair
---
Zeitz MOCAA Opening Event
As I write this, I am preparing to travel to South Africa to attend the public opening of the Zeitz, MOCAA (Museum of Contemporary African Art) in the Waterfront, Cape Town. So I will have first-hand feedback to give you in my next newsletter! For now, enjoy these stunning images from photographer Mark Williams of the interior of an example of architecture that stands as an art piece on its own.
For insight into the architect Thomas Heatherwick and his approach to the design of this building read here…
---
Gallery Highlight - at present, featuring 'the past'
Barbican Art gallery, London A Retrospective Exhibition *Boom for Real* - Jean-Michel Basquiat 1960-1988
From 21st September, 2017 - 28th January 2018
Barbican Art gallery, London A Retrospective Exhibition *Boom for Real* - Jean-Michel Basquiat 1960-1988 From 21st September, 2017 - 28th January 2018
This exhibition at the Barbicon is bound to be a sellout.
The recent staggering prices achieved at auction for a Basquiat have captured the world's attention - ($110.5 million for 'Untitled' a skull painting).
You may wonder why I've included Basquiat here as while he was obviously African descended, his more immediate roots were Haiti-American and Puerto-Rican. But along with all sorts of other influences for his imagery like poetry, graffiti and street art, hip hop and jazz, boxing, anatomy, film and TV… he often referenced African history and culture in his work.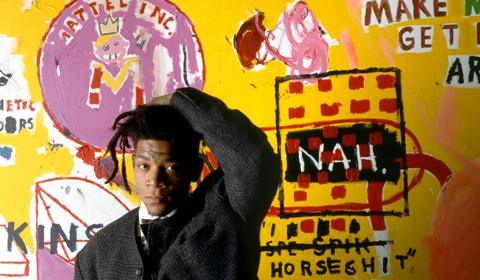 In 1986 he travelled to the Ivory Coast for a show in Abidjan.
Jean Michel Basquiat in Abidjan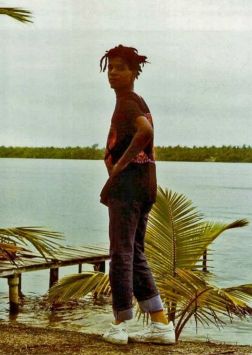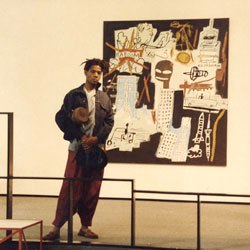 He planned to go again in 1988 with a young artist he had befriended in Paris, Outwarra Watts but Jean Michel tragically died before the trip could happen. The ceremony that the shamans were going to perform for Basquiat to cure him of his addictions become a ceremony for the dead.
I find it poignantly succinct that Watts will be exhibiting in London at 1:54 at just the same time as the Barbican is holding the retrospective for Basquiat... seems fitting.
Outarra Watts and Jean Michel Basquiat
---
Looking Ahead to the future – Exhibitions/Art Fairs
The National Museum of African Art, Washington, D. C. is presenting the largest selection of its permanent collection in the exhibition named: "Visionary: Viewpoints on Africa's Arts."
This exhibition opens on November 4, 2017.
Over 30 artists and 300 paintings will be featured including El Anatsui, Sokhari Douglas Camp, Romauld Hazoume, Magdelene Odundo, Gavin Jantjes.
Visionary aims to present the broadest possible range of Africa's creative visual expressions. The museum hopes to get viewers to look at the works of art with new eyes and focused insight by placing their collection pieces into 7 rooms that will have different perspectives. A rotating space featuring new acquisitions will offer a stage on which to see Africa's past and imagine a future.
---
LagosPhoto 2017 – 21st October – 20th November.
The LagosPhoto Festival is an anthology of stories about people, personalities, identities, facts and nature. And all with a common theme: Africa.
For eight years African and international photographers have been coming together with the desire to portray a different country to the one described in the news every day. The festival offers an authentic way to speak about our times.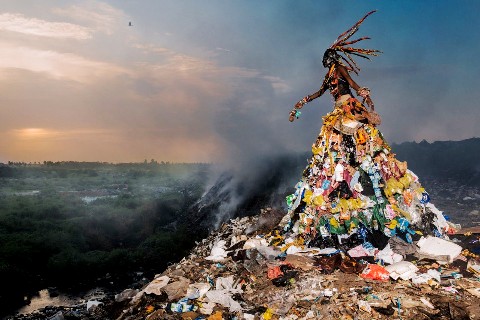 The Profecy, Fabrice Monteiro, LagosPhoto
Articles worth reading:
Azu Nwagbogu, LagosPhoto Festival's artistic director reveals the contents of the 2017 edition, curated by Duro Olowu, which examines the search for and presentation of truth in contemporary society.
Interviews by Riccarda Mandrini
---
In Newsletter Issue #003 I spoke about a common thread running through my articles which was reflective of my musings over the last two web pages I was busy writing.
I am pleased to announce they have both been published on my site and I hope you will take the time to peruse through them since they are close to my heart!
African patterns African Contemporary Pattern
That's all for now readers, hope you have enjoyed reading this 4th newsletter from CAA as much as I have enjoyed putting it together!
---