Hello!



This newsletter focuses on the photographic image…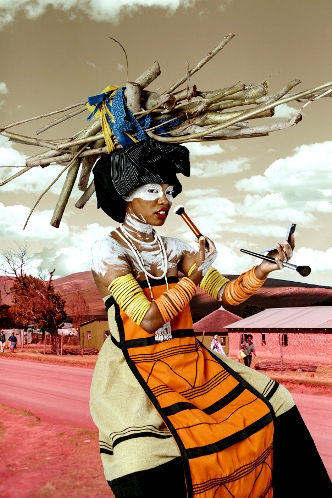 Tony Gum, Xhosa woman from "The Ode to She"
See more from Christopher Moller Art Africa currently has a flurry of rising young photographers who are using their medium for all sorts of motivations; aesthetics, political and social comment, portraiture; fantasy, documentary recording, archival, landscapes, cityscapes, fashion and graphic design.... you name it, they are doing it.
There are photographers mixing it up with moving images; digital videos and multi-sensory installations... and there are artists who use photographs in creatively manipulated, multi-layered, mixed media combinations.
These days, images can be printed in many ways; not just on the various forms of paper but also on fabric, wood, aluminum and perspex. Photographic exhibitions include terms like; 'silver gelatin photograph', 'photo printing on cotton paper', 'wallpaper and drawing installation', 'C-print', 'print on perspex', 'pigment inks on premium satin paper', 'single-channel video', 'dual-channel video', '3-channel video', 'HD video'.
A new visual literacy is being demanded by both creator and viewer.
For a great deal more insight and depth on this topic please have a look at this link:
ARTISTS
The plethora of photographers on the continent makes it extremely difficult to single out specific names but I have listed below a dozen of the newer ones whom I admire hugely; both from a technical and a creative perspective and for the meaning of their work and the significance of their choice of subject matter.

• Atong Atem b 1996, Sudan/Australia • Delphine Diaw Diallo b 1977, Paris/Senegal/USA • Omar Victor Diop, 1980, Senegal • Kudzanai Chiurai, b 1981, Zimbabwe/SA • Namsa Leuba b 1982, Guinea/Switzerland • Athi-Putra Rugi, b 1984, South Africa • Cyrus Kabiru, b 1984, Kenya • Mario Micalau, b 1984, Mozambique • Lakin Ogunbanwo, b 1987, Nigeria • Girma Berta b 1990, Ethiopia • Kyle Weeks, b 1992, Namibia/SA • Tony Gum, b 1995, South Africa ATONG ATEM
Studio series Atong Atem was born in Addis Addaba, Sudan but currently lives in Melbourne, Australia.

Her work is a celebration of the traditions and iconographic culture of her heritage while at the same time exploring the politics of looking and being looked at.
---
OMAR VICTOR DIOP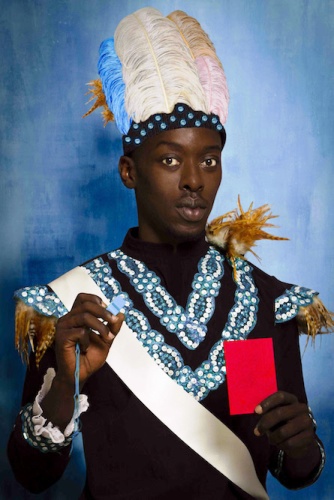 Seen here is one of Diop's 'Project Diaspora' elaborately staged portraits of himself in historical guise. They are metaphorical portraits where black identity is the central focus.

Diop would like to re-invent the history and heritage of studio portraiture in Africa.

Omar Victor Diop, Self Portrait
---
NOMSA LEUBA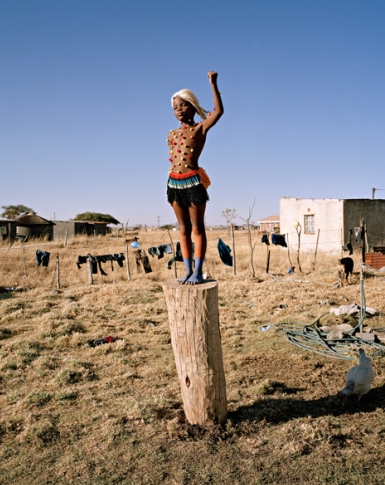 Namsa Leuba's work can be playful or serious depending on her subject matter. Schooled in Switzerland, she has a Western approach but feels more at home in Guinea and Nigeria both of which she frequently visits.

Her common style, which is slightly theatrical, shows a combination of her anthropological interest in her Guinea background and its traditional customs... and the first world influence of the world of fashion and design she studied in New York.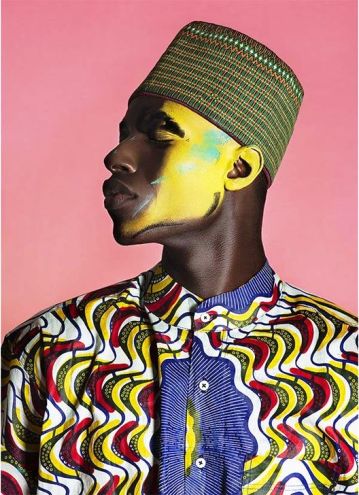 Often vividly colourful, she has produced a string of photographic series with dramatic backgrounds and titles like 'African Queens', 'Cocktail' and 'Ya Kala Ben', all richly evocative images.

Damien, Series 'NGL', (New Generation Lagos)
---
KYLE WEEKS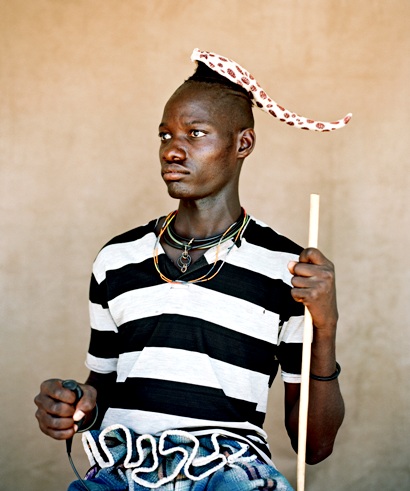 Born in Namibia, Kyle Weeks followed the idea of 'photographic truth' here in the OvaHimba series. He has produced an iconic collection of proud young men dressed as they would like to be seen, rather than the ethnic representation that so many tourists to their country have come to expect.

Kyle Weeks, 'OvaHimba Youth' series
He currently resides in Cape Town, SA but his subject matter tends to come form his home country and its neighbours including the series above - 'The palm wine collectors'

Palm wine collectors, Kunene region
---
LAKIN OGUNBANWO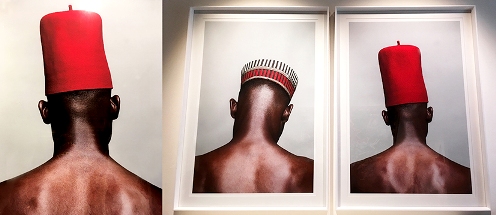 Lakin Ogunbanwo was born in 1987 in Nigeria and discovered photography while at law school in the UK. He converges sensuality with classic poses; suggestiveness and intrigue hover about his subjects.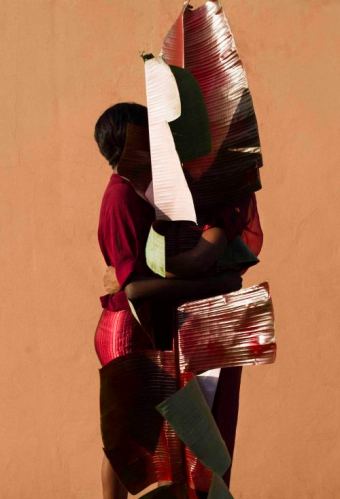 His fashion shots are inventive but glossily mimimalist at the same time.
---
N E W S A N D E V E N T S
1:54, LONDON

Seemingly very successful and all wrapped up, the fifth 1:54 London art fair showcased the works of 70 artists from 42 galleries.

One of the highlights was Hassan Hajjaj's work which was featured in a series named La Caravanne and the exhibition is still continuing at Somerset House until the 7th of January, 2018.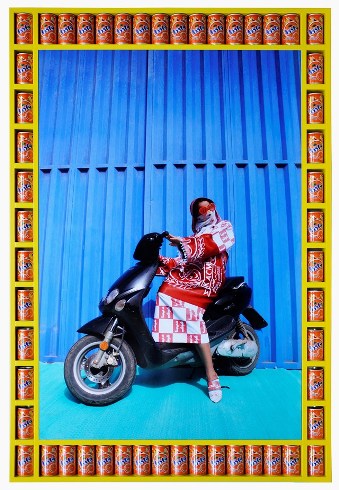 Born in 1961 in Morocco but currently living in London, his playful, multi-layered works reflect his nomadic lifestyle.

Hajjaj's work includes photographic portraits with video installations, sculptures, music, design and handcrafted objects. They represent a melting pot of street culture, uncovering how people connect through music, fashion and conversation.

Many of his works are framed by brightly coloured pieces such as soda cans or geometric textiles, marrying the aesthetics of consumer culture with individualistic elements of cultural identity.
---
Looking Ahead – Art Fairs/Auctions
LAGOS PHOTO FESTIVAL, Nigeria

24th of November- 15th of December, 2017

The 8th Lagos Festival is titled "Regimes of Truth" and aims to explore the dynamics and tensions between the truth and the images we see. The official brochure articulates "Contemporary photography serves as a gatekeeper of reality and truth as well as a conjurer of artistic imaginings for the viewer's pleasure and introspection".

LagosPhoto have pronounced… "As usual, there will be no boundaries or bias based on photographic approach. Historical work, archival material, reportage, collage, conceptual and non-conceptual image based approach will all be considered'.

Contact: www.lagosphotofestival.com

For more details click here AKAA, Paris (Also Known as Africa) Contemporary African Art and Design

10th - 12th November, 2017

This year includes AKAA UNDERGROUND which has been conceived as a way to enrich the visitors' experience through the creation of an art laboratory on the lower level of the Carreau du Temple. Here the public will discover a café presenting a program of workshops, artists meetings, book signings, performances and more...

For this first edition of AKAA UNDERGROUND, the South-African artist Lady Skollie has been given carte blanche to create a project that will not fail to impress. They also invite you to meet young endeavors like Little Africa, Partnership Editions and Maison Château Rouge, which present ever more innovative concepts and collections.

See: http://akaafair.com/en/akaa-underground
RECONTRES de BAMAKO, Mali
2nd of December, 2017 – 31st of January, 2018
"Afrotopia" has 40 contributing artists and collectives who use photography as a tool to communicate their creativity and/or their message.
For more details on Rencontres de Bamako
---
Gallery Highlight
ADDIS FINE ART, ADDIS ADABA

Addis Fine Art specializes in contemporary African Art with particular focus on art from Ethiopia and its diaspora.

In January 2016, Addis Fine Art opened its main gallery space in the heart of Addis Ababa, Ethiopia launching an innovative program of exhibitions, talks and events. In October 2016 the AFA Project Space was opened in London, to provide an additional international platform.

They will be presenting works at AKAA by photographers, Eyerusalem Adunga, Girma Berta, and Michael Tsegaye and by artist, Tariku Shiferaw.

Contact: addisfineart.com
---
Articles worth reading
Brendon Bell-Roberts talks to Los Angeles-based collector and art industry maverick Stefan Simchowitz... "the world completely underestimates the sheer power of artists from Africa"

'Africa Open for Business' by Brendon Bell-Roberts. I do hope you have enjoyed reading this special photography edition of CAA newsletter.

Until next time....
---