About me and Contemporary African Art
Hello!

My name is Bronwen Evans. 
Born in Zimbabwe, 4th generation of settlement in Southern Africa, I am historically and spiritually connected to Africa and am devoted to realizing the creative potential of this astounding continent.
My main passion in life is all that my website reflects... a love for all things African. For its history, the creation of its art, past and present and the political and sociological maturing of a continent which, in these first 2 decades of the 21st century, is being seen with new eyes not only by its own inhabitants but by the rest of the world. 

I am, at this point in time, totally committed to being part of, and promoting, the development of contemporary African art.

Having trained as a textile designer in Durban, South Africa, I then spent 18 years in South Africa and Sydney, Australia creating designs for fabric and developing this discipline. On my return to Africa, my focus shifted to interior design with an emphasis on the décor of lodges and bush camps in Zimbabwe and Mozambique.
Owning and managing my own art gallery/restaurant situated in the Bvumba mountains of Zimbabwe, I was given the opportunity to travel through many of the countries of Southern Africa procuring amazing and collectible items for the gallery. Very enjoyably so, I was able to build relationships with many artists and craftspersons along the way.
More recently, I thoroughly enjoyed teaching Art at my local Senior School, instructing pupils from Form 1 to A level (13 yrs old to 18 yrs old). This rewarding occupation of my time and efforts gave me invaluable insight into the workings of young creative minds, whose capacity to be wide open and embracing of anything new, consistently astounds me.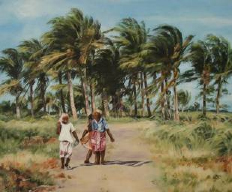 Palms in the Wind, Beira
For my own artistic progression, in 2010 I held an exhibition of my own work in Beira, Mozambique.
Working primarily in oils and oil pastels, the subject matter was mostly landscapes (sometimes with figures, sometimes with boats or buildings) of the coastal port of Beira which is where my forefather landed in 1897 from Ireland. He traversed a challenging and dangerous path to the interior, proceeding either on foot, cart or rail until he finally reached his destination and begun a new life with his young family.

Roadside stalls, Beira airport road
In a curious mix of growth and decay, Beira town is a projection for all that I love about the see-sawness of Africa where hope and despair are emotions that arise concomitantly.

---
In 2020 and 2021, my latest works have taken a new trajectory.
Spirited and colorful, they are abstract paintings; expressionistic and representative of a mood and feeling at a certain place in time and space. Painted in acrylic and mixed media they are emotive outpourings of color, texture, line and paint. Included are small, patterned areas that are an ode to both my textile background and to all the places I have travelled in Africa especially Senegal.  
I believe that a work of art may be enjoyed for its decorative qualities but if one can understand the deeper qualities of the piece; its reason for being, then the visual insight into the work and the artist is that much broader and more embracing.