About me and Contemporary African Art
Hello, my name is Bronwen Evans.
Born in Zimbabwe, 4th generation of settlement in Southern Africa, I am historically and spiritually connected to Africa and am devoted to realizing the creative potential of this astounding continent.
Primarily my main passion in life is all that my website reflects; a love for all things African; for its history, the creation of its art, past and present and the political and sociological maturing of a continent which, in these first 2 decades of the 21st century, is being seen with new eyes, not only by its own inhabitants but by the rest of the world. 
I am, at this point in time, totally committed to being part of, and promoting, the development of contemporary African art.

Trained as a textile designer in Durban, South Africa, I spent 18 years creating in this discipline, working in South Africa and Sydney, Australia.
On my return to Africa, my focus shifted to interior design with an emphasis on the décor of lodges and bush camps in Zimbabwe and Mozambique.

I have owned my own art gallery/restaurant in the Bvumba mountains of Zimbabwe which gave me the opportunity to travel through many of the countries of Southern Africa procuring items for the gallery and building relationships with many artists along the way.
More recently I enjoyed teaching Art at my local Senior School, teaching pupils from Form 1 to A level (13 yrs old to 18 yrs old). This rewarding occupation of my time and efforts gave me invaluable insight into the workings of young creative minds, whose capacity to be wide open and embracing of anything new, consistently astounded me. 
Below are two paintings of my own work (oil on canvas) from an exhibition in Beira, Mozambique. The subject matter being reflections on the coastal port of Beira, where my forefather landed in 1897 from Ireland and then walked to the interior to start a new life for his young family.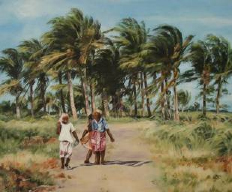 Palms in the Wind, Beira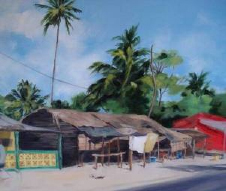 Roadside stalls, Beira airport road
In a curious mix of growth and decay, Beira town is a projection for all that I love about the see-sawness of Africa where hope and despair are emotions that arise concomitantly.

I believe that a work of art may be enjoyed for its decorative qualities but if one can understand the deeper qualities of the piece; its reason for being, then the visual insight into the work and the artist is that much broader and more embracing. 

On my website I aim to enhance that insight, to make sure the experience of the viewer is enriched.
"In the will of man there is a power of longing which turns the mist in ourselves into sun"
Kahlil Gibran, 1928