Wangechi Mutu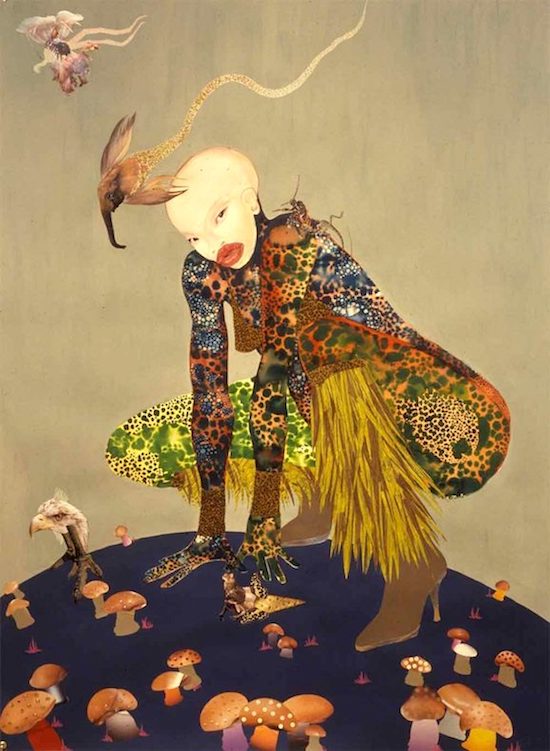 Wangechi Mutu, b 1972, Nairobi, Kenya

Wangechi Mutu is one of the most significant and celebrated diasporic artists on the contemporary art scene. The epitome of a thoroughly modern, global African artist, she has received countless accolades and honors including one from The Deutsche Guggenheim who saw fit to elect her 'Artist of the Year' in 2010, (a decision that guaranteed a long-term impetus to her career) and the Smithsonian in Washington who elected her 'Artist Honoree' in 2018.
Most recently, the Metropolitan in NY commissioned her to sculpt 4 statues for a six month placement in the niches in the front facade of the Museum.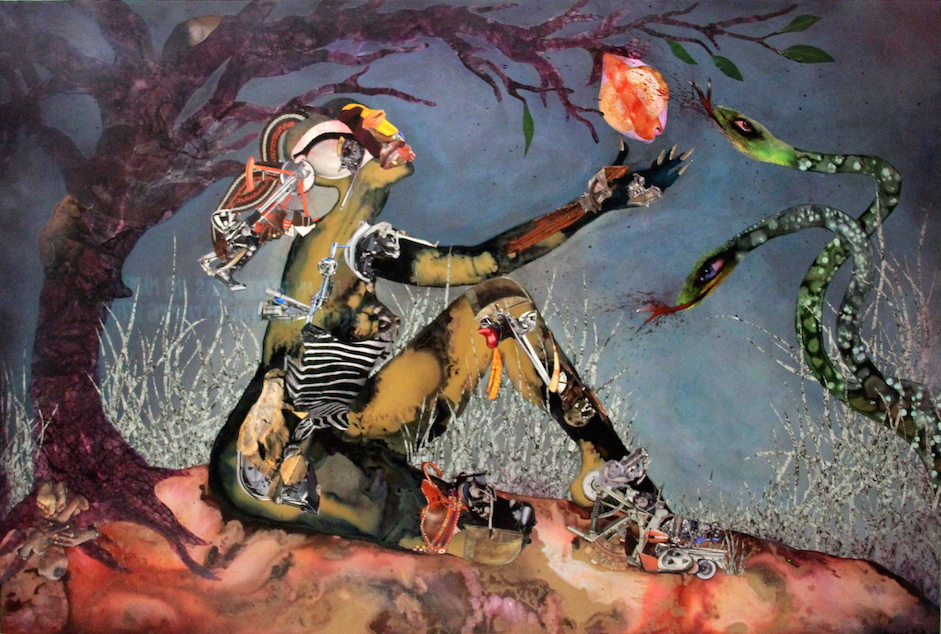 Wangechi Mutu, 'Forbidden Fruit Picker', Collage Painting
Born in Africa and schooled in Wales, UK she furthered her studies in the United States... (BFA at Cooper Union, NY) and an MFA from Yale. She is presently residing in New York.
She is known for her multi-disciplinary practice which encompasses painting, collage, film, (including animated movies), sculpture and performance art. An activist at heart, she incorporates African imagery into her themes such as feminism, colonialism, violence, ecology and over- consumption. The female body is a theme she revisits regularly, often in conjunction with metamorphosis and medical parts. The images created can be seductive, provocative, somewhat disconcerting and even slightly grotesque to look at. 

Collage
Her complex and multi-layered collaged pieces are combined with handpainted watercolor.
They include torn and cut out images from pornographic magazines and medical journals with selected body parts reassembled into new beings and bodies. In the process of deconstruction and reconstruction, the theme of violence is metaphorically reproduced.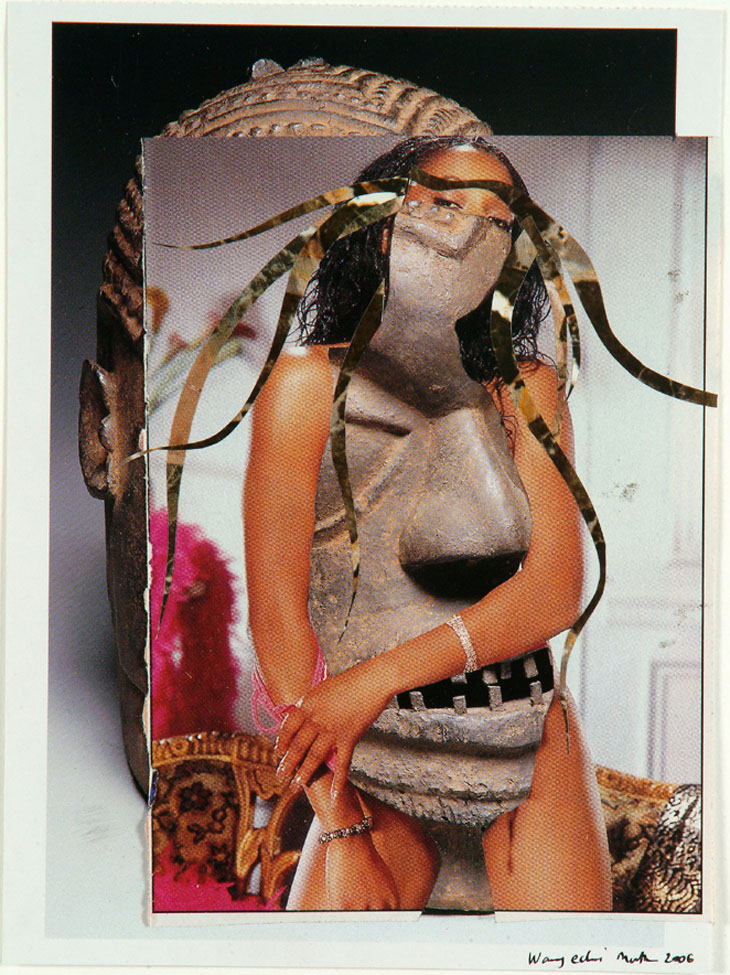 Wangechi Mutu 'The Mask', collage
These evocative and hugely detailed collaged works are charged with her energy due to her very individual thoughts and the time consuming processes that produce the final result.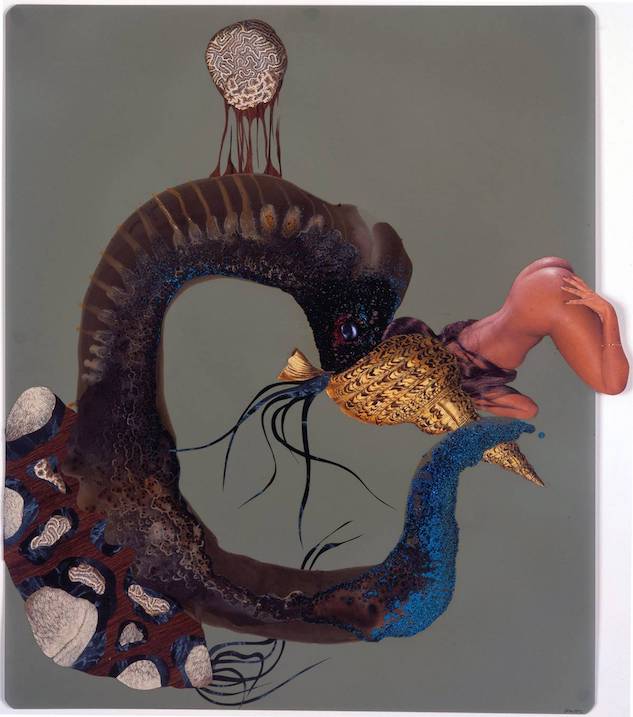 'Drowning Nymph' - Mutu, MCA
Sculpture
Mutu works with a variety of sculptural medium.
Her collective series titled 'The New Ones will free Us' for the Metropolitan Museum of Art, NY were made out of bronze, standing nearly 7ft tall and weighing more than 840 lbs each. Individually titled 'The Seated I,II,III and IV' they are dressed in coiled garments and feature polished discs somewhere on their heads, referencing lip plates and coil jewelry worn by African tribes. They also pay homage to caryatids, female figures carved out of wood or marble and used as metaphysical supports in building constructions.
Mutu herself says of her figures 'They look as if they are charged with a role and a responsibility. They have come to look and bear witness, and to reflect back to us what we are'.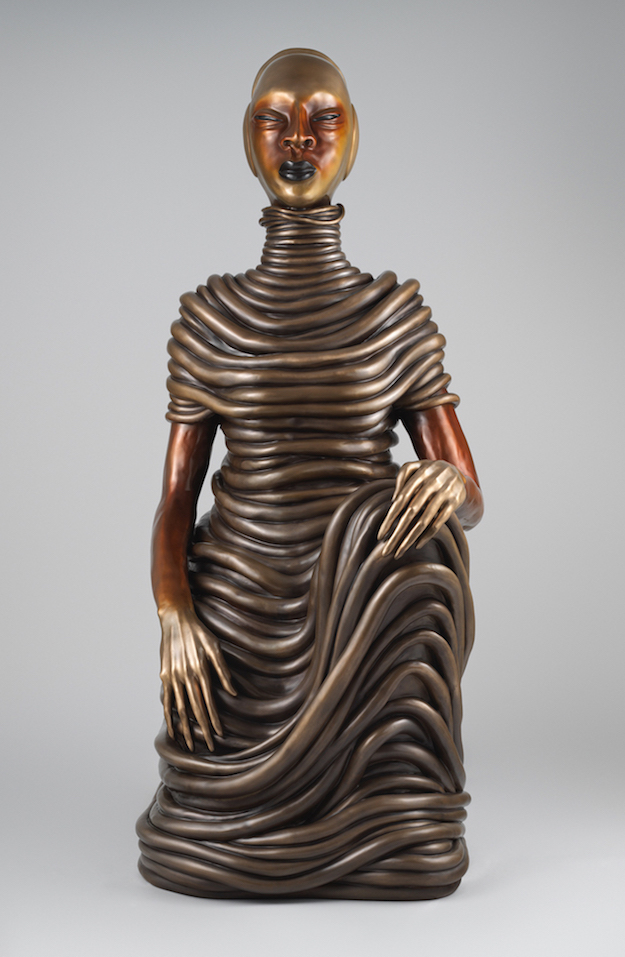 'The-Seated-III' Wangechi Mutu
'Water Woman' executed in bronze, is a mythological figure, part nymph, part fish.... a beautiful and transformational statue is reflective of her personal and ethnological influences.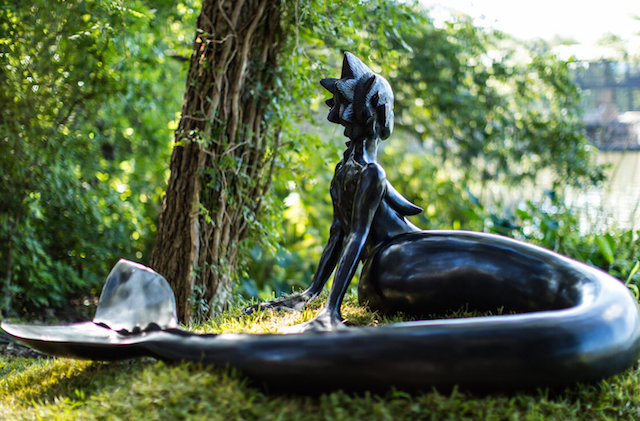 'Water Woman at Laguna', Wangechi Mutu
Otherwise, Mutu works in terra-cotta earth and found pieces of driftwood, stones, rocks and minerals incorporated into her more organic sculptures. Using volcanic red earth soil from Kenya allowed her to let go of her material somewhat and just enjoy a simpler conversation with her substance.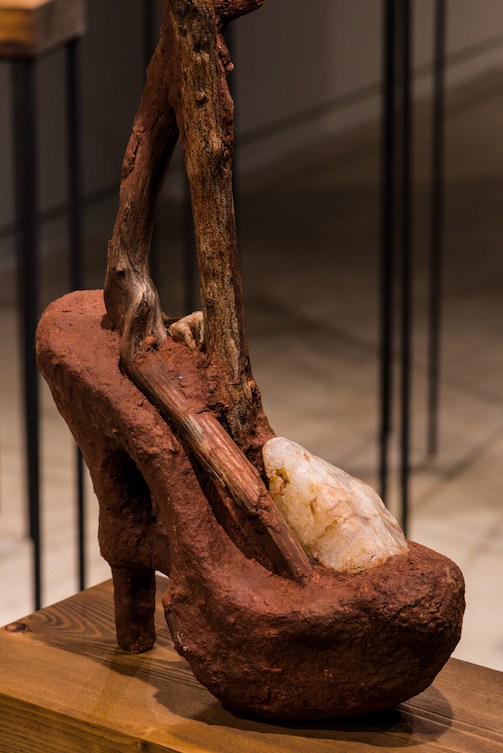 ' The Heeler', 2016, Gladstone Gallery
Seen above is a sculpture made of red soil, paper pulp, wood glue, rocks, acrylic shoe and wood.
---