Yinka Shonibare
Yinka Shonibare, b 1962, UK/Nigeria
Born in the UK, this contemporary African artist moved to Lagos as a 3 yr-old and then returned to London to go to Art College. He has remained in London ever since but has strong ties with Nigeria and his heritage.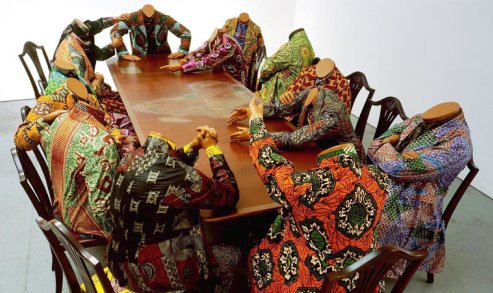 'Scramble for Africa'
Awarded an MBE for his contribution as an artist of outstanding capabilities and repute, Yinka Shonibare continues to excel in every field of the visual arts.
While his hallmark is the brightly coloured Dutch wax fabrics synonymous with African design, his depth and breadth of talent stretches to sculpture, performance art, installations, photography, film, painting, prints, ceramics... there is hardly an art form he has not explored.
His work has been shown in major exhibitions as far afield as Sydney, Australia, Toronto, the Venice Biennale, Documenta in Germany, the UK, the USA and Lagos. Most recently his film installation was included in the opening exhibition of the Zeitz MOCAA in Cape Town, SA.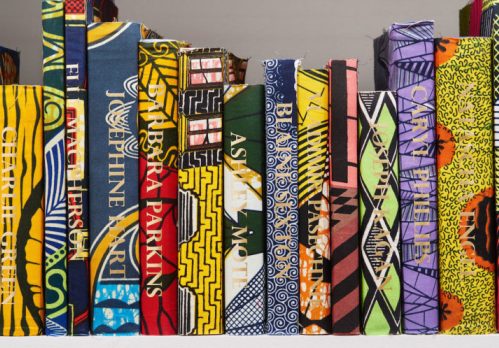 Library, dutch wax fabrics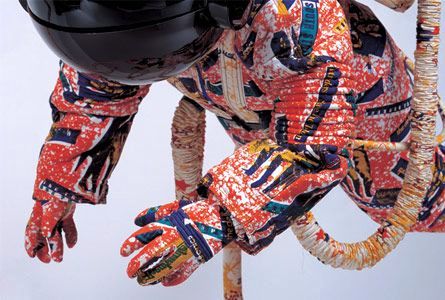 Space Walk - detail. Fiberglass, silkscreen print on cotton sateen and cotton brocade, and plastic.
He considers dutch wax fabrics or ankara to be the perfect metaphor for his multilayered identity.
In a series called Spacewalk he designed and screen printed his own wax prints using reference from musical traditions in Philadelphia where he was an artist in residence at the Fabric Workshop and Museum. 

In 2016 in his exhibition ....and the Wall Fell Away, he presented a different application of dutch wax fabric by painting only the patterns and abandoning the physical material. By leaving only a trace he gives a personal insight into the complexities of identity.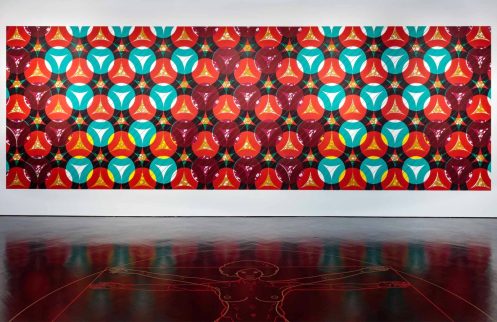 '...and the Wall Fell Away'
His work explores themes like cultural identity, the affects of colonialism and post-colonialism and his pieces often allude to maritime history and past cultural influences. 
In his "Wind Sculpture" series, Shonibare has constructed 23ft sail sculptures that are positioned in public parks and squares, their fluttering, patterned form recalling the history of past maritime endeavors, a migration across continents. In March 2018 the latest in a new series was erected in Central Park, NY.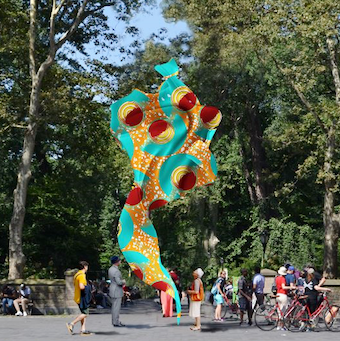 Wind Sculpture, Central park, NY
Whatever Shonibare does, he adds a theatrical element to it. His assemblages often have figures set at a tableaux and they contain a satirical message that is eloquently conveyed in his dramatic pieces. Music, opera and film are also often used as additional tools of expression for him. 
For this artist his studio is a mini-community... a place where exploration of ideas take place. He has assistants who work for him and he also takes suggestions from outsiders for conceptual notions.... a box exists outside the door for aspiring collaborators to add their ideas.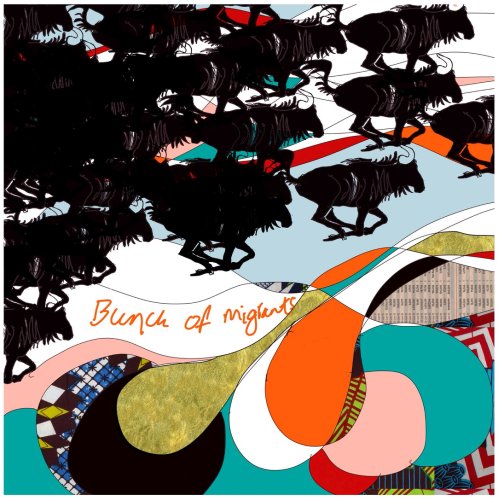 'Bunch of Migrants', print
It is important to him to challenge perceptions in society and his art is a way in which he can do this on a far-reaching level.. and in an educational way rather than an act of aggression.
For him art is a very human issue.
See here for  further insight into the mind of this dynamic individual.... "Art matters'
---