Julie Mehretu
Julie Mehretu b 1970, Addis Ababa, Ethiopia.
This phenomenally meteoric, contemporary African artist is best known for her dense, layered abstract art littered with gestural markings.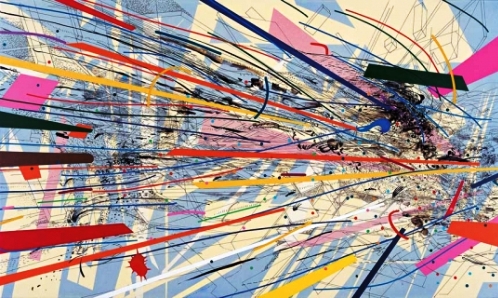 An abstract piece
Essentially she paints what has been described as topographical images (the distribution of parts or features on the surface of, or within, the organism).  She tries to make sense of the world by making small markings, drawings and coloured geometrics, all adding up to a whole that appears fragmented but has, in fact, been carefully and methodically constructed by the artist into an urban landscape.
In an interview with Lawrence Chua from BOMB, Mehretu said"The development of that abstract language is a very subconscious, intuitive thing" and also "I think the work is about trying to make sense of what is happening outside of that mediated reality. There are more and more of these complicated situations and I think we all exist in them, or at least I know I do, where I come from two different realities and I'm trying to locate myself...."
Her most famous and visual piece was commissioned by Goldman Sachs in 2010 for their New York West St offices and is entitled simply"Mural". Dominating the lobby, it can be seen from the street and is an impressive 80 feet wide and 23 feet high.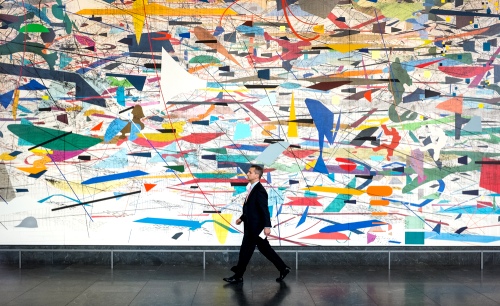 'Mural', Goldman Sachs building NY
Julie Mehretu moved with her family to the United States of America when she was seven, returning to Africa to study at the University Cheikh Anta Diop in Dakar, Senegal. After further interim studies, her Master of Fine Arts was achieved at the Rhode Island School of Art and Design in 1997.
She stayed in NY State to open a studio and after partaking in many group shows was finally awarded a solo exhibition at the Guggenheim Museum in 2010. Now her work is widely collected all over the world and sought after for inclusions in exhibitions, museums and private collections. She has also numerous prestigious awards.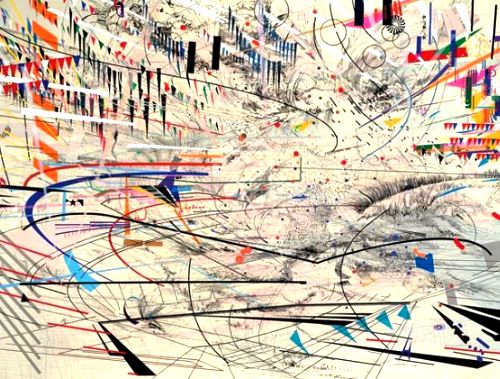 Title unknown
Mehretu is constantly looking to nurture her process of working in her studio, allowing for the creation of a freedom to express new ideas and new forms of language with new mark making.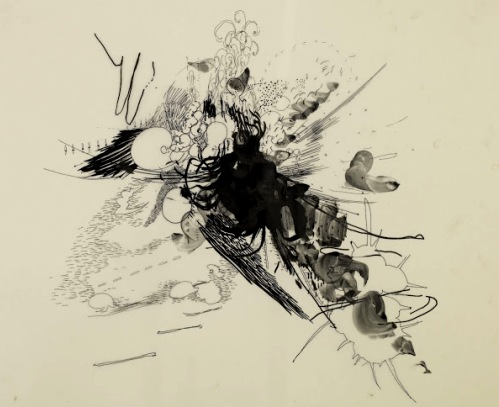 Drawing
For more on this artist this link provides much insight into her work - Widewalls
---