Cyprien Tokoudagba
Tokoudagba Cyprien (1939 - 2012), Benin
This acclaimed African artist was a painter and sculptor who hailed from Abomey, Benin.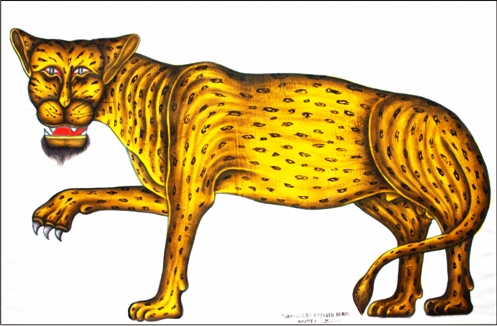 Tokoudagba leopard
His artistic career started by painting wall murals in the suburbs of his hometown but he went on to work for the National Museum of Abhomey helping restore the bas-reliefs on the Dahomey Palace walls. This provided him with exposure to his rich cultural background and the royal traditions of his country. 
From this humble background, Cyprien Tokoudagba went on to have his work on canvas and his sculptures exhibited all over the world. 

'Houéda vodoun dangbé'
After leaving Benin for the first time in 1989 to show his work at the Magiciens de la Terre show in Paris, he went on to participate in biennials in Sydney, Sao Paolo, Moscow and Dakar. His work has  appeared in exhibitions at the Tate, Serpentine and Hayward Galleries in London and in museums in Tokyo, Dusseldorf, Houston and Washington to name a few.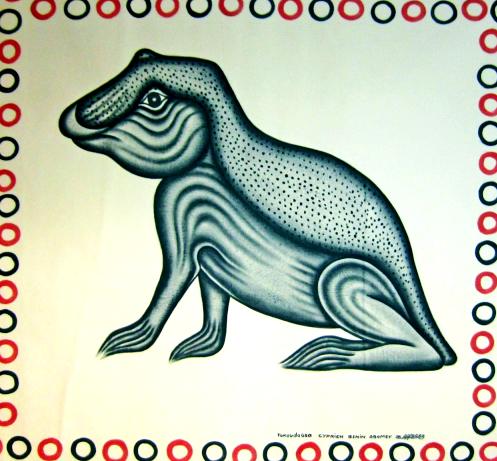 'Agotonon'
His large canvases which he first painted for the Magiciens Show continue to be the best basis for his form of expression in which he combines emblems of the kings of Abomey with symbols of deities and other cultural objects into his compositions.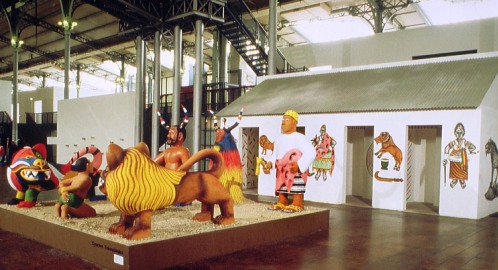 Voodoo temple of the Tokoudagba family in Abomey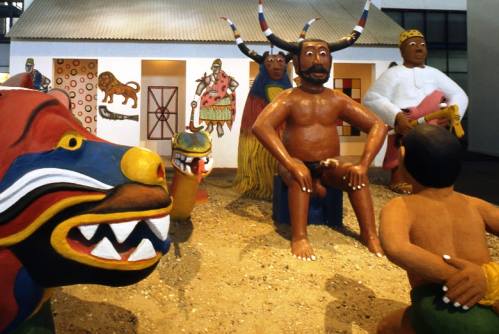 Voodoo Zangbeto Legba, 1989 - Set of 7 sculptures, painting on reinforced cement
He continued to paint frescoes on walls throughout his artistic career being commissioned by Vodou temples both private and public.
---