Contemporary African Pottery
oxidised orange burnished pot, Magdalene Odundo
Contemporary African pottery is characterized by an eloquence of form and a finesse of finish that one does not generally expect in a vessel of utility. This is precisely the point, since very few of these pots will ever be used for anything other than contemplation of their virtues. 
But one cannot separate their modernity from their past, their very existence is based upon the survival of centuries of production, experimentation and refinement of their craft.
There are many practicing ceramic artists and the following are but a mere sample of the breadth and depth of contemporary potters practicing their craft on the continent.

Magdalene Odundo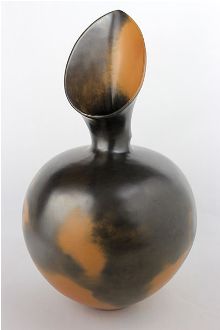 Burnished, reduction fired pot, Magdalene Odundo
Drawn to her innovative use of one of the oldest materials on earth, one can only admire the compelling work of this Kenyan-born, ceramic sculptor.

Born in 1950 in Kenya, she was educated there and in India and currently resides in Britain.
Odundo 'untitled'
Her prowess as a potter who consistently breaks new ground is uncontested. Her pieces may resemble containers, but none is meant to be used as such.
Her vessels take on their own fluid appearance, they appear to have slipped and slid and it feels their shape is not totally within Odundo's control.
The decoration, however, and the technical processes are tightly controlled by the artist who uses traditional coiling techniques and a series of oxidised and low-oxidised firing atmospheres to achieve different effects.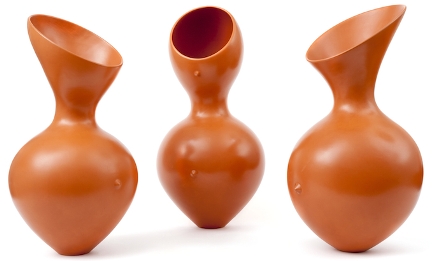 Hand coiled, burnished and fired red-orange pots, Odundo
Her work reflects a unique insight into the trans cultural roles a pot can play and the meaning, both secular and scared, that a vessel can hold. In much of Africa, ceramic craft is associated with female creativity and the anthromorphic references to the female body in her pieces reflect that ritual.
While we can specifically recognize this in her work, she has studied many other indigenous pottery techniques in other environments making her art uniquely contemporary and worldly.


Andile Dyalvane
Born in 1978 in the Eastern Cape, South Africa, Majolandile graduated Cum Laude in Ceramic Design in 2003 at the Nelson Mandela Metropolitan University. He stays true to his roots in using scarification as a technique just like the Xhosa cultural practice of ukuqatshulwa - body scarification.
His work is elemental and his colour usage often symbolic, also reflecting his cultural traditions. 
Andile Dyalvane, Stoneware coiled vase; scarified bulb shape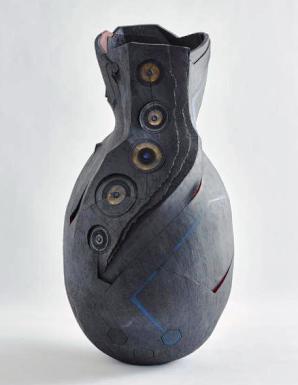 Andile Dyalvane, Camagu
This ceramic artist has not looked back since, making waves as far afield as Denmark, Taipei, California, France and New York City.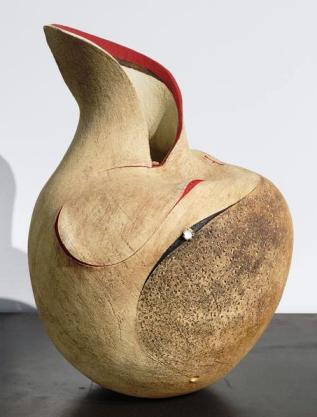 Image credit: Bird Vessel, 2015; Andile Dyalvane – Friedman Benda
His vessels here seem to have a brutish quality that is reminiscent of Picasso.                               He has moved beyond surface decoration to capturing the 3D form and angular, jagged contours of the Master in his own outsized, sculptural vessels.
Andile Dyalvane, NY, 2016


Ian Garrett
Garrett was born in the Eastern Cape, South Africa and his work is influenced by a fascination with both the  pre-historic vessels from Europe and India and from the deep cultural heritage of the place of his birth.     
Ian Garrett, highly burnished ceramic pots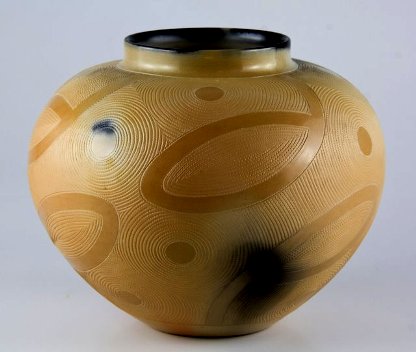 Ian Garrett, earthenware with elliptical swirl design
He uses a pinch and coil technique and has a highly burnished finish to his vessels. Sometimes he uses a shell with a serrated edge to create textures on his vessels.
His imagery has either botanical or geometric and abstract references or reflect the age old black-on-terracotta firing effects. 
Clive Sithole
Sithole, born in 1971 is a South African studio potter who has examined his Zulu heritage and contemporized it by adding features to his essentially traditional pots like zoomorphic and anthropological emblems on top of the lids.  
He studied under Nesta Nala, an established and master potter who comes from a family of ceramic artists.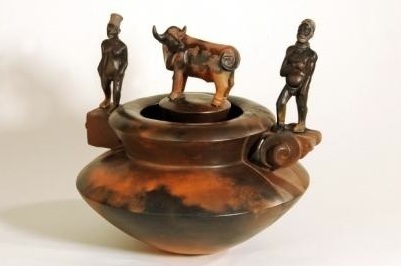 Clive Sithole, "Stripped", Pot with figures and ox, Tatham Gallery, Pietermaritzburg
Particularly endearing are the references in his work to the practice of Zulu boys making bovine sculptures from river clay.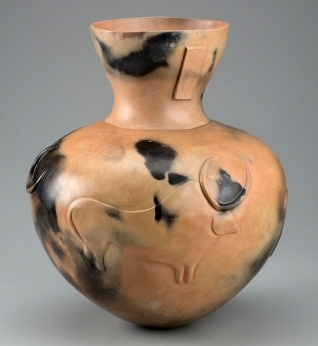 Clive Sithole, 'Uphiso', 2007, burnished ceramic
His large vessels, be they round or long necked pots or open bowls, are burnished and textured and beautiful to look at, containing a purity of form that makes them highly collectable items.

Nala Family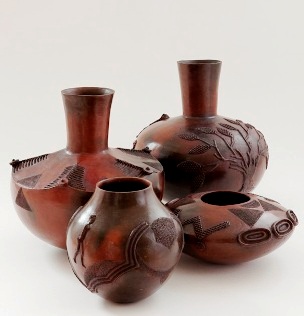 Nala sisters, 4 generations of potters
This unique and talented family has four generations of female potters whose finely crafted pieces are made in the Thukela Valley of Kwazulu-Natal.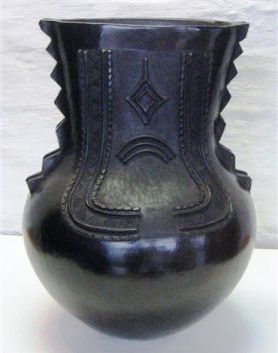 Jabu Nala
Great-grandmother Ntombi and grandmother Simphiwe passed on their skills to daughter Nesta, who in turn taught her own daughters, Jabu, Ntombi, Bongi and Zanele.
Magwaza Family
Another South African family has 18 practicing potters amongst them.                        
The Magwaza Family has a rich tradition of making Zulu pots and they have perfected the art of designing with amasumpa, the little pellets that mark out the design on the pot.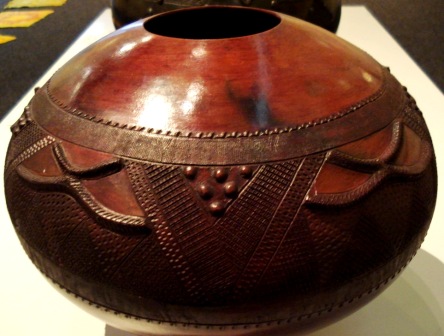 Magwaza family, earthenware pot with 'amasumpas', Tatham Gallery, Pietersmaritzburg