Contemporary Textile 
Installation artists

'Dance of the Living Image' - Moffat Takadiwa
The fluidity and tensile strength of textiles and cloth lend themselves to many forms of exciting installation art. Sometimes the works of art replicate the look and feel of textiles but are in fact constructed of many other kinds of materials.
This field is gathering strength all the time; in scale, in drama, in impact, in storytelling... whatever the purpose of the creation, textile installation art is celebrated by contemporary African artists in  a manner like no other nationality.
Contemporary Textile Installation artists
Using a huge variety of materials, these contemporary artists below barely skim the surface of the depth of talent in this field...  
El Anatsui,

 b 1944, Ghana

 

Sanaa Gateja b Uganda 

Elias Sime b 1968, Ethiopia

 

Olanrewaju Tejuoso b 1974, Nigeria 

Nnenna Okore

 b 1975, Australia/Nigeria

 

Nicholas Hlobo b 1975, South Africa 

Peju Alatise b

1975

, Nigeria

 

Georgina Maxim b 1980 Zimbabwe 

Victoria Udondian b 1982, Nigeria  

Wallen Mapondera b 1985, Zimbabwe 

Serge Clottey, b 1985, Ghana 

Ibrahim Mahama, b 1987, Ghana
El Anatsui
El Anatsui was born in 1944 in Anyako, Ghana, this superlative artist is best known for his monumental wall sculptures made from discarded bottle tops and metal strips. 
He is recognized as one of the most original and compelling artists of his generation. His draped cloths transform discarded materials into objects of striking beauty and originality, their cascading form glittering and undulating, impacting upon one's sensibilities. 
'Gravity and Grace: Monumental Works', Brooklyn Museum
Viewing them is an uplifting and rewarding experience. On close inspection of one of his pieces, the swags and folds reveal countless pieces of coloured metal strips, bottle tops, milk tin lids and aluminium printing plates that have been stamped, twisted, pressed, pinched into shapes like rosettes and circles and bound together with copper links like chain mail.
'Tsiatsia'-searching for connection-Zeitz Mocaa
'Tsiatsia'-detail
They can be grouped together in a mass of colours or a single colour can be chosen represented in all its hues. Scale, pattern, light and texture all come into play to make an original compilation.

Reshaped and reformed these tapestries are never hung the same way twice. Anatsui allows freedom for curators and exhibitors to hang as they see fit giving these works a never ending story, a long life of expression and an opportunity to connect and transform. 
Historically he was one of the first sub-Saharan artist to exhibit at the Venice Biennale (1990). 
'Opening of time', Anatsui
The intricate, narrow-banded compositions of Anatsui's first pieces were recognizable variations of kente cloth, the emblematic fabric of Ghana. The massive and monumental pieces that followed in later years reflect the traditional large cloths which are highly sculptural in their own way, being draped across the bodies of stately kings and men. His recreation of humble metal fragments to construct powerful, beautiful works of art is nothing short of mystical and transcendent.
Yinka Shonibare MBE
Yinka Shonibare, b 1962, the London-based Nigerian artist has extraordinary talent and has exhibited in most of the major art institutions across the planet.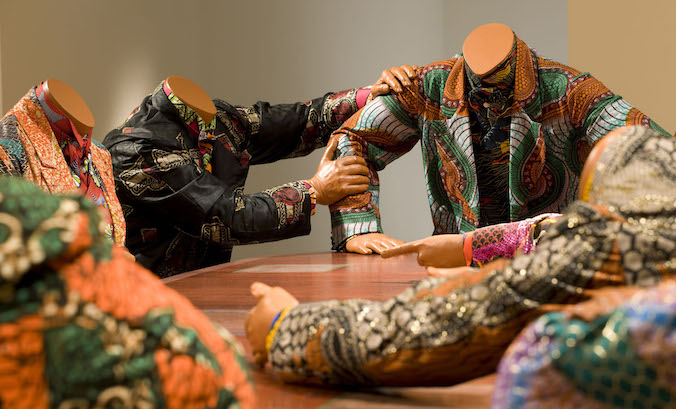 His work is pre-occupied with the legacy of European post-Colonial impact on Africa and he uses fabric to reflect this in many forms of artistic media including large-scale installations and sculptural tableaux which he used for social and aesthetic comment.

'Dutch wax' fabrics came to symbolize the relations and interdependencies between two worlds. Shonibare commented in London, 1996 "In my own practice, I have used the fabrics as a metaphor for challenging various notions of authenticity both in art and identity."
The installation work below is called .."And the Wall fell away"... from a 2016 exhibition at Stephen Friedman in London and composed of 2 parts: Dutch Wax fabric pattern which, this time, is hand-painted on to the wall and a gold and red vinyl laser cut drawing on the floor.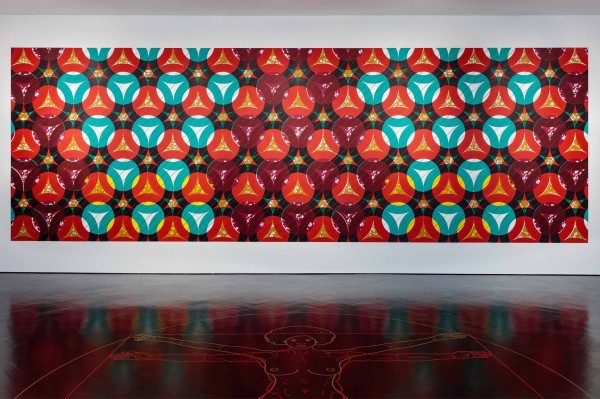 'And the wall fell away' installation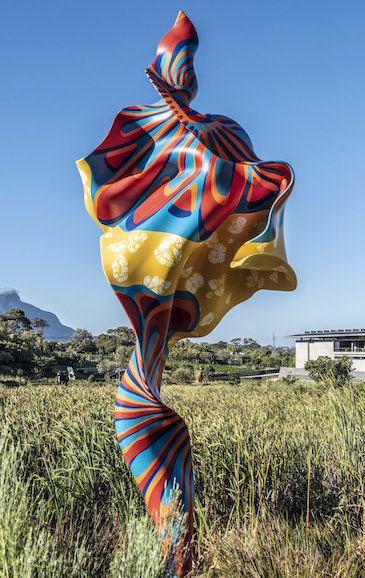 His 'Wind Sculptures' adorn many institutions front yards internationally from the USA to the UK to Lagos in Nigeria. The one above is part of the permanent collection of the Norval Foundation in Cape Town, SA. His Trade Winds exhibition of 2018 brought together a series of his most important works with this recent acquisition being a centrepoint... at the heart of it is an appreciation for Ankara fabric and all the conceptual and historical meanings associated with it.
Peju Alatise
Born in 1975 in Lagos, Nigeria, Peju Alatise has made a significant impact on the contemporary art scene. Having first studied architecture and having had 3 novels published, Alatise turned to painting and finally to the sculptural installations that have turned art lovers' heads all over the planet.
'Orange Scarf goes to Heaven', Peju Alatise
Raised in a Muslim family Alatise originally faced opposition to her chosen career. A young Peju was shaped by her observations on the role of women in Nigerian society, increasingly questioning the status quo. Nowadays she addresses issues concerning her religion and other pertinant subjects like immigration and child brides.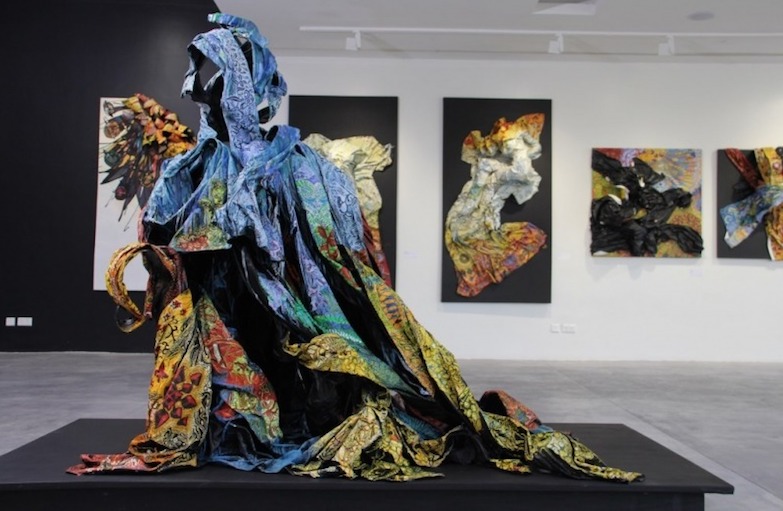 'Wrapture.. a story of cloth' - Peju Alatise
Using fabrics, ceramics and metal she creates conceptual, 3-dimensional pieces that have an underlying theme highlighting the absence of women - an underlying theme that specifically resonates across Nigerian society after the disapperance of 100's of girls to the hand of Boko Haram ever since 2014.
In 2017 she won the FNB Art Prize at FNB Joburg Art Fair. Part of the prize was holding a solo exhibition at the Fair. She has also represented Nigeria at the Venice Biennale, held exhibitions in NY with Sulger-Buel Gallery, shown at Dak'Art Pavilion in 2018 and is a regular feature artist in her hometown.
Peju Alatise-'Bluer on the other side-The problem with immigration'
Serge Attukwei Clottey
Serge Clottey was born in Accra Ghana in 1985. Working across installation pieces, performance, photography and drawing, this multi-disciplinary artist explores personal and political narratives, exploring topics like trade and immigration.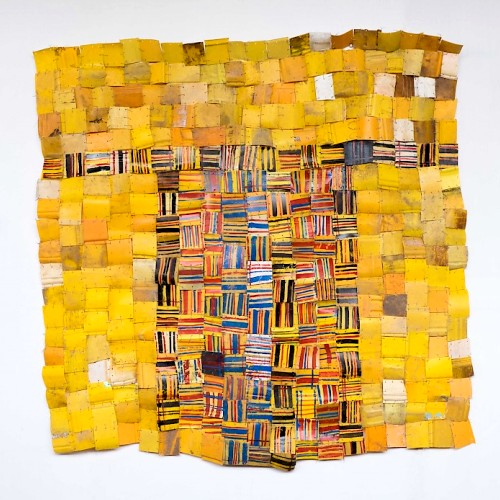 Serge Clottey, 'Voices demanding'- 2016, plastics, wire, oil paint
Serge Clottey, Installation, Evergold Gallery SF
Often using his signature trademark material of predominantly yellow, plastic gallon-containers, he cuts, flattens, drills, stitches and melts his pieces of plastic reconstructing them into large-scale assemblages some even being able to cover building facades. Truly impressive and arresting, they make powerful statements..... contemporary kente cloths that  draw attention to some of the issues facing modern day Africa.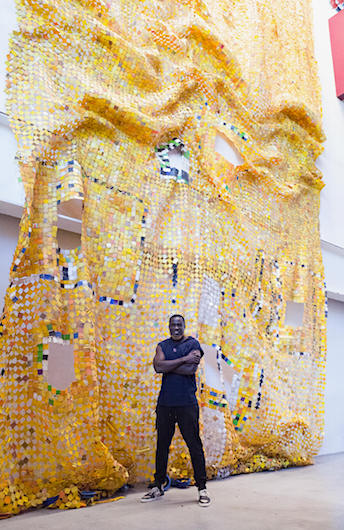 Clottey, FB headquarters, SF
Ibrahim Mahama

Born in Tamale, Ghana in 1987, Ibrahim Mahama continues to live and work out of Tamale and the capital Accra, conceiving large-scale installations using old jute sacks stitched together and then draped and folded over buildings and other architectural units.
'Material Effects', 2015, Installation view
Mahama was selected for the 56th International Art Exhibition of the Venice Biennale in Italy in 2015 during his final year at University. At the humble age of 26 he rose to fame with his installation 'Out of Bounds'.
Materiality, for Mahama, is used as a form of critique. He brings to the fore Africa's role in the exchange of commodities and the migration of people, using burlap sacks bearing traces of coal and cocoa production from his home country (imported by the Ghana Cocoa Board and repurposed by charcoal sellers) to further exaggerate and highlight these issues facing the continent.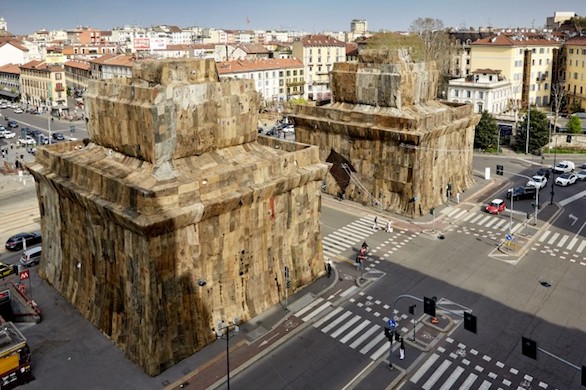 Mahama's Untitled series constituted several site-specific works where various public sites in Ghana's capital city, Accra, were transformed by the installation of woven burlap sewn by local workers and traders, whose names and locations are marked into the coarse jute fabric. In their physical manifestations, Mahama's works are often installed in market places or abandoned railway bridges.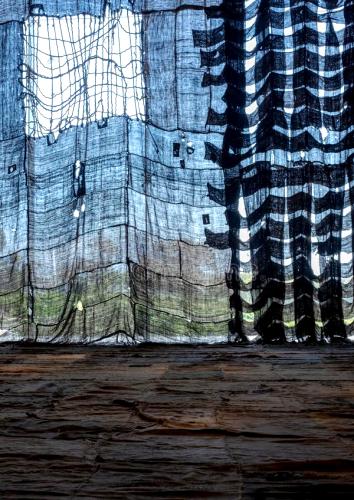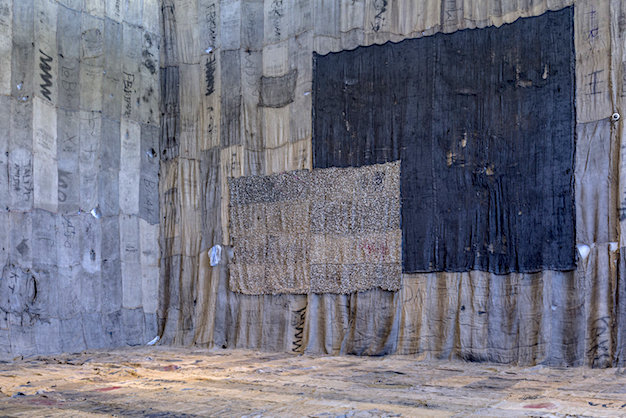 'A Labour of Many', Norval Foundation, CT
'Labour of Many' was mounted at the Norval Foundation, CT, South Africa in 2019 and was created like many of his installations at the hands of many... conceived by Mahama, his Ghanian  task force labour with him in public spaces.

By using materials and production methods that involve the hands of many, he creates meaning and value out of decay.
"The monumental moment is the act of production.. it gives me freedom".
Nnenna Okore
Born in Australia in 1975, this exciting artist was raised in Nsukka, Nigeria. Currently she moves between Nigeria and Chicago, USA where she is a lecturer in sculpture.
Working internationally, Nnenna Okore creates abstract forms with very specific fibre and fabric based materials.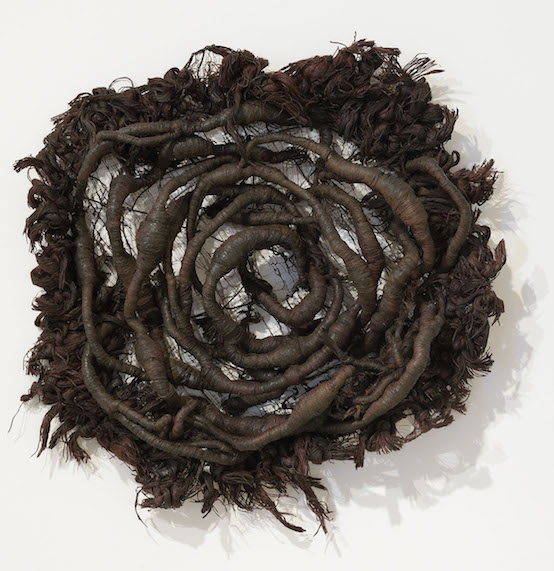 'Deeply Rooted', Nnenna Okore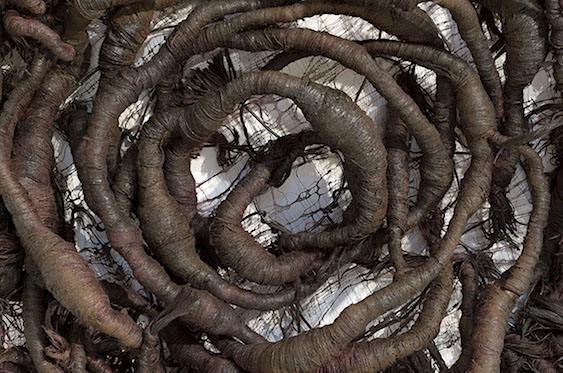 Okore uses environmentally friendly by-products of nature like burlap, fabric, clay, paper, manila ropes and sticks.
Her processes include weaving, sewing, rolling, twisting and dyeing - techniques garnered from watching women perform daily tasks in the visceral and tactile street markets of Nigeria. She uses wire to shape and join fabric forms creating malleable and changeable sculptures.

Her installation art relies on immersive spatial environments to complete the experience. She is happiest when her viewers can walk into, under, above and around a site-specific piece like the piece below.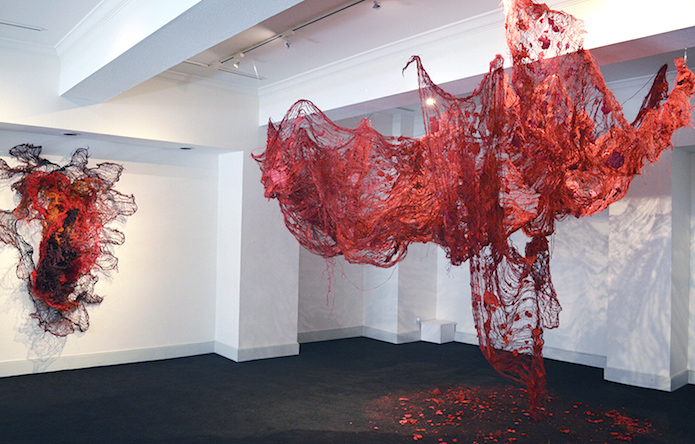 Nnenna Okore, installation view of 'Osimili', 2017.
Her end products are truly masterful, intricate sculptural installations that are inspired by the textures, colors and landscapes of her local environment. 
Olanrewaju Tejuoso
Born in 1974 in Nigeria, Olanrewaju Tejuoso continues to work out of his home country in a small town called Abeokuta.
This distinctive, award-winning visual voice (Prix Revelation, Dak'Art 2018) focuses on critical global issues like climate change and environmental degradation. Using reworked trashed materials he calls attention to the imbalances being executed by domestic and industrial activities on the world's vulnerable ecosystems.
Tejuoso employs processes of tying, stitching, gumming, folding and many more, working with inventiveness and expressive force to create his large-scale installation pieces. Sometimes he utilises other people's assistance when he has a large project to be constructed such as in the piece below.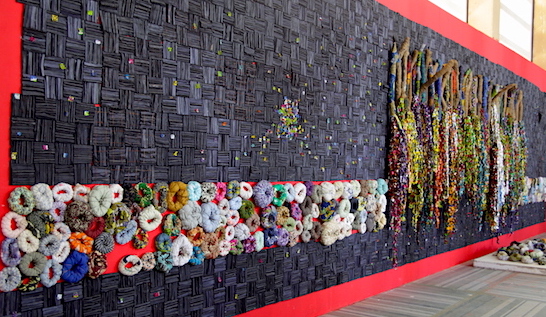 Tejuoso, Dak'art 2018, 'Oldies and Goodies'
Another favorite topic of this artist is the mis-use of international labour. In Philadelphia, USA he explored the  cultural traditions of memorials and loss in his installation titled "Material Memory" . While developing a project with 2 community artist teams, he used Ankara cloth to recreate traditional forms of certain use of fabrics in Nigeria to give a second life to this quintessential African cloth.
Out of this 6 month community project an exhibition called "Osuka" was formulated.
Osuka's are doughnut like shapes bound from fabric and used as supports to carry a heavy load on one's head. Also okuntobi's which are knotted bands of fabric to carry money and other belongings.
You will find them used often in Tejuoso's pieces of art.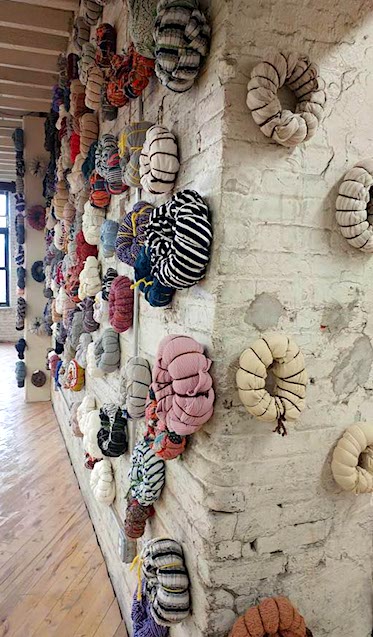 ' Osuka', Visible Project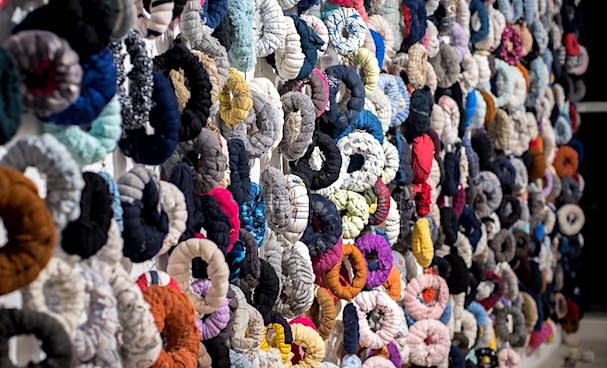 'Osuka' detail
Performance art, sculpture and massive size installation contribute to the art form of this powerful force in the contemporary art world of Africa and further afield.
Wallen Mapondera
Wallen Mapondera was born in 1985 in Harare, Zimbabwe. He completed his MFA in Grahamstown SA and since then has had a meteoric rise with solo exhibitions held in Switzerland, London, Johannesburg, USA, Harare and Cape Town. He has also contributed to group exhibitions at the Zeitz Mocaa SA, Norway, W Australia, Germany and France.
Known for creating complex wall structures and large scale installation pieces using repurposed materials, his earliest imagery was actually zoomorphic and anthropomorphic paintings and drawings created as political-social comments on power, inequality and exploitation in his home country.
'Musha Waparara', 2018, textile waxed paper thread cardboard
'Rinamanyanga Hariputirwe' 2018, detail
Using discarded and obsolete medium, his more recent works draw attention to land issues - reclamation, redistribution and migration. At Smac gallery he staged an exhibition titled 'Chirema Chine Mazano Chinotamba Chakazendama Madziro' Part 2.
The piece below from the show is constructed using a discarded tent as its basis, stitched and patched as symbolic gesture to try and mend a broken society in Zimbabwe. Kudzoka Kumba means 'returning home', referring to Zimbabweans in the diaspora who always find reason to go back home.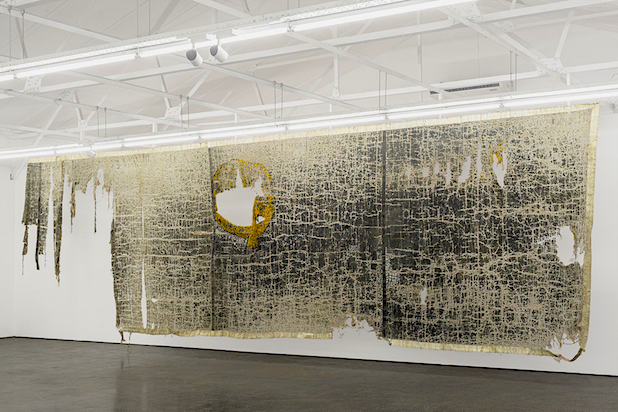 'Kudzoka Kumba', 2019 Waxed Paper and Thread on Found Tarpaulin Tent, Smac Gallery
In his 2020 exhibition at Smac Gallery he uses packaging as a medium.. a tool for survival in an economically depressed country. Here it is specifically egg cartons on a wooden frame.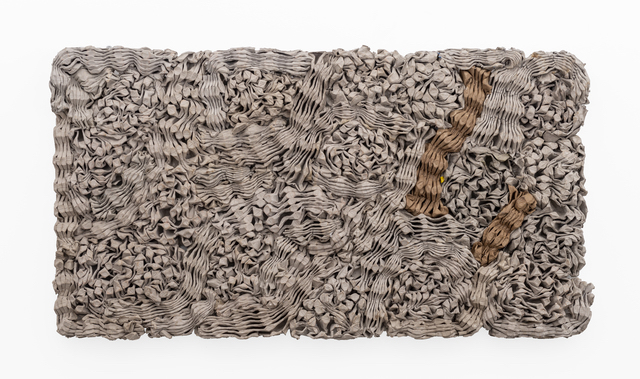 'Tuck Shop' 3, 2019 - Found Material - Egg Crates
Hyacinthe Ouattara
Born in Burkina Faso in 1981, Hyacinthe Ouattara is a self-taught visual artist who currently lives and works in France. He specializes in sculptural wall art and intricate room installations.
His works feature combinations of different everyday objects (frequently textiles) used out of their daily context. They generally have an organic aspect, twisted and knotted fabrics bound and wrapped and either hung like a mobile or formed into sculptural 3D forms.

His drawings show his conceptual ideas for a piece but have their own aesthetic value as shown in this sketch below.

The 3 dimensional pieces play with suspension, questioning balance and imbalances. Nets and draped fibers interplay across the space in a free flowing formation. 

His most recent work 'Revival' in 2020 evokes a world on the verge of collapse but far from presenting an apocalyptic vision it celebrates life whilst paying tribute to those who have left us.
Victoria Udondian
Born in 1982 in Nigeria, this inspiring contemporary African artist works between Lagos and the USA. She has done residencies in many places around the world and is always informed by her driving interest in textiles and clothing and the histories and myths that exist around them wherever she lands. These experiences have informed and shaped the content of her work.
'Aso Ikele', Udondian
Confronting notions of authenticity and cultural contamination she works with large-scale sculptural forms utilizing second-hand textiles as the primary material.... like used clothes, burlap, paper, plastic bags, shopping bags and textile recycling companies' product.
From her exhibition 'We Face Forward; Art from West Africa Today" I'm Manchester, Aso Ikele was constructed in 3 parts like an Italian altarpiece. Working with donated second-hand clothes from the UK, it combined materials and narratives from various sources as well as having as a base, the traditionality of her cultural cloths.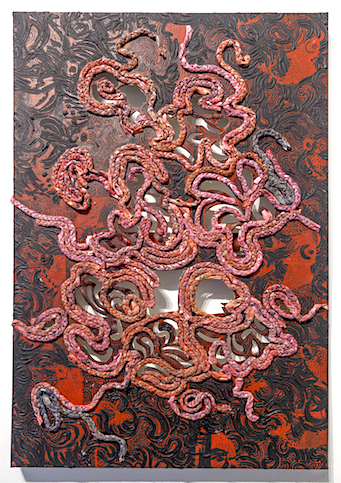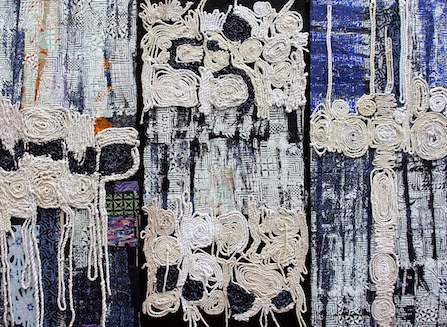 Techniques range form cutting, weaving, tying, plaiting, sewing, tailoring, embroidering, dyeing and printing, most of which she learnt as a child growing up.
She presents her work with some accompanying text (a label) giving context, a plausible narrative if sometimes fictional to provide a notion of provenance, origin and historical fact. Sometimes she combines painting with plaited fibre ropes, reminiscent of West African elaborate hairstyles. She also plays with cutout shapes and negative spaces.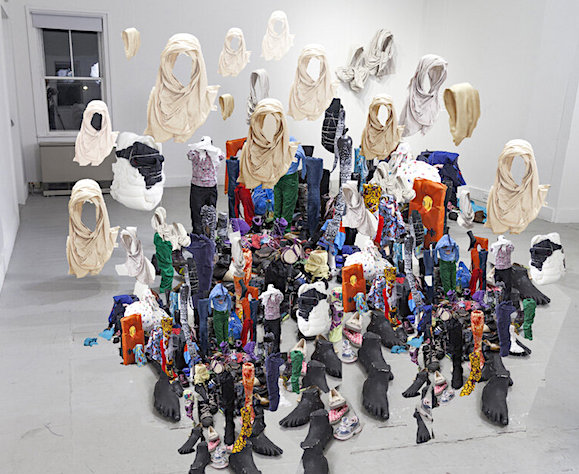 As an artist Udondian explores many global societal issues. In her recent project on immigration and border control, she explores the notion of absence, referencing the countless numbers of immigrants who try to find new lives elsewhere and the many refugees who do not survive the journey.
Victoria-Idongesit Udondian, 'Akaisang' 2021
Here above is an installation composed of a central congregation of suspended handwoven hijabs floating above abed of flowers. With black hands reaching up from below, Udondian has created haunting and breathtaking image of resurrection.
Georgina Maxim
The artist Georgina Maxim was born in 1980 in Harare, Zimbabwe. She currently works and resides between Harare and Germany where she is furthering her studies and creative development. 
2019 was a significant year for this artist as she was nominated for the prestigious Henrike Grohs ART Award and was one of 4 artists representing Zimbabwe at the 58th Venice Biennale. Using installations and soft wall sculptures, Maxim explores multiple themes relating to women's issues including sexuality, violence identity and personal history.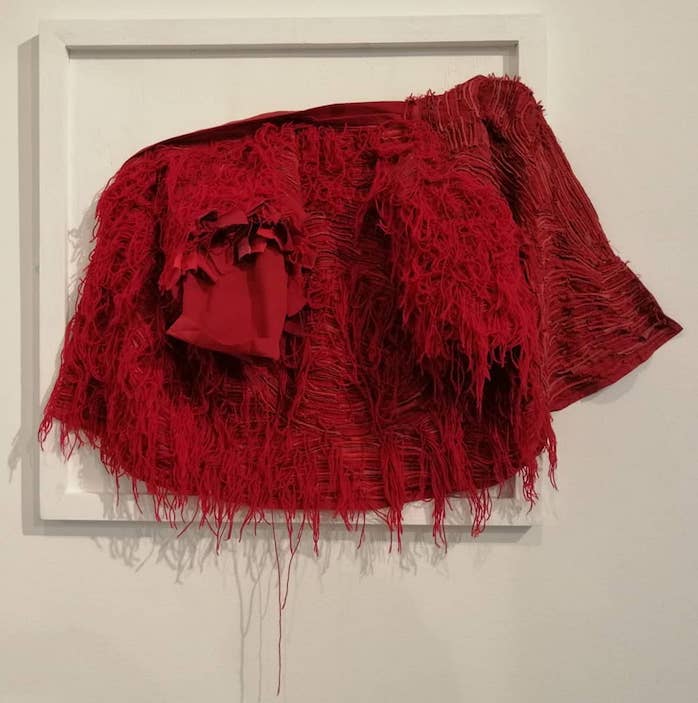 Georgina Maxim at the Venice Biennale
Stitching layer upon layer and constructing semi recognizable shapes, she uses clothes and textiles to provoke questions of circumstance and context, creating tension in her works. Her mixed media textiles are luscious in tactility and visual richness. Hours of work functions in part as meditation for the artist, self-healing and empowering at the same time.
In 'Garden' below the middle floral band of fabric reminds us of how flowers grow in between piles of rubbish at the dump site.. representing life and enduring human spirit in every human being.
'Garden' 2017 mixed media textile
Detail, 'Ma Mere II', Georgina Maxim
Her work is deeply rooted in the visual craft and traditions of her home country and Africa more broadly. 'Kupona' seen below is an emotionally powerful assemblage exploring the female condition.

Dresses are very symbolic of the feminine identity she explores. 
Using found and recycled bits of clothing serves as memory of the owner of the dress, every color used symbolic and every thread and stitch remaking the past into the new.
'Kupona' installation, Maxim
Maxim is the co-founder of Village Unhu which she crated together with her partner, acclaimed Zimbabwean painter Mishek Masamvu and co director, painter Gareth Nyandoro.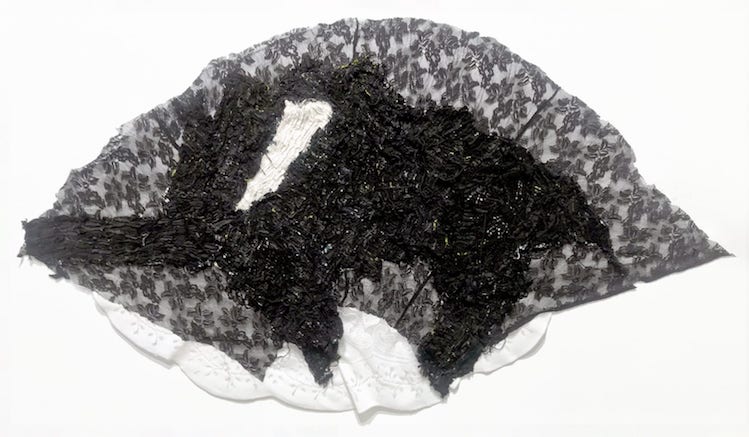 'Struggling Ashes', Kushingirira, Maxim 2018