Prince Twins Seven-Seven
Prince Twins Seven-Seven, (1944 – 2011) from Ibadan, Nigeria
This multi-dimensional African artist could set his hand and mind to many things. Art, dance, music, poetry, story-telling are just a few of his numerous creative talents.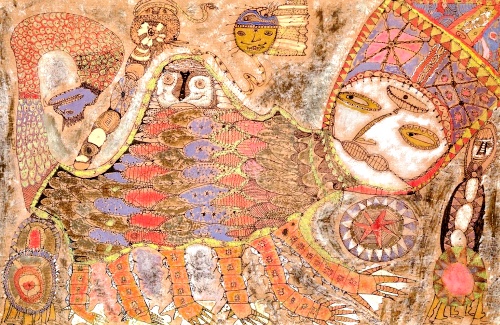 'Devils dog'
Prince Twins Seven Seven (ne Taiwo Olaniyi Salau) was the sole surviving twin of a set of seven successive twins born into the Bashorun royal family of the Yoruba people. Growing up in a village called Ijara, he made a living as a musician and dancer until in 1964 he discovered the 2nd art workshop run by ex-patriots, Ulli and Georgina Beier. 
This school was known as the Oshogbo School of Art and Prince Twins Seven-Seven became a prominent member and a protagonist for the school. He began by drawing in pen and ink on paper but moved to ink and paint on large sheets of laminated plywood.
Line and drawing, plus engraving, remained central to his work. 
As an African Modernist, his work is important enough to be found in major institutions and collections around the world: MOMA, NY; the Musee de L'Homme, Paris; the Fowler Museum,  LA; the National Museum of African Art, Washington and the National Museum of Art, Lagos.
Starting with 'Magicians de la Terre' at the Pompidou Centre, Paris in 1989, he continued to be invited to show in many major collective and solo exhibitions in Japan, Europe, USA and Australia.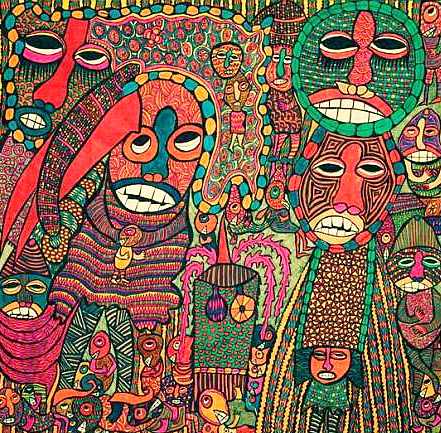 Twins Seven-seven
Throughout his career, no matter where he lived, he never wavered from his primary source of inspiration which was the rich heritage of his Yoruba culture.
His intricately patterned paintings are a mesmerizing progression of lines, filled in with bright colours and recounting stories of Yoruban oral traditions, myths, religion and his own personal experiences and views.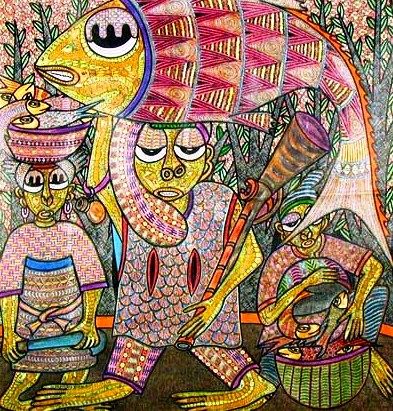 Blessed fisherman, family and golden fish
He eventually settled in Philadelphia, USA where he spent the last 15 years of his life. 
In 2005 Unesco named Prince Twins Seven-Seven, 'Artist for Peace', a position that gave him international visibility and secured his name and recognition through a difficult phase of his life.
For an indepth insight into the life of this complex character and artist click here: 
---