Tracey Rose
Tracey Rose, 'MAQUEII', 2002
Tracey Rose was born in Durban in 1974, a child and product of apartheid years in South Africa. She studied a BA at Wits University and her career was launched when she became artist-in-residence at the SA National Gallery in Cape Town.
Today she lives and works in Johannesburg and has represented her country 3 times (2001 and 2007) at the Biennale in Venice, most recently the 58th in 2019... a part of SA's stand titled "The Stronger We Become".
'The Kiss' Tracey Rose
'Span II', Tracey Rose
Rose is unabashed and unashamed to use her own body to make statement. Described as a provocateur, she certainly moves to shock, inform and shake perceptions, often placing herself at the centre of her art. Included are photographing herself and her subjects naked, shaving off her body hair during a performance piece and making a film of herself boxing in the nude.
An artist whose work is layered and complicated, she seeks to comment and document femininity and womanhood, gender and race and child sexualization amongst other topics. What informs and infiltrates her work is a combination of an insatiable interest in information coupled with her own personal experiences.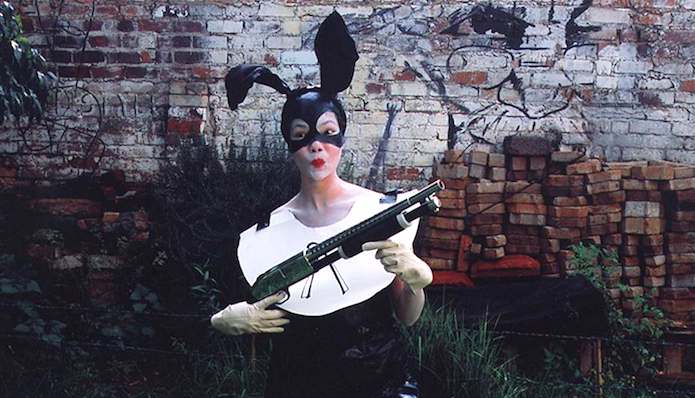 'Bunnie' detail, Tracey Rose
"When you make an artwork, you're contributing to an entire history of artmaking"

'Shooting down Babylon' is an exhibition that will take place at the Zeitz MOCAA in 2021. It reflects on varied exorcist and cleansing rituals in non-Western communities and how to heal colonial trauma. The body and performativity is central in every aspect.
---