Chaumba Mike Tinashe
by Mike Tinashe Chaumba
(Mutare, Manicaland, Zimbabwe)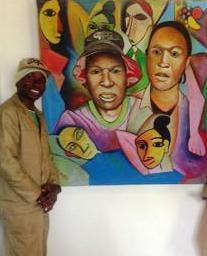 I was born with the gift of drawing. I have always been interested in drawing plants and portraits.

I was born in Mberengwa, Zimbabwe. In 2014, l enrolled at Mary Mount Teachers College for a three year teaching diploma and have worked as a secondary school teacher teaching practical Art with Form One to Six classes.

I am a post Cubist painter inspired by Picasso Pablo. Before I start painting, I have to read as much as I can about the specific set of rules I would be about to recreate on my canvas. I do not want to just merely capture the image with my brushes, but rather to give that society life once more. I try with every finished work to breathe life into a long forgotten culture so that its design, ideas, innovation and lifestyles are displayed on my canvas. The challenge as with any recreated moment from the past is to not caricature the moment, but instead to capture it in all its former glory.

My art does not speak only for me but for people who were long ago silenced.

Art has taken me to places. I have showcased my work at the Tertiary Institution Festival of Arts in Zimbabwe (TIFAZ)and the Research and Intellectual Output Social Economic Transformation (RIOSET) in 2015 and 2016 respectively. I won the first prize.
I have also presented my work at the Zimbabwe International Trade Fair and MANISA.


Art has become my lifestyle and I enjoy doing it.









Join in and write your own page! It's easy to do. How? Simply click here to return to Artist.