Igiri Innocent
by Igiri Innocent
(Lekki, Lagos, Nigeria)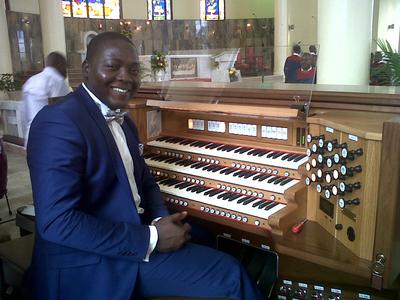 MD Black Heritage Show
Black Heritage show
….our heritage is our wealth…..

We are in the business of all kinds of entertainments. Our concepts are core Afro and/or mixed with English depending on the individual choice. We have great talented artistes and workers. We have been in the business of entertainments for many years counting. We entertain in colors, multi-lingual, Afro/English, with young and aged, and pure standard. Our directors are serious entertainment wizards. We can perform at any occasion anywhere we are invited in the world. Just think of your upcoming event, think about a side attraction, and think BLACK HERITAGE SHOW.

Call on us for any of these...


 Short or long stage drama
We can write/act a script that speaks about your event, properly done in your preferred language, or act your choice piece. Memoirs, biographies, histories, stories, tales, etc..

 Comedy talks
We have sets of wide mount talkatives, who are well known in comedy industry with here and abroad. We also have upcoming ones who are well disciplined to handle any occasion. They know when to say what, and where not to say this. Very articulate, presentable, and seriously funny.


 Salsa, Barley, Africa/Nigerian dance
We are well prepared for this. Our dancers will get you on your fit with style of dance. Mention any type of dance or allow us chose a dance for your event, whichever way, you will be satisfied. Both native and English we are there.


 Chorale performance
Our chorale performers are much trained in chorale music. We can perform any music from any genre and age; both ancient, modern, classical, traditional, Baroque, and so on.. performed in any language and any arrangement; 4 parts, 3 parts, or even 6 parts. Your stage will tell us the number of performers to use for your event. You can as well make your choice. Beautiful faces doing their beautiful job. You will love it.


 Solos
Amongst our soloists are young men and women of great voices who are well trained for ensembles and operatic renditions.


 Orchestra instrumentals
We have various types of wind, strings, percussion, and indigenous musical instruments and instrumentalists. We will surely meet your taste in all. Amongst our player and directors are musicians/musicologists who have vast knowledge and experience in classical music and traditional music. Your choice will be respected. We can always advice if you seek our opinion.


 Short or long Opera performance
We have series of such operas with different story line; depending on your event we will select one that befits your event. We can also compose your lyrics and stories into opera as customized piece just for you and perform it uniquely. You can as well suggest, bring or chose any of your choice and it will be done. Any language, culture or act is ok by us.


 Short comedy episode
Interesting comedy episodes that is educative and lively. Very short episodes with vivid lessons. Our actors and actresses are known celebrities in Nollywood and some upcoming ones. Here also, we can act in any culture and language both in African or English style.


 Afro or English Band
Great options are here for you, depending on your choice, we have lists of band group musicians for any event. Whatever event it is and wherever it is we will make your event a memorable one. Our band groups are made up of known names and upcoming ones. You can as well name your preferred musician or band group; be it popular ones like Tuface, Davido, Wizkid, D-banj, or even great Afro-legends, we will get them to perform at your event.


 Cultural exhibition
As our name implies, we are Africans and we cherish our heritages. Try us in African most ancient exhibition in whatever line of content or history. Our links are broad and varies, ranging from most visited museums to never heard caves. Tell us what you want and we will be glad to serve you and make your event remarkable in human history. We also have human postures for children. In us, Africa is represented at all times.



 Fashion
Brands of local and English couple with style of different cultures, societies and age is greatly at play whenever we talk of fashion. At Black Heritage Show we have a menu of African and English designers, fashion experts with class and touch of orient. Trust your event to have a touch of orient in fashion, both as exhibition or color for your event once you entrust us with fashion for your event. Our fashion team works directly with makeovers, photographers, costumiers, and designers. We know our job, and we know it very well.


 Animal exhibition
We have a team of Zoologists in the business of exhibiting different kinds of Animals just for fun. The Animals under secure environment and arrangement are brought in cage and exhibited or play with. Zoo visit can also be arranged for your sight-seeing. As you so wishes or desires, we will be glad to serve you.


 Pyramid exhibition
African and English pyramid of ancient and modern world are getting attention at this time in all places. We have brought it to your door step and we are ready to exhibit the content of these pyramids at your event. Musical and historical monuments of memories can be pyramized for you and your loved ones. Think pyramid, Think Black Heritage Show.


 And many other things
Like: Food (African and Intercontinental dishes), Fresh and original Palm wine, Arigeto pepper, Bitter-cola, Cola-nut, etc.. Just call on us, we are only a phone call aware.


We are also into consulting services for entertainment packages. Just name your occasion and we will surprise you with awe.


Our contacts:
Head Office:
350 Ikorodu expressway Maryland, Ikeja, Lagos Nigeria.
Website: www.blackheriategeshow.com
Facebook: www.facebook.com/blackheritageshow
Twitter: @b_heritageshow
E-mail: info@blackheritageshow.com
Youtube: blackheritageshow
Telephone: 08093633683, 08025647405

Guinea Branch
9 Kamara Diego street, Lambaigne, Guinea Conakry
Telephone: +224 643 783 34


Germany Branch
45 Ubenhause, (Elizabeth Konph House) Essen industrial Estate, Essen Germany
Telephone +49 219 128 181 44


You can download our Blackheritage App at www.blackheritageshow.com or mobile App world, Apple store, Samsung playstore, etc..


Black Heritage Show
…. Our heritage is our wealth….