Stephanie Bester - Visual Art
by Stephanie Bester
(South Africa)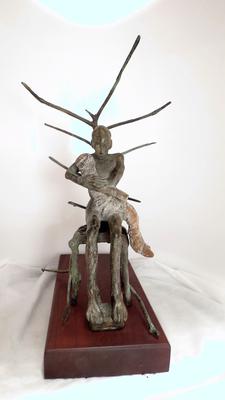 I commenced art, allowing brush and paint to guide my journey in becoming an artist specializing in figurative bronze sculptures. I use a concept, inspired by people, relationships, photography, ballet and dance movements, yoga, literature and found objects to create a wax maquette. This is sent to a Foundry to be hand casted in bronze using a mixture of zinc and copper.

Finally each artwork receives its own character through a traditional patination and polishing technique with the final product being mounted, signed and allocated an edition number.

To me, bronze is a classical medium which allows me to interpret the meaning behind the evolutionary role of women and how it relates to the perception of "Self". This can also be applied to my paintings using colour as an emotive vehicle. My art, therefore allows a metaphorical and symbolic discourse for the "cycle of life".

Join in and write your own page! It's easy to do. How? Simply click here to return to Artist.