The last riflemen from Mauritania of Yéro DJIGO
by Yéro Djigo
(Mauritanie )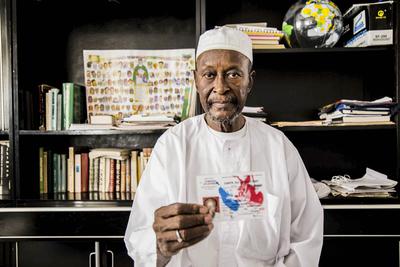 Anne Amadou Baba
Biography of Yéro DJIGO
I am a photographer and video reporter from Mauritania. For the last ten years, I have been working all around Mauritania and West Africa and I have covered for international organizations, medias and NGOs various issues related to refugees, malnutrition, urban planning, violence against women and Mauritanians' aspiration for a better future .

Being a self taught photographer and film maker I try to learn from any occasion and encounter and to offer my own personal look on my country of origin and on my continent. I am part of a generation of African photographers, journalists and directors who want to have a say in the ways the history and as well as the contemporary stories of our countries and continent are being narrated and visually depicted.


Project : The last riflemen from Mauritania.
In 2014, I started travelling all around Mauritania to meet the last survivors among the Mauritanian riflemen (" tirailleurs") and camel troopers ("goumiers") who served under the French colonial army before Mauritania's independence in 1960. Lot of their companions have died and some them have been injured in world wars and later during colonial wars. Their sacrifices, commitments and memory have been very little honored until now in my country. I intend to show their portraits and testimonies in exhibitions as well as in a book and a video I'm currently preparing to share their memories and pay tribute to them.

Thanks for promoting this memorial project of Mauritanians veterans.
Join in and write your own page! It's easy to do. How? Simply click here to return to Artist.