Wildlife Artist
by Lute Vink
(Leeupoort Vakansiedorp, Limpopo, South Africa)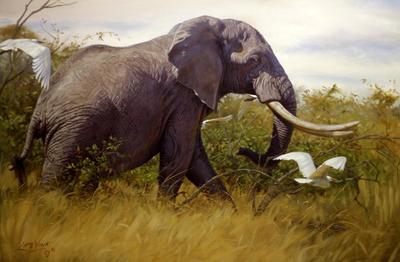 African Elephant
From the heart of Lute Vink...

"How would I want to be remembered: as an artist that stood in awe by the natural beauty of our planet Earth that respected every tiny detail thereof that absorbed, learnt and tried to understand nature. I want to leave knowing that my paintings is an ongoing remembrance of my love for nature and that it will inspire others to appreciate and love our planet"

I do not like to fill the canvas with a portrait like face of an animal. I enjoy telling a story or create a possible scenario that plays of in the animal's environment. If possible, I like to debate with the viewer/client whether the story in the painting makes sense, if the scenario is possible or probable.

I try to be true in color choice not only in the animals but also when it comes to the time of day or from season to season. When I add small, little details like butterflies or birds, I'd like to be correct in the sense of, would the butterfly really be around that specific time in the year. Most of the times I create "my own" scene and correct all the objects to form a story.

I derive great pleasure out of wildlife and nature and respect every aspect thereof. My favorite pastime is visiting game parks, where I not only get reference material from, but also find my inspiration.

My work is well accepted everywhere, with paintings hanging in collections worldwide and I have been credited and published in numerous magazines and publications.

My dream to leave the busy city life behind became a reality when I moved to the Bushveld with my family in 2002.

To me it is a privilege to be able to share my talent with people all over the world.
Click here to read or post comments
Join in and write your own page! It's easy to do. How? Simply click here to return to Artist.