Adnan Meatek
by Adnan Meatek
(Misurata Libya)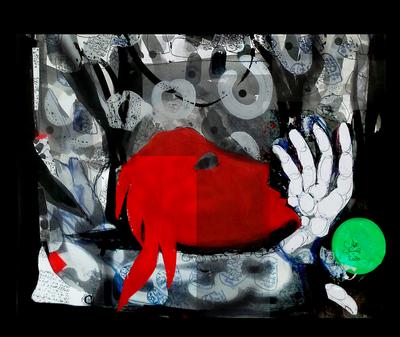 Biography
Adnan Maetek was born in Libya in 1968. He studied Industrial Engineering at University and worked for the Libya Insurance Company.

Self-taught and self-made as an artist, he uses mainly watercolors and acrylics. His paintings are strong and powerful with surreal imagery, abstract and symbolism.

Maetek's work has already been exhibited in Libya and abroad. In Tripoli, he took part in the De Villa Art Exhibition in 1998, the Burj Art Exhibition in 2000 and at the French Culture Centre in 2002.
He also took part in the Arab Maghreb Exhibition in L'hay-les-Roses in France in 2009 and the Africa AFRICAM Exhibition at the Casoria Contemporary Art Museum in Napoli, Italy in 2009. Adnan has participated in several international Art workshops, including the Al-Mahars Art Festival in Tunisia in 2005, 2009 and 2017, the Cappadocia Art Camp in Turkey 2010, 2018 and the Liverpool Coast Workshop in 2007. In Izmir Art Biennale Turkey, 2013 .

Other than his work as an artist, Adnan wrote as a Fine Art critic for two Arabic newspapers, the Al-Quds al-Arabi , al-Arab, Al Tactually Al Arabi Magazine , Doha Magazine, Alsabah newspaper, Libyan cultural website Balad Al Tieob and is an active blogger in Arabic Mediterranean Art Foundation 2017. With a group of artists, he founded the Mediterranean Art Forum 2017 and participated with a group of Arabic calligraphy Dawia in Tripoli 2018.

Artist and critic Adnan Meatek has published his new first book on art criticism on Libyan artistic experiences "Reservations of Light" 2020 .