Kuba Decor by Whispers
by Bettye Carter
(Las Vegas, NV, USA)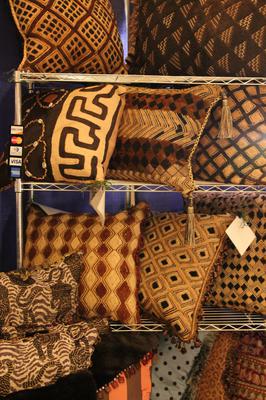 A display of one of a kind Kuba Cloth Pillows

My name is Bettye Carter and along with Michelle Edmonds we started "Pillow Talk by Whispers over four years ago.

Pillow Talk by "Whispers" offers luxury, One of a Kind, Throw Pillows for the individual with Discriminating Taste. We produce Pillows made of the finest African Kuba Cloth and one of a kind Batiks to create a work of art for your enjoyment.

Because of my love of Kuba Art, Kuba Decor by Whispers was created as a separate line a year ago.

My Goal is to educate the public as to the beauty and collectability of Kuba Cloth by using it in unique home decor.
Join in and write your own page! It's easy to do. How? Simply click here to return to Gallery.