TRIBAL AFRICAN CRAFTS ENTHUSIAST
by Rita
(Kenya ,Mombasa)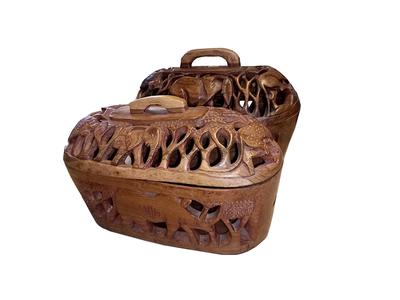 Carved Olive Bowl with Lid vintage African bowl made from olive wood by skilled Kenyan artisans. The bowl is carefully hand carved into intricate safari inspired patterns
OUR STORY
Tribal African Crafts (TAC) is an online business founded by a young Kenyan couple, David and Rita who are both lovers of African art. Coincidentally, they both grew up in Mombasa town which is famous for the best sandy beaches and is widely known for fine craftsmanship of handmade products.

A love tale
Later these two would meet in college in Kenya's Kisumu city and were drawn to each other by love, which was anchored by their common interests. They soon realized they shared a love for African art and TAC was born a few years later with a mission to sell handcrafted, vibrant, African art which speaks of great mastery passed down many generations.

Daring to dream
Our dream is to give the world an opportunity to experience the rich, timeless African art and culture without having to travel to Africa. We do this by selling lovingly handmade, unique, African-inspired contemporary home décor and stylish fashion at a fair price. Our wide range of authentic African crafts is created by talented Kenyan artisans. Through this platform, we have been able to supply authentic, handmade African crafts to countries such as The US, The Netherlands, Italy, France, Switzerland and Germany to mention a few.

Growing together
We are passionate about empowering African communities and work with a team of skilled artisans. We ensure they are fairly compensated and treated with the dignity and respect they deserve. We also care deeply about the environment which provides all the raw materials used in making our amazing range of products.on, we take personal responsibility to ensure that the materials are sustainably sourced in an eco-friendly manner and recycling is practiced where possible. By purchasing TAC products, you not only help to uplift the livelihoods of African communities and provide for their families by creating employment, you also play a role in strengthening the handcraft industry in Kenya.
Join in and write your own page! It's easy to do. How? Simply click here to return to Artist.